ecoEnvelopes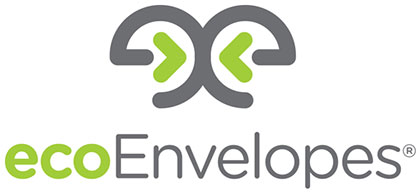 ecoEnvelopes introduction video
[music]
Narrator:
We make thousands of decisions every single day.
Some help the earth. Some help our wallets.
Sometimes the smallest decisions can have the biggest impacts.
What if one simple decision could conserve enough energy to power an entire city.
What if that decision could counter the carbon emissions of a day's traffic on the Golden Gate Bridge?
And what if that same decision can conserve over 5 billion gallons of water every year?
A decision is as simple as using two-way envelope.
ecoEnvelopes, because the Earth matters.
SUSTAINABLE MAILING SOLUTIONS
Out of the inspiring "green" revolution came the idea that everyday products, like envelopes, could play a part in transformative change. The idea was simple: Have one envelope do the work of two, by reusing the first and eliminating the need for a second return envelope.
Founded in 2002 at a kitchen table, ecoEnvelopes is an innovative force in a mature market and the leading provider of eco-friendly and automation-compatible 2-Way reusable envelopes. The Company's products include bioWise™ envelopes made from agricultural residue, and reusable 2-Way envelopes, parcels and retail packaging that conserve natural resources, lessen paper consumption by 48%, and reduce costs between 15% - 45%.
Customers include a broad representation of direct mail marketers, nonprofits, and billing statement mailers. They benefit from quantifiable financial, operational and environmental benefits as part of a larger ROI that engages employees and enhances business results. As a values-based product, mailers also benefit from a highly-visible and tangible connection to sustainability and ecoEnvelopes brand.
ecoEnvelopes is an NGLCC certified, WBENC certified Woman Owned Small Business (WOSB).
"HOW WOULD YOU LIKE TO SAVE HALF A MILLION DOLLARS?"
This was the headline for an article in Deliver magazine regarding Sprint's transition to ecoEnvelopes. In 2012, Sprint became the first major mailer to adopt ecoEnvelopes for their monthly billing statements. And while the environmental savings significantly contributed to their sustainability goals, there were real financial and strategic benefits. This created significant industry recognition, editorial coverage, and awards for Sprint and put ecoEnvelopes on the map.


USPS DELIVER MAGAZINE ARTICLE, How would you like to save a half-million dollars a year,
mitigate your impact on the environment and build your brand's reputation as an environmental leader?
WHY DIDN'T I THINK OF THAT?
When someone sees a 2-Way ecoEnvelope in action they often say "That's so simple! Why didn't someone think of that sooner?" But nothing is ever as simple as it seems.
Consider for a moment, that the basic design of an envelope has changed little since it was invented more than 100 years ago.  Traditional envelopes have standardized around basic sizes and designs, with little differentiation. Major mailers rely on machines for all their mailing activities from creating the mail piece, to inserting the mail, to the mailing itself and finally to receiving a reply, donation, or payment from customers. ecoEnvelopes designs needed to seamlessly enter into this already automated system without disruption.
Enter Sprint. Sprint put ecoEnvelopes to the test through high-speed insertion, comingle, postal and remit processing.  They demonstrated ecoEnvelopes could be a bridge to the future of communication, moving from two envelopes – to one ecoEnvelope – and finally to digital. In their quest to be "First to Be First", Sprint showed that innovative customer communication can expand market opportunities and meet business objectives.
TECHNOLOGY AND PARTNERING
ecoEnvelopes develops Intellectual Property (IP) and has multiple patents based on methods of construction and design, which focus on functionality and ease of manufacturing, processing and use. The Company licenses its technology and is uniquely positioned to build partnerships with mailers, manufacturers, mail shops and other vendors. The Sprint project demonstrated a constructive model of collaboration that allows ecoEnvelopes to support mailers and existing vendor relationships, increasing adoption by making it easier to transition to ecoEnvelopes.
Working with major corporations and mailers as a 'trusted advisor' to quantify benefits, ecoEnvelopes extends these corporate relationships to manufacturers, who license their patents to make and sell products incorporating the Company's IP.  Partnering with software and analytics vendors and mail service providers (MSPs), ecoEnvelopes collaborates to increase operating efficiency while reducing operating expenses and mailing costs, while simultaneously improving business results.
ecoEnvelopes also supports the industry as a USPS Business Alliance Partner and an MTAC (Mailing Technical Advisory Council) member.
Natalie Allen: Hello and thanks for joining us. I'm Natalie Allen.
We're very proud of our Grassroots Green feature here on Forecast Earth. After all, it's our chance to recognize, encourage, and champion everyday people who've come up with ideas to help make our lives a little better, a little greener. This one's a good example. A woman in Minnesota who has, well, pushed the envelope.
Ann Delaverne: When I show people the envelope, it's, it's kind of like a dove factor. Everybody goes, wow. This is, this is really easy and it's going to work.
I'm Ann Delaverne and I'm the founder and inventor of ecoEnvelopes reusable envelopes.
There's 81 billion pieces of mail that are mailed every year. Sixty percent of that 80 billion comes with a reply envelope. That's a lot of waste.
I thought this should be easy for people to reuse envelopes. So I decided to make some.
Making the envelopes I really literally had to take them apart and put them back together again. And it's sort of a kitchen table story. I used my sewing machine to create perforations so that I could, you know, tear off portions of the envelope. I would basically hand make them and send them to my friends and family.
Corinne Livesay - friend: And we'd get batches of them.
Ann: And now everybody's probably received about 10 or 15 mailings.
Corinne: Unzip the little lock that opens the envelope, and then answer a bunch of questions inside. Was it easy to open?
Ann: And they would send them back. And they'd have notes. And they would say, oh great job, keep going. So that they've been supportive through the whole process.
Corinne: It's just so patently simple.
Ann: This is an ecoEnvelope. You have the address in the address block and that's in the window. You have the postag,e that's in the window. And then you have a facing identification mark, that's this film. If it's generally unmailed, it comes back to you. I mean it's very clear on how it works. You zip it open. You pop this little tab on this side. You take your statement out. Open it up. You got a reply portion on your statement. Tear that off. Stick this in the window. There's a second glue strip. Seal it up. Just like that. Put your stamp on it. Send it back.
Corinne: Ann is a passionate person and that's what makes her successful in everything she does.
Ann: Never thought this was the turn that my life is going to take. I knew I wanted to do something that was meaningful both for me and for the planet. They just all came together at the same time with this envelope. We hope that when people get the envelopes that they enjoy using them as much as we've enjoyed making it.
Natalie: Big news just last month for the ecoEnvelope, the post office issued what it calls a national customer ruling approving the ecoEnvelope for use in the US mail. That's the first ever ruling of its kind for a reusable envelope.
ENGAGING THE AMERICAN PUBLIC
ecoEnvelopes provide a tangible means to engage the American public in conservation and an opportunity for mailers to demonstrate visible environmental integrity. Each letter reduces waste and delivers the message that the mailer cares about the environment.
ecoEnvelopes appeal to consumers' emotions. They build on a growing public interest in the environment and motivation to support a better world. Mailers regularly receive unsolicited customer comments and gain higher response rates and brand engagement.
"Kudos to you and the folks at the Arboretum who sent membership renewals in those wonderful reusable envelopes! Any hesitation I may have had about renewing was instantly erased when I noticed your pioneering use of reusable envelopes! Way to go!  I'm so proud to be a renewing member of an association with such visible environmental integrity!"
ecoEnvelopes establish a direct and immediate connection between sustainability and business results:
"…We…had over a 20% response rate.  Some folks even sent in money (without being asked)."
As Companies increasingly use sustainability programs to make a positive contribution to their business, direct results like these are gaining visibility:
"…I wanted to share with you some great news about the Spring Acquisition! I … found that our response rate increased! Last year we had a response rate of 9.77% and this year it increased to 17.8% and income from the mailing doubled!"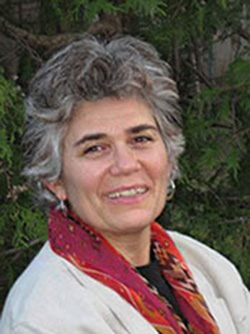 FOUNDER'S STORY
ecoEnvelopes is the story of a company that started with a sewing machine.
It was 2002 and while sorting the mail, Ann DeLaVergne noticed an envelope with a request to, "Reuse this envelope." Unfortunately, there was no easy way to do that.
As a former organic farmer and beekeeper who cared about the environment, Ann thought "There should be an easier way to reuse envelopes."
Combining her design expertise and background in fine arts, Ann started making prototypes by hand at her kitchen table. She used her sewing machine to make perforations in paper using her designs. The new eco-friendly envelopes were functional, practical, and most importantly, helped the environment.
Her first mailing was ten envelopes she sent to friends across the country. Every one of them came back and she says with nostalgia, "I thought I was done. I mailed them, they came back. I was done," she recalls. "No. That was the start. I made envelopes from scratch with my sewing machine for the next two years!"
Over the next few years, Ann devoted herself to perfecting ecoEnvelopes initial designs. Soon, Ann was in Washington meeting with the US Postal Service and key people in the industry. "It became a community whose goal was to help the environment, we were working on something that could make a significant difference," she recalls.
Her timing was perfect. With consumers driving demand for environmentally friendly products, corporations greening their operations and the USPS supporting environmental initiatives, it was clear that ecoEnvelopes was an idea whose time had come. For Ann, ecoEnvelopes are empowering. "People don't realize something as small as an envelope can make a difference."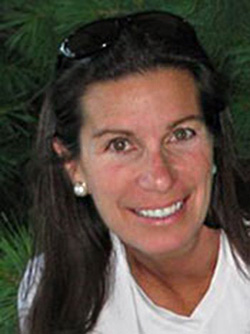 CONTINUING INNOVATION
Gale joined the Company in 2007 and serves as its President and General Manager. Recognized as Female Executive of the Year, Gale Ward is an industry futurist and innovator, solving problems for the nation's largest mailers in collaboration with the Company's partners and Postal leadership. Under her direction, the Company has won almost one dozen national and international awards for design, innovation, leadership, stewardship, sustainability and ethics. She is an avid volunteer and has dedicated countless hours to helping families and communities build stronger foundations for the future.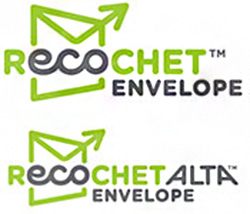 PRODUCTS
The Company's primary mailing solutions include both reusable 2-way envelopes and bioWise envelopes made from agricultural residue. Companies benefit from reductions in carbon emissions, paper consumption and waste— all by using ecoEnvelopes.
Reusable ecoEnvelopes eliminate the need for a separate return envelope in mailings. The Company's reusable 2-Way RECOCHET envelope were the first high-speed, machineable envelopes on the market. The Company has also introduced the ALTA ecoEnvelope, a revolutionary advancement in 2-Way envelopes. Winner of the International GOOD DESIGN® and GREEN GOOD DESIGN® awards, the ALTA is the first automation-compatible 2-Way reusable envelope that inserts from the top.

bioWise™ ecoEnvelopes are made from 100% reclaimed bio-based materials, eliminating the consumption of virgin materials, conserving valuable natural resources. They include 30% agricultural residue and 70% processed chlorine free (PCF) recycled content. The agricultural residue used is the waste fiber remaining after the harvest of sugar cane and a growing list of annual agricultural resources including wheat straw. ecoEnvelopes uses the high quality fiber remaining after each annual harvest to make superior paper for envelope production, instead of using pulp from virgin trees that are a 15-year crop. They are identical to and indistinguishable from any traditional envelope.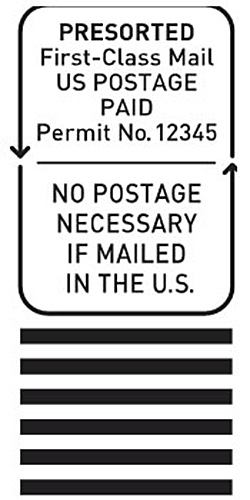 ecoEnvelopes also designs innovative postage concepts. The Company created the USPS Approved ecoIndicia 2-Way Postage mark. The ecoIndicia shifts both the outgoing and reply indicia to the outer envelope, providing more space on the insert for sales and marketing purposes. By eliminating the reply envelope it also reduces the weight of the outgoing package and reduces the cost of the mailing.
ecoEnvelopes regularly engages in consulting regarding the design and implementation of the Company's solutions. Enterprise mailers have demonstrated a desire for services that may include focus group testing, FAQ and documentation, product development, project planning, ROI quantification and even PR and marketing.
EMBRACING THE FUTURE
Innovation, from the perspective of solving challenges for mailers offers significant opportunity for ongoing development that propels commerce.
ecoEnvelopes provide a simple opportunity for mailers to make responsible purchasing decisions as they manage customer communication preferences. There will always be a need for print communication, and ecoEnvelopes solutions both reduce the cost to mail and provide quantifiable sustainability benefits.
The Company continues to work on new postage concepts to generate higher response rates for nonprofits and direct marketers. Another area of innovation is currently focused on unique delivery concepts for financial service, insurance and healthcare companies.
ecoEnvelopes expects opportunities in the innovation of high-value expedited/overnight and Certified® Mail solutions as well as in parcel innovation and sustainable retail package development.
Today, ecoEnvelopes is the leading innovator of eco-friendly and reusable 2-Way envelopes and mailing solutions with the most recognized sustainable brand in the industry.
Located in Saint Paul, MN our products are available nation-wide and all Made in the USA.
You always send the right message with ecoenvelopes™