Heidelberg

Heidelberg - Smart Print Shop
[music throughout entire video]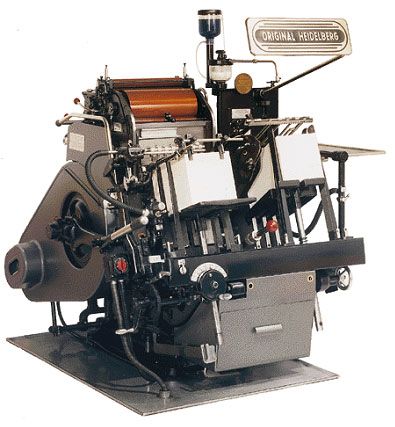 We receive a package, catalog or a letter from the US Postal Service knowing the person or company that sent it to us, but do we ever think about the extensive process this item goes through to get produced? These items have been designed, printed, die cut, folded and packaged in a specific way to catch your eye to say, "I want to buy!" In order to catch your eye, there needs to be machines that can do all of this – that's where Heidelberg comes in the picture.
For 170 years, Heidelberg has been setting the bar for printing technology. We offer everything our customers need in order to run a successful print production operation, and we tailor each machine to fit our customers' specific and valued needs. At Heidelberg, we create efficient prepress, press and postpress machines to allow businesses to create beautifully printed items for their customers.
We have divided our company in 3 segments: equipment, consumables, and service. Our main goal is to contribute to our customer's economic success. To achieve this we provide reliable and efficient offset and digital presses together with excellent consumables and service to go along with it. This promises our customers that their machines will continue to run smoothly and allow them to have maximum productivity at all times.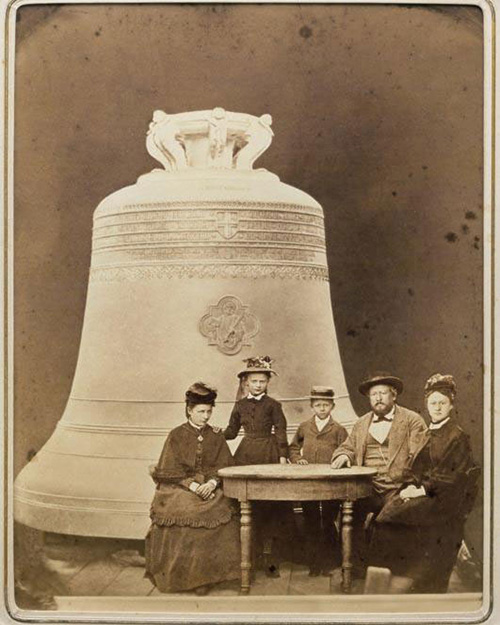 Our History
1850 – On March 11, 1850, Andreas Hamm and three associates started an engineering factory and bell foundry in Frankenthal, Germany called Hemmer, Hamm & Co. Hamm was the beginning of a long line of business entrepreneurs that would pave the way to the Heidelberg (Heidelberg Druckmaschinen AG) we know today.
As time went on, Hamm and his three associates began to go their different ways. He soon teamed up with Andrea Albert who was a printing press engineer. The two started a new corporation, "Maschinenfabrik Albert & Hamm." The two signed an official corporation agreement, and called their new factory "Maschinenfabrik Albert & Hamm."
1873 – Hamm went onto successfully develop popular letterset presses such as his treadle driven cylinder press launched in 1875 and his compact "Pro Patricia" launched in 1885. His company had six types of printing presses, and his workforce reached around 160 employees by 1892.
1896 – After Hamm died in 1894, the company was sold to a Heidelberg manufacturer, Wilhelm Müller.
1905 – Hamm's two factories were moved to Heidelberg, and Müller transformed his company into a joint-stock company called Schnellpresenfabrik A. Hamm Act.-Ges. Heidelberg (A. Hamm Letterset Press Factory Inc.).
1914 – The "Heidelberg Platen" gave a new standard to printing by producing 1,000 sheets per hour, and it would secure the company's reputation, sales and profits for years. This press had the "propeller-gripper," which would feed and place sheets on the platen.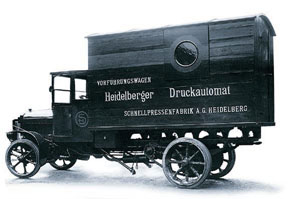 1926 – Hubert H.A. Sternberg became pioneer for Heidelberg production techniques, including developing mobile demo cars. These were converted buses that carried fully operational Heidelberg platens, which allowed print shop owners and employees to watch demonstrations from their own doorstep. This would become successful all over the world.
1935 – Book technology is revolutionized with the launch of the Heidelberg Automatic Cylinder press, which could produce 3,600 A2 prints per hour.
1957 – The Wiesloch plant opens up, which is today still the most advanced and largest plant for the production of printing presses in the world.
1962 – The first offset printing press, the KOR, comes to Heidelberg. Introduced at the fourth drupa, this offset press worked with sheets in the 40 x 57 cm format. (Drupa is the world's largest printing equipment exhibition held every 4 years in Messe Düsseldorf, Germany.)
1967 – Company is renamed to "Heidelberger Druckmaschinen Aktiengesellschaft."
1972 – The GTO was launched, giving its name to the entire A3 format, and becomes one of the most precise and reliable printing presses of all time.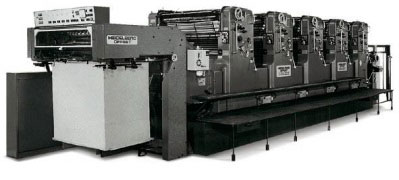 1974 – Heidelberg introduced the first model, the four-color Speedmaster 72 in 52 x 72 format, at Print 74 in Chicago. This new press was capable of printing 11,000 sheets per hour.
1977 – Computer Print Control (CPC) was introduced at the seventh drupa. This new electronic monitoring and control technology was used for the Speedmaster.
1990 – The new Research and Development Center opens in Heidelberg.
1994 – The Heidelberg Speedmaster 74 in 52-74 cm format is introduced creating a whole new line of midsize-format printers.
2000 – Heidelberg celebrates 150 years as the world's leading provider of solutions in the print media industry.
2004 – At drupa 2004, Heidelberg successfully shows that they are the leading solutions provider of sheetfed offset solutions with the new Speedmaster XL 105.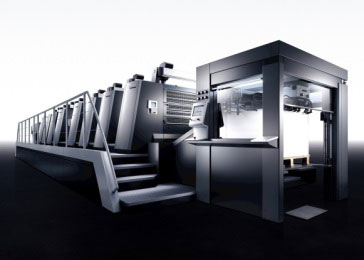 2007 – A new technology in offset, the Speedmaster Anicolor, is introduced.
2008 - Very Large Format is introduced with the XL 145 and XL 163 at drupa allowing for printed sheets up to 1,210 mm x 1,620 mm.
2017 – Speedmaster XL 106 with Push-to-Stop technology is introduced. The Primefire 106, the first 40" industrial inkjet press, is introduced.
The future of Heidelberg includes the advancement of digitization of the industry, which will continue to provide reliable production processes. New digital technology will allow print shops to produce sheets quicker and more cost-effectively than ever before. We also continue to enhance and encourage the competitiveness of print shops by creating machines that produce at peak productivity rates.
Our company interacts with the Postal Service by producing the machines that create the packages, letters, envelopes, etc. that go through the Postal Service. Without Heidelberg, those printed items that the Postal Service sends from place-to-place do not exist.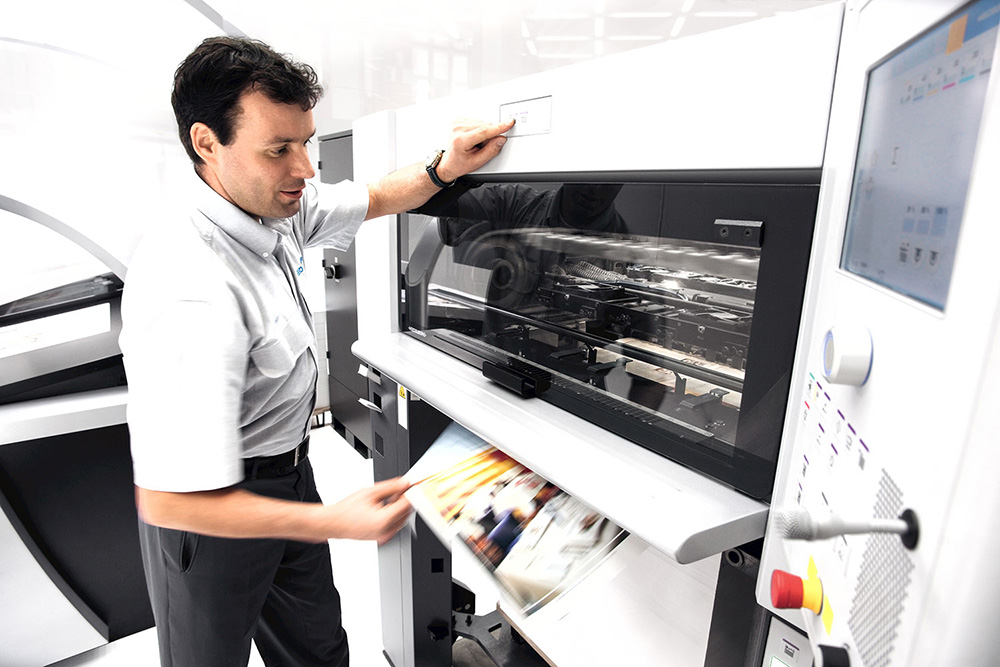 Heidelberg employee using the Speedmaster SM 74.