AT&T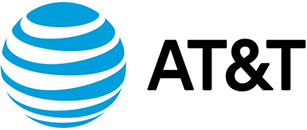 AT&T Delivery Innovations
[music]
00:04
AT&T; Delivery Innovations produces over 40 million printed statements per month
00:09
for both business and consumer customers.
00:12
This is a huge responsibility and it represents a very large expense for our corporation.
00:18
However, we have customers who still want, even demand, printed statements, and for a variety of reasons.
00:24
So while the need exists, our commitment is to do this cheaper and better than anyone else.
00:29
We built a platform that we call MACS the Mail Automation and Control System.
00:34
It's an industry-leading patented process that you can think about as an end-to-end
00:39
manufacturing control platform that runs on a proprietary IBM AIX Unix platform.
00:46
We've gone from a platform that cost us over four million dollars to a platform that's
00:51
only about two hundred thousand.
00:53
We see that incremental piece of paper as an incremental cost.
00:58
That incremental cost has to have a balance of a value and if the customer doesn't value it,
01:02
we don't want to produce it.
01:04
A vendor outside of AT&T;, that incremental piece of paper is revenue.
01:09
In the manufacturing process we produce paper documents.
01:13
And as you can see here, there are many different pre-printed forms.
01:16
Each one of them has its own nuance, its own variation.
01:19
There's different boxes, colors, logos, perforations for pulling off the remit stub.
01:25
We recognize that if we could implement full process color in our environment
01:30
that we could eliminate that cost.
01:31
We could reduce our costs and also gained the efficiencies of moving to this white paper
01:36
which gives us much more flexibility in how we manufacture.
01:39
And the secret with the Postal Service discount is more mail to the same ZIP Code gives you a better discount.
01:46
We're able to combine more jobs.
01:48
We can save more money in postage.
01:50
So a self-funded, self-initiated project that we call the White Paper Factory
01:55
is already delivering results.
01:57
We paid for the incremental cost of the new equipment and we're saving at a run rate over
02:02
3 million dollars a year.
02:04
So the third chapter of this story and this evolution in our journey toward 2020
02:08
is this new marketing channel that we invented in collaboration with our business partners.
02:14
We call it the First Page Communicator and it's proved to be a very powerful method for
02:19
communicating with our customers.
02:21
Think about it, it's already a touch point that we have every month with our customer
02:26
and for an incremental cost of a penny, a penny and a half, we can deliver these inspirational,
02:32
informational, promotional messages that are targeted to those individuals receiving that paper.
02:37
And the results have been phenomenal.
02:40
Our clients love it.
02:41
We've actually grown to over 20 million FPC's per month and they're constantly working with
02:46
us to find ways to do more.
02:48
The First Page Communicator has now become a complimentary marketing asset to other assets
02:52
such as direct mail email where it now provides incremental sales and incremental revenue
02:58
to the company and a much lower cost therefore improving the ROI of the marketing programs.
03:03
So the reason we've been pursuing this is to continue to really emphasize and focus on our customer.
03:09
Our journey is long and we have many steps in this process as we go for 2020,
03:14
to be more software driven, to deliver more value for the customer.
03:19
And in the process that we manufactured the mail, add value to that final touchpoint recognizing
03:25
that we can continue to grow our capabilities, more tailored specific messaging to the customer,
03:31
more ways to drive costs out of the business while recognizing that many of our customers
03:35
still want that paper statement.
03:37
So the journey is only just begun.
We're honored to participate in the Smithsonian's National Postal Museum exhibit and help celebrate the U.S. Postal Service's long history of supporting American businesses.

For more than a century, AT&T and the U. S. Postal Service have pioneered communication throughout the country. AT&T's mission — to connect people where they live, work and play … and do it better than anyone else — embodies this pioneering spirit.

The foundation for AT&T's business was laid in 1876 with an invention that would shape the world we know today: the telephone.
Alexander Graham Bell didn't just change the way we communicate, he changed the way we live and work. His telephone connected people and businesses across the country, creating a spirit of human connections that has powered our company's approach to innovation ever since.
Riding the shockwaves of Bell's revolutionary device, the Bell Telephone Company — later known as the American Bell Telephone Company and, eventually, the American Telephone and Telegraph Company (AT&T) — was created.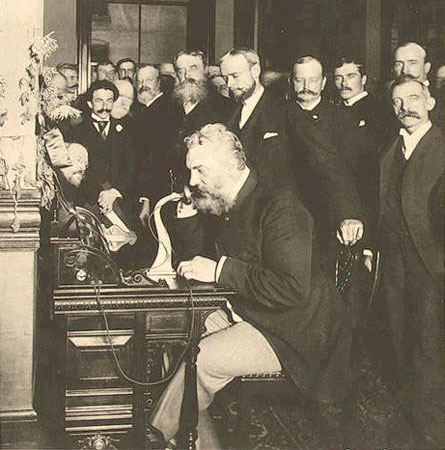 Alexander Graham Bell
As the United States saw rapid economic, geographic and population growth in the nineteenth and twentieth centuries, AT&T and the U.S. Postal System provided much of the communications infrastructure that fueled that growth. The Postal System pioneered the first information highway. It connected settlers on the American frontier with the East Coast and inspired additional westward investment and migration. And in 1885, after five years of experimentation, the American Bell Telephone Company began formal construction of an interstate long-distance system known as the Long Lines network. The company then incorporated the American Telephone and Telegraph Company, its subsidiary at the time, to operate the budding network. In 1899, American Telephone and Telegraph bought American Bell, becoming the parent company of what was then known as the Bell System. By 1915, Long Lines had crossed the continent.
In 1984, after more than a century of doing business, the original AT&T agreed to divest its local telephone operations but retain its long-distance, R&D and manufacturing operations. With this agreement, seven Regional Bell Operating Companies — the so-called "Baby Bells" — were formed. Each of these companies, in turn, had its own relationship with the U.S. Postal Service.
Twelve years after divestiture, the Telecommunications Act of 1996 dramatically changed the telecom landscape again. Over the next two decades, SBC Communications — formerly Southwestern Bell Corporation — completed several transformational acquisitions. And in 2005, SBC, which had begun as the smallest of the Baby Bells, acquired the original AT&T Corp. and renamed itself AT&T Inc. Today, following the acquisitions of BellSouth and DIRECTV, AT&T is the largest telecommunications company in the world.
From its inception, AT&T's history has been intertwined with the U.S. Postal System. Other than walking into an AT&T office, for years, mail delivery was the most efficient way for AT&T to bill its customers … and for its customers to pay their bills. Theodore Vail, the first president of AT&T, served as superintendent of the Railway Mail service before joining the company. And AT&T's local and long-distance networks were built to mimic the "hub and spoke" model originally developed by the Post Office Department for the delivery of mail.

Despite all that's changed since those early days, AT&T continues to rely on the U.S. Postal Service.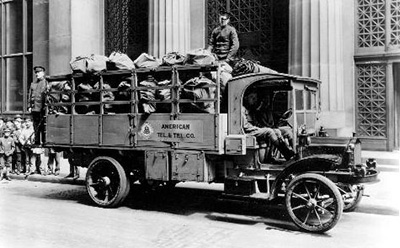 AT&T has been in the mailing business for more than a century – connecting to customers and others via the U.S. Mail since the beginning. Pictured are AT&T mail bags headed to the U.S. Postal Service to deliver dividend checks to shareholders.
Even as the billing process has become more automated, AT&T still sends bills and receives payments via the U.S. mail. AT&T has used the Postal Service for other purposes as well. By the early 1980s, AT&T's workforce had grown to about one million employees, all of whom received their paychecks and communications from the company by mail. And after AT&T became a public company in 1899, its shareholders received their dividend checks through the U.S. mail for many decades until electronic payments became the more popular way to deliver dividends. Even today, more than 1 million AT&T shareholders receive copies of the company's annual report and proxy statement via the U.S. mail. And AT&T sends instructions to millions more shareholders on how they can vote their shares at the company's annual meeting.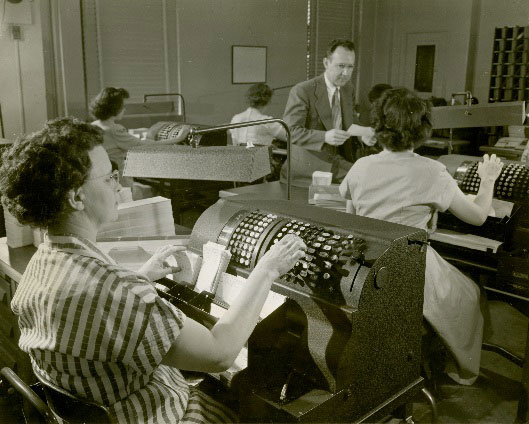 By the 1950s, billing processes had become more automated.
Pictured are Southwestern Bell Telephone Company billing machine operators.
The AT&T Delivery Innovations (ADI) team operates the company's mail manufacturing facilities in Alpharetta, Ga., and West Sacramento, Calif., processing close to 4,000 mailing files each day and mailing approximately 40 million customer bills per month. ADI also supports several hundred internal client systems and processes, all of which comply with all U.S. Postal Service mailing requirements. The Postal Service verifies, accepts and transports mail picked up at our facilities to deliver to customers' homes and businesses.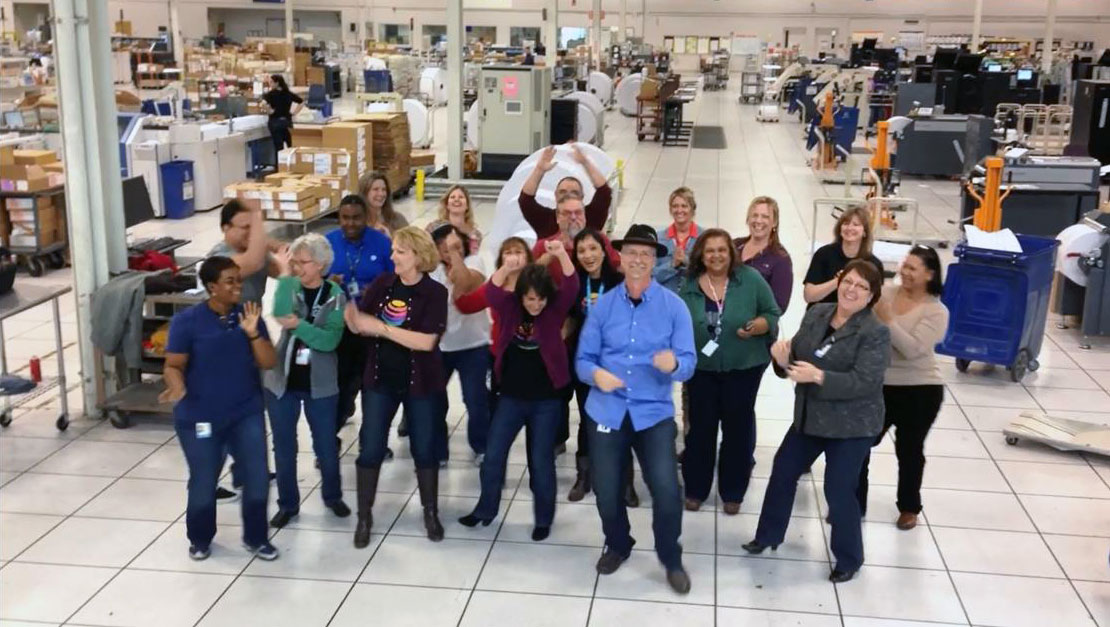 AT&T Delivery Innovation (ADI) employees in West Sacramento, CA – Mail Manufacturing site
ADI team members have collaborated with the Postal Service and the mailing industry for years. AT&T is active in the Postmaster General's Mailers' Technical Advisory Committee and other mailing associations, providing insights on innovations in the industry. The Postal Service has also recognized the company's efforts, presenting AT&T with its Partnership for Progress Award in 2011, Mail Innovation Award in 2013 and Supplier Performance Award in 2015.
In addition to customer bills and remittance payments sent through the mail, AT&T also sends marketing mail pieces to prospective and existing customers each year. AT&T also ships equipment to customers' homes and businesses via the U.S. mail.

In 2015, total mail volume sent by AT&T was more than one billion pieces.

From the Railway Mail Service to the Amazon Package Delivery Program, the U.S. Postal Service has transformed itself more than once since its inception. Today, AT&T is proud to provide technology solutions that help USPS connect people and businesses. Mail carriers use AT&T-powered scanners that track letters and packages, manage routes and transmit safety messages.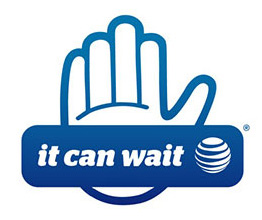 We've also worked with the Postal Service to help put an end to distracted driving. Our It Can Wait campaign has inspired more than 8 million pledges from drivers who have said they will keep their eyes on the road, not on their phones. AT&T has added the It Can Wait message to billing envelopes. We also created an augmented reality experience — a new and creative way to educate drivers on the dangers of distracted driving. And we've promoted this new tool by highlighting it on pieces of mail we've sent through the U.S. Postal Service.
As technology continues to evolve, we'll continue to collaborate with the U.S. Postal Service to build meaningful connections with our employees, shareholders and customers. It's been a strong and historic partnership. And the best is yet to come.