State Farm

State Farm - A Look at Our Mail History
[music]
Lauren Beurskens, Archivist:
State Farm started in 1922.
And how it started really was with George Mecherle.
And he had an idea.
Buck Farley, Historian:
He notices that the farmers are being charged the same premium as people that live in Chicago, and that didn't seem right to him.
Lauren:
And it was his idea to lower rates for folks who lived in rural areas.
He wanted to serve farmers in our state and state farm.
And what he did was he went door-to-door and at that time State Farm had grown beyond Bloomington and beyond our farm community to many other farm communities.
Buck:
We keep expanding in Bloomington and we're occupying four or five different offices.
Lauren:
There was a lot of hand carrying of documents that were required to be sent through email as an official document.
Buck:
And George had agents coming back to him saying,
Hey you know what?
I got people in town asking me to buy our policies and I keep having to tell no.
And George was like, alright let's try it out.
Well it takes off, it explodes.
And people are buying our policies right and left which increases our mail usage.
Lauren:
So we're getting mail from Michigan, were getting mail from Indiana, we're getting mail from these states adjacent to Illinois.
Buck:
So how do we get these apps back to the home office?
We send them through the United States Postal Service.
Lauren:
I think as the volume increased we tried to use people to do it.
And then we transitioned to technology.
Buck:
We decided it's time to open up a regional office to kind of helped us out.
So in each of those regional offices is a new mail room to kind of help out with the volume of claims and policies coming through that area.
Lauren:
At that time our second largest expense was mailing, after personnel.
Buck:
So the Postal Service takes notice and says, you know what, you guys have so much work coming through here we need to give your own ZIP Code.
So we get our own ZIP Code at our downtown building.
And in 1972 our corporate headquarters opens up, it has its own ZIP Code.
And in 2001, corporate south is completed and it also gets its own ZIP Code.
Lauren:
It still takes a lot of hands to do this work.
Buck:
That partnership with the mail service causes us to employ about 200 individuals still today.
Lauren:
And we sent out over one billion pieces of mail in 2014.
That's a lot of mail.
Buck:
We do about 34,000 claims a day.
And to get those payments out to our insureds, even in this digital world, a majority of that is still through the mail.
Lauren:
That's what people want.
You want it in writing.
You want it on paper.
You want to hold it in your hand.
Buck:
Without the mail service, we probably wouldn't be able to fulfill the promises that we have today.
Get people back on their feet.
Get them to realize their dreams, just like our mission statement.
[music]
State Farm®, well known for being a good neighbor, was founded in 1922 by retired farmer and insurance salesman George Jacob (G.J.) Mecherle in Bloomington, Illinois. G.J. started State Farm to help people manage the risks of everyday life, recover from the unexpected, and realize their dreams.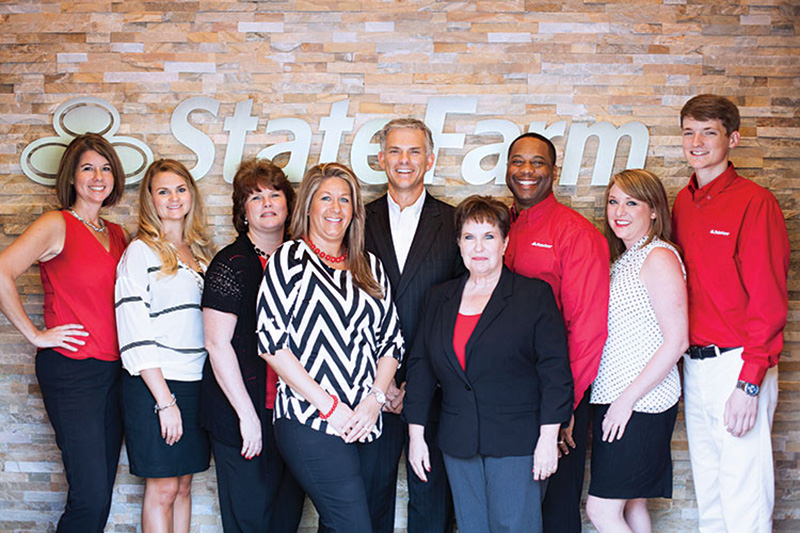 Agent, John Kizziah with his Team, Pensacola, FL, 2015
Initially an auto insurance company, today, State Farm offers nearly 100 products and services and, along with its 18,000 exclusive agents, State Farm services over 82 million policies and accounts and processes about 35,000 claims a day.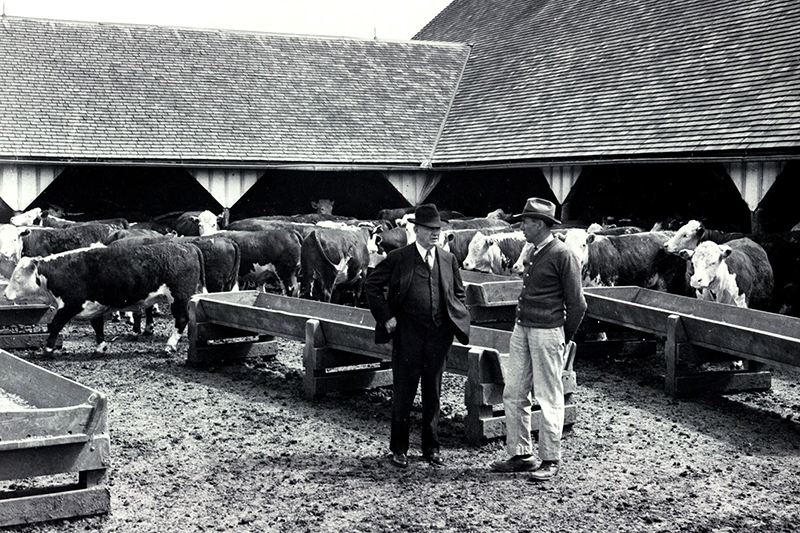 GJ Mecherle on his farm with his Farm Manager, circa 1930's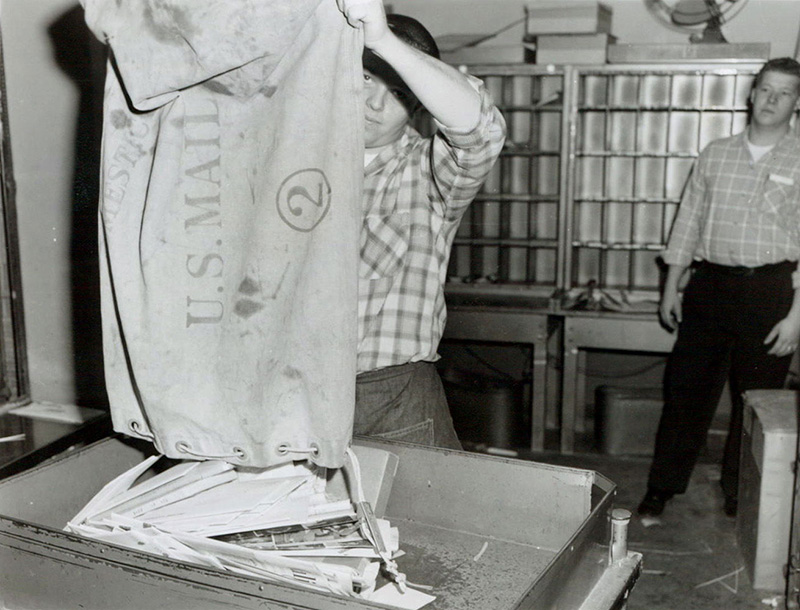 Emptying a Mailbag, 1957
The volume of mail associated with these policies, accounts, and claims created a strong relationship between State Farm and the USPS. In 2014, State Farm sent over one billion pieces of outbound mail, using over $300 million in postage to do so. In the same year, State Farm received over 41 million payments via inbound mail, illustrating the importance of the USPS as a convenient option for our customers.
Sending and receiving mail has been an integral part of the evolution of State Farm since our beginnings.
Here's a glimpse into that evolution: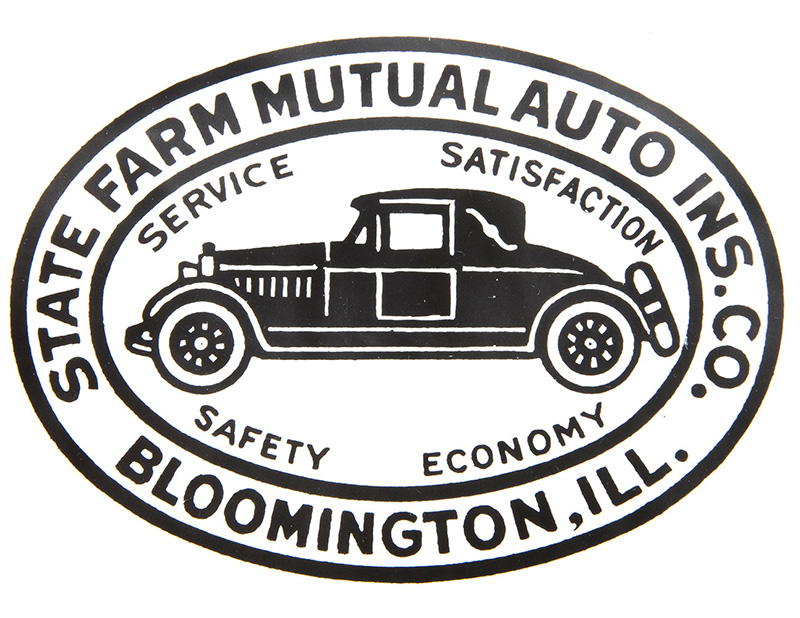 State Farm Logo, 1927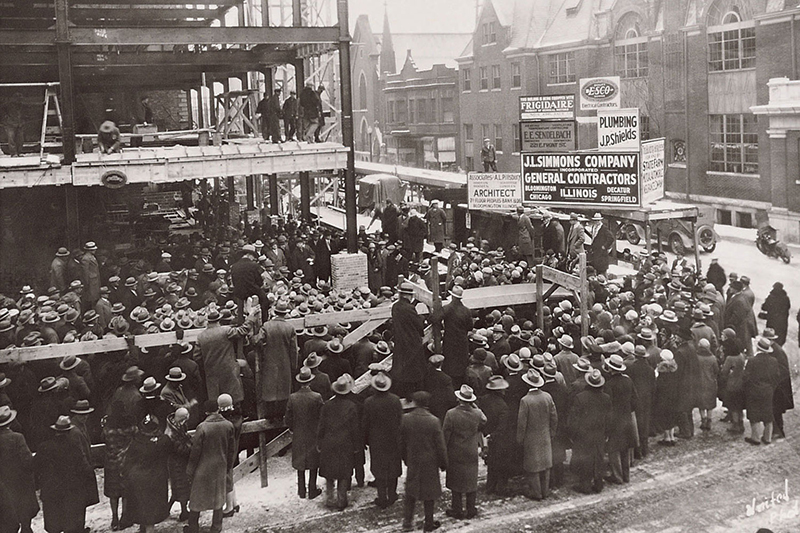 Gathering, Laying of the Cornerstone of the New State Farm Home Office, Downtown, Bloomington, IL, 1928
1920's
1922 - State Farm was founded on June 7, 1922, in Bloomington, Illinois, as a way to provide farmers – in the state of Illinois – auto insurance at competitive rates. Agents mailed documents to policyholders, and many were hand-carried.
1928 - State Farm officially started writing policies to non-farmers and customers who lived in towns and cities. This change significantly impacted mail operations, as it immediately increased the Company's customer base and geographic reach.
1929 – Construction was completed on the State Farm Home Office Building in Downtown Bloomington, centralizing all operations to one location, including mail operations.
1929 – After the Home Office Building was completed, State Farm started selling Life Insurance. Our founder, G.J. Mecherle, purchased the first Life Policy from State Farm. The addition of this product line increased customer account volume and both in and outbound mail volume.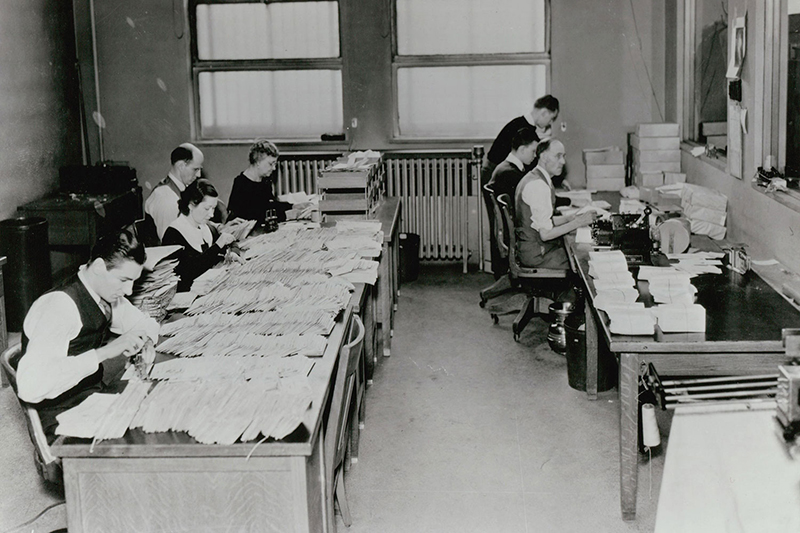 Mailroom, State Farm Home Office Building, circa 1930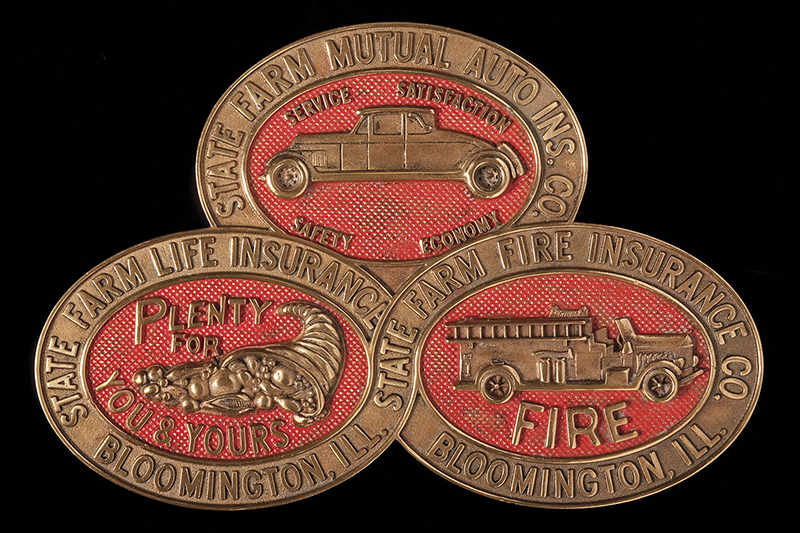 State Farm Logo, Bronze, 1936
1930's
1930 - State Farm established its first mailroom on the first floor of the Home Office.
1935 - The Fire Company, selling Homeowner's Insurance, was founded. Mailing of applications, policies, marketing materials, and claim payments related to Homeowner's insurance created another surge in mail volume.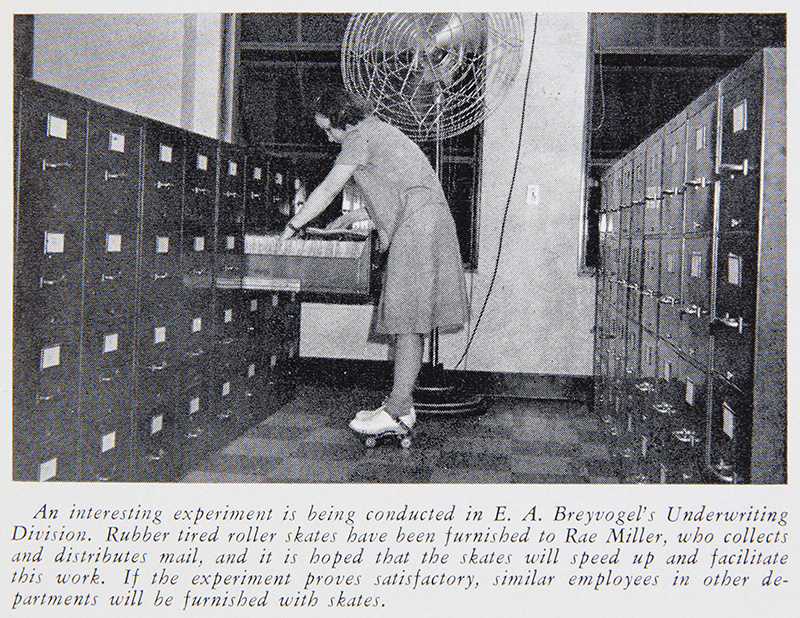 Roller Skater, Filing, 1940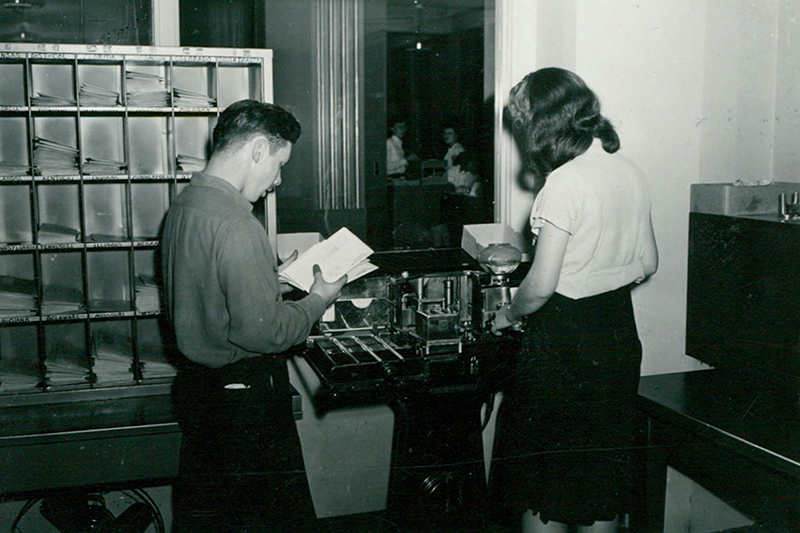 Mailroom, 3rd Shift, 1941
1940's
1940 – State Farm looked to a popular pastime to increase the efficiency of its mail operations: roller skating. Roller skates were provided to clerical employees to assist in the delivery of mail around the office.
1941 – The need to manually sort the mail meant opportunities for college students from the Bloomington area. Students from Illinois State Normal University and Illinois Wesleyan University were hired to work the night shift in the mailroom to help sort mail for the next business day.
1942 – State Farm became the #1 auto insurance company in the United States.
1947 – State Farm opened regional offices across the United States and Canada.
Regional offices included mail operations, resulting in new relationships with local post offices and shorter mailing times to customers due to closer business operations.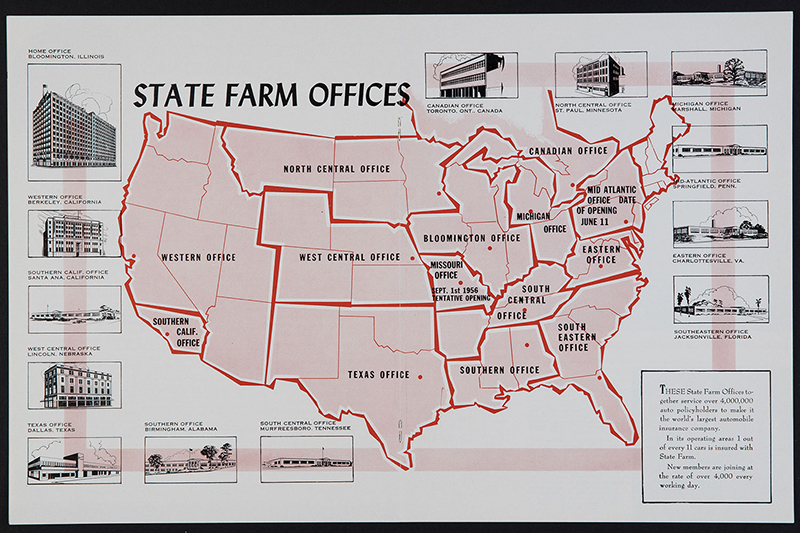 Map of State Farm Offices in the US, 1954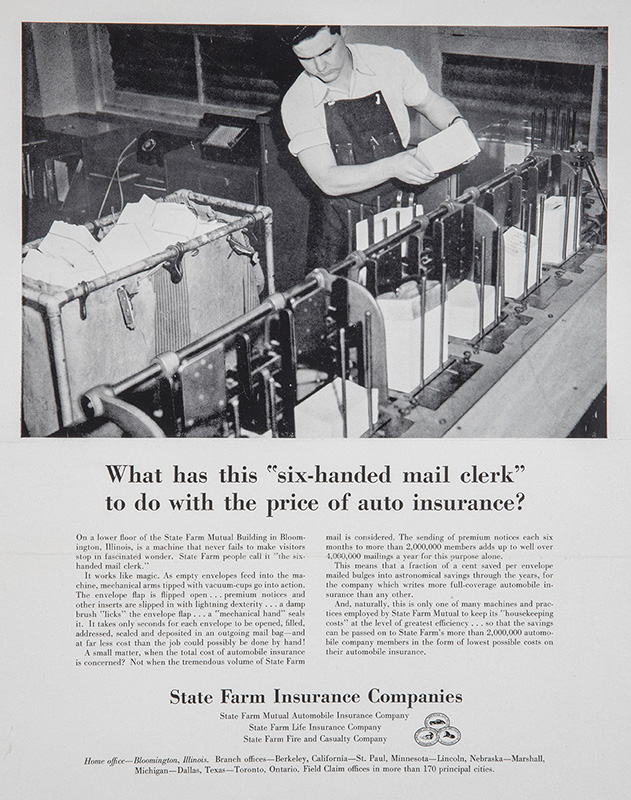 Advertisement, 'Six-handed Mail Clerk,' 1952
1950's
1952 – In Bloomington, State Farm added the "Six-Handed Mail Clerk" to the mail room. The first mechanical inserting machine stuffed 4,000 envelopes per hour, including up to six inserts at the same speed.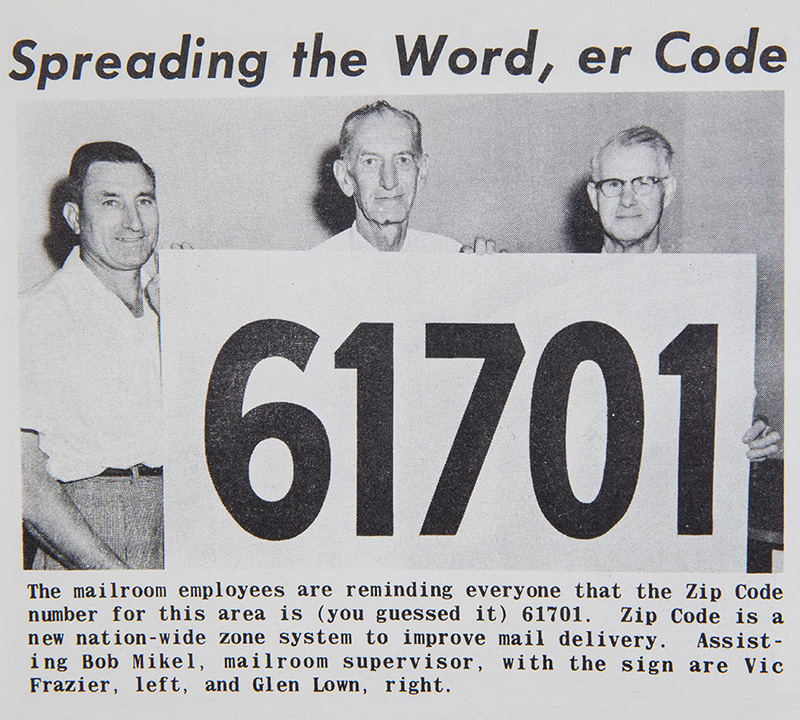 Introduction of the ZIP Code, 1963. This photo and information appeared in the ALFI (Auto Life Fire Insurance) Newspaper, a weekly internal State Farm Publication, written by State Farm staff.
1960's
1963 – State Farm supported the introduction of ZIP codes by the postal service and encouraged employees to add ZIP codes to mailings.
1964 – State Farm became the #1 homeowner's insurance company in the United States.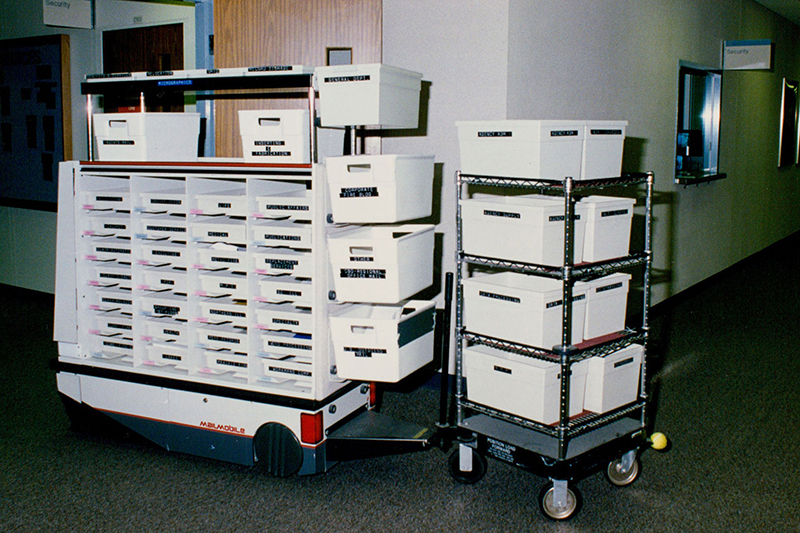 Mail Mobile, used to deliver mail internally at State Farm, c. 1978
1970's
1978 – Automated mail mobiles were introduced to collect and deliver internal mail. These machines – implemented for efficiency – created a sensation among employees and at first, actually decreased overall production. Across the Country, the mail mobiles were named by their users and local news channels featured them on the evening news
1979 – In an effort to decrease postage costs and increase delivery times, State Farm partnered with the USPS to presort its mail by ZIP code.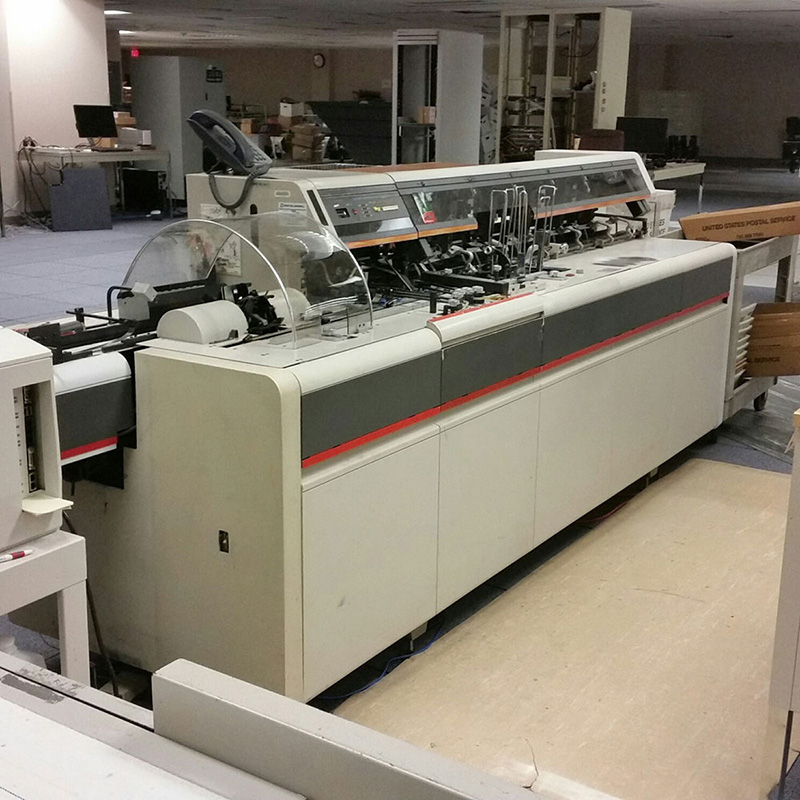 Inserting Machine, circa 1980
1980's
State Farm partnered with the USPS to again improve the efficiency of its mail operations in the following ways:

Adoption of the ZIP+4 coding system when it was introduced by the USPS
Reset its meters via phone, rather than in person at the post office
Continued to evolve the machine inserting process to improve accuracy and efficiency.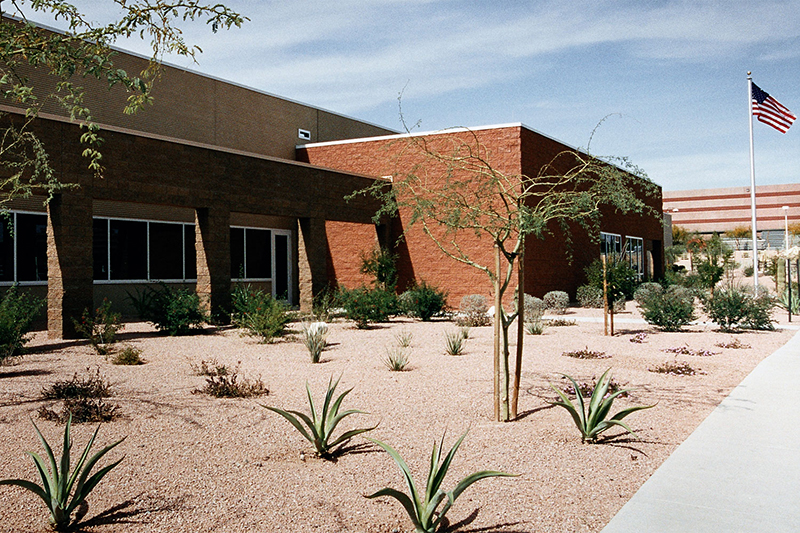 Mail Processing Center, Tempe, AZ, circa 1990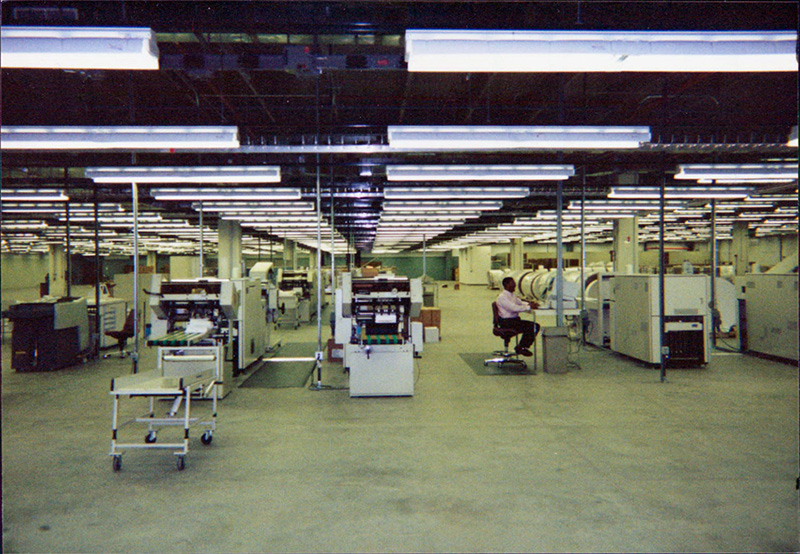 Mail Processing Center, Bloomington, IL circa 1990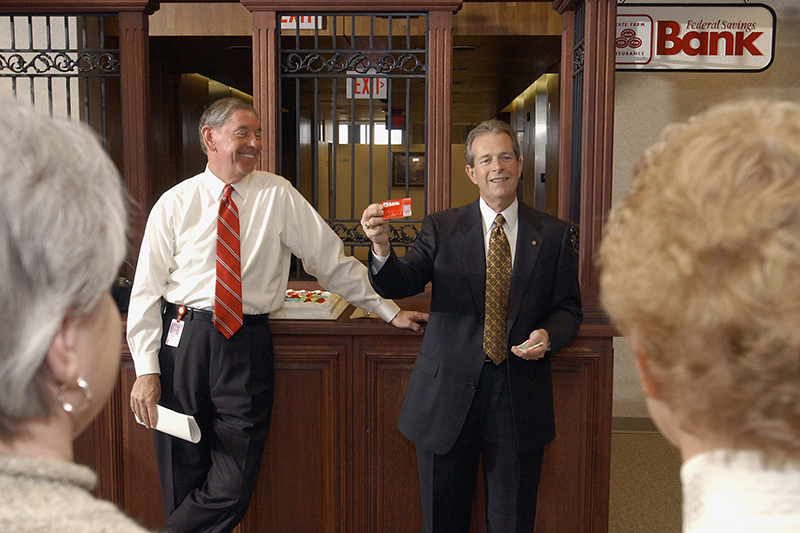 Announcement, State Farm Bank, 2001 - Stan Ommen, left, and John ("Jack") North, right
1990's
State Farm consolidated mail operations from 27 facilities to 3, which provided many efficiencies:

Centralized mail operations allowed State Farm to implement new printing and inserting technology more quickly and with greater consistency
High speed print and insert equipment used in all 3 locations for all mail
Equipment ran for 3 shifts per day to handle huge volume

State Farm became active in multiple national mailer associations which enabled the Company to work closely with the industry and USPS to find win/win solutions for increased efficiency.
1999 – State Farm Bank® was founded. Since its inception, the volume of mail from State Farm Bank has continued to grow.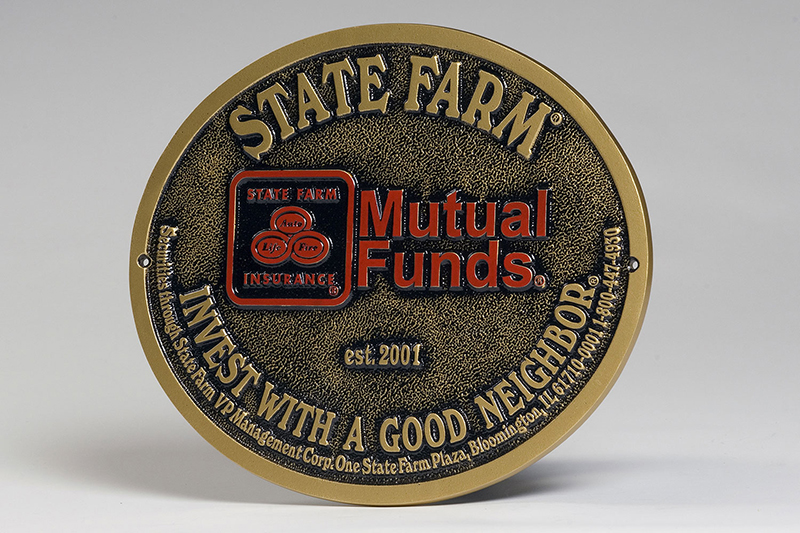 Mutual Funds Plaque, Bronze, 2001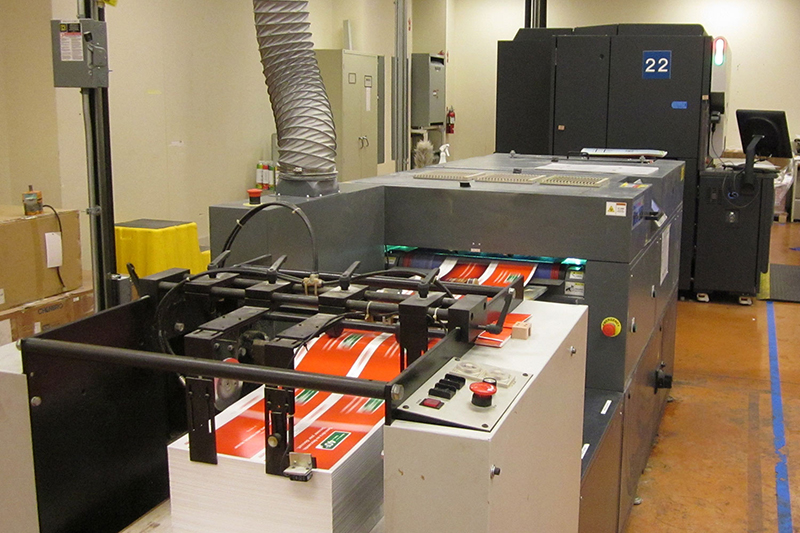 Printer, New Technology employed to increase efficiencies, 2013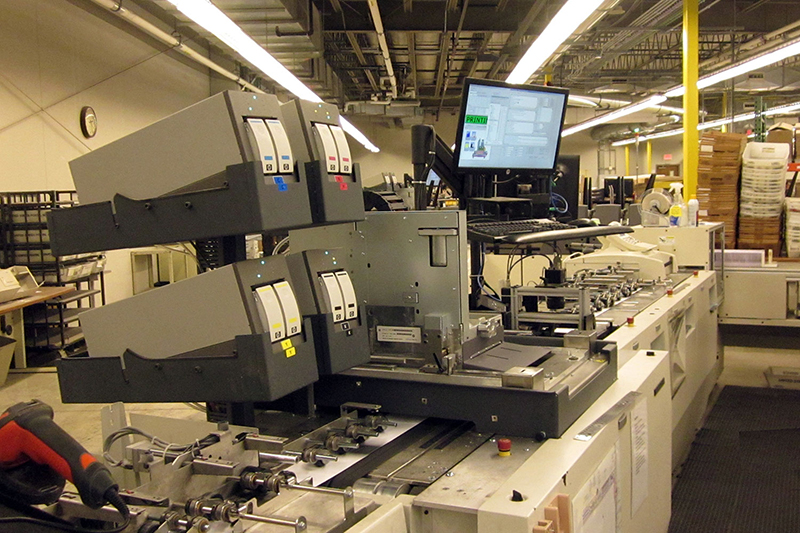 Inserting Machine, 2013
2000's
2001 – State Farm Mutual Funds® were introduced and mail volume increased as this new product came to market.
State Farm implemented full service IMb (Intelligent Mail Barcode) shortly after the USPS announced this new symbology.
Expanded use of print on demand and new color print technology allowed State Farm to:

Use blank stock and eliminate many preprinted forms
Participate in USPS initiatives to provide more value to mail
Reduce inserting machine set-up time which increased productivity
Allowed for more personalized direct mail marketing
2010's
State Farm once again implements advanced technology in its mail operations with state of the art printing and inserting equipment. The addition of new technology in all facilities introduced process efficiencies and increased productivity.
State Farm participated in the USPS Secured Destruction pilot.
2015 – State Farm is expanding use of the intelligent mail barcode (IMb) which allows
us to receive electronic address correction and an electronic date stamp showing USPS
received our mail.
TODAY – Postage continues to be one of the largest expenses for State Farm. Employees continue to find and create efficiencies at every level of our mail operations, so that we can pass those cost savings along to our customers.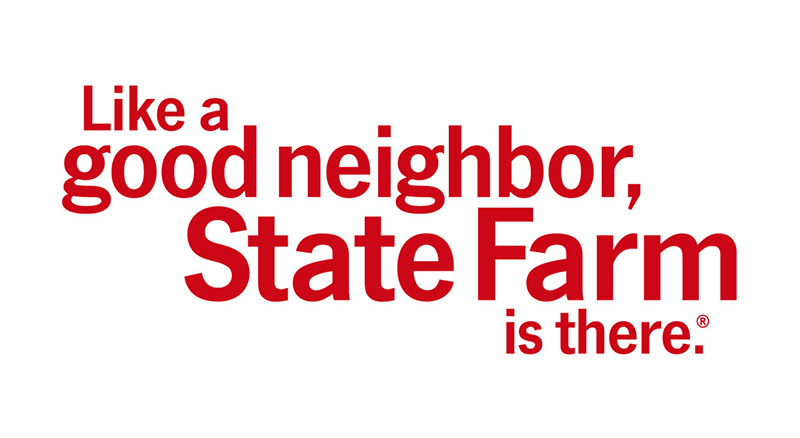 State Farm Philosophy, 1971 - Present Day
Published circa September, 2016.