BrightKey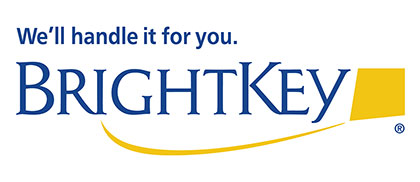 00:00
[music]
Narrator:
In 2001 letters laced with anthrax were
00:03
delivered to two senators and members of
00:04
the media in the weeks following 9/11.
00:07
Five people died, countless others were
00:09
sickened, and the simple act of opening
00:11
the mail changed forever.
00:14
Members of BrightKey's mail screening
00:16
team became part of the solution right then.
00:19
And BrightKey has continued to
00:21
build best practices and add
00:22
state-of-the-art technology to
00:24
efficiently and effectively screen mail
00:26
for high risk organizations.
00:28
Today the BrightKey innovative mail solutions
00:31
team remaines vigilant as tactics
00:34
evolve a new risks emerge, such as the
00:36
use of ricin in a more recent attack on
00:39
the President of the United States.
00:41
BrightKey starts with a proprietary risk
00:43
assessment process so that each
00:45
customized solution needs client
00:46
requirements for safety and security.
00:49
We can screen mail off-site at our facility
00:51
or we can configure our modular negative
00:54
pressure mailroom either to retrofit
00:56
existing facilities or to meet the
00:58
construction specifications of new buildings.
01:01
And we keep our fully equipped
01:02
mobile unit at the ready for backup screening.
01:05
Whether it's real or a hoax,
01:07
a CBRNE threat can lead to mandatory
01:09
building evacuation, business disruption,
01:12
and unwanted media attention.
01:14
BrightKey works behind the scenes to reduce the
01:17
risk of potentially life-threatening situations.
01:20
BrightKey maintains a strict
01:22
chain of custody from the minute our
01:24
courier picks up the mail, to delivery at
01:26
the final destination.
01:28
The courier scans each piece of mail before loading it
01:31
onto our secure vans.
01:33
Only authorized personnel with security clearances have
01:36
access to your mail and our facility.
01:39
All screening takes place in the negative
01:41
pressure environment where hundreds of
01:43
feet of HEPA filtration ensure clean air
01:45
flow for the operators.
01:47
BrightKey follows the US Postal Service guidelines
01:49
for visual inspection.
01:51
Mail and packages of all sizes go through radiological
01:55
screening and x-ray inspection in a
01:57
large tunnel machine.
01:59
When our in line detection reveals a suspicious package
02:02
the technician contacts our off-site
02:04
explosives team to examine the image in
02:06
real-time, providing an expert set of
02:09
eyes and further instructions.
02:11
Next, the mail goes to our bio room where
02:14
we test for multiple threat agents all
02:16
in one pass. The technician slits the
02:19
corner of non paper envelopes and places
02:21
small batches of mail into a jogger
02:23
which shakes it over a downdraft
02:26
table to collect air samples for testing
02:29
A small probe inserted in the corner of
02:32
each box tests the contents. Each batch of
02:34
tested mail goes into a containment room
02:36
awaiting final clearance while the next
02:39
batch of mail is tested.
02:41
Results are reliable and real-time.
02:43
Additional testing options include opening,
02:45
extracting, and inspecting each piece of
02:48
mail for white powder, offensive content,
02:51
and other threats. Envelopes are resealed,
02:55
stamped, and sorted to client specifications.
02:57
Digital mail imaging takes security to a higher level.
03:01
We extract the mail, scan it
03:02
using your naming conventions, capture
03:04
metadata, and provide a link for secure viewing.
03:08
The mail can be archived and
03:09
retrieved on request for hands-on viewing.
03:12
When the BrightKey van leaves
03:14
our facility, you can be confident that
03:16
our experienced team has thoroughly
03:19
screened each envelope and every package.
03:22
The mail arrives safe and secure on your
03:24
employees' desks right at the start of each workday.
03:28
They can open their mail
03:29
without giving it a second thought,
03:31
just as it should be.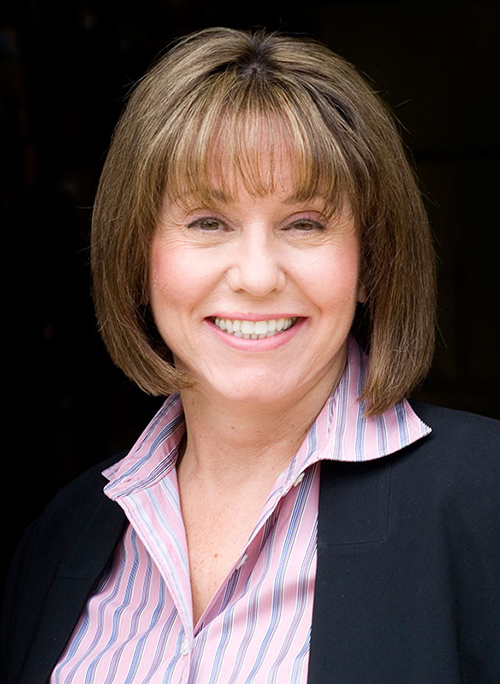 BrightKey founder Rita Hope Counts well knows what it's like to start a company from the ground up—including long days selling her company's services, managing a warehouse and mailing service operation, and long evenings stuffing envelopes on her kitchen table to get rush projects out the door. A dog-eared copy of the USPS Domestic Mail Manual became her best friend. And her first technology upgrade was a blue IBM Selectric typewriter.
From day one, BrightKey (then Professional Mail & Distribution Services or PMDS) understood that whether it was one package or a mailing of thousands—direct mail is a one-to-one communication. Mailshops frequently feel the pinch, positioned at the end of a long chain of processes—and most jobs become a rush. Last minute but still accurate. Fast forward to today and BrightKey handles highly automated mailings and customized mailings that still call the speed, accuracy, and the personal touch.
From warehousing, distribution, and mail processing to processing orders…from onsite mailrooms and secure mail screening…from direct marketing strategy and creative services, BrightKey handles mail from start to finish. With more than 140 associations, government agencies, and corporations as clients, BrightKey knows it has the responsibility to deliver. No BrightKey employee thinks about stuffing envelopes or packing up boxes…they know it's about fulfilling a client promise, putting something directly in someone's hands—a letter, a welcome kit, a journal, a shipment of books for a classroom. They're all direct touches and personal touch is key.
THE EARLY YEARS
1988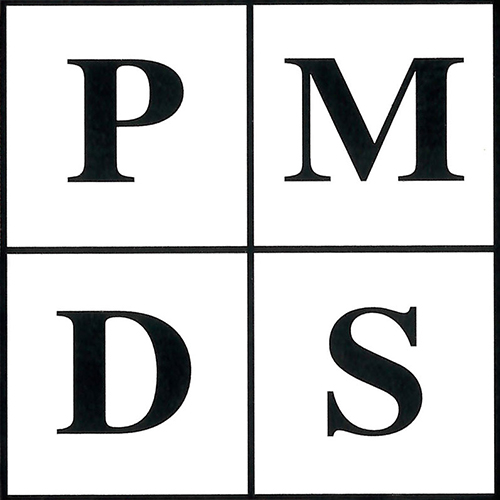 PMDS: BrightKey was originally founded under the name Professional Mail & Distribution Services (PMDS).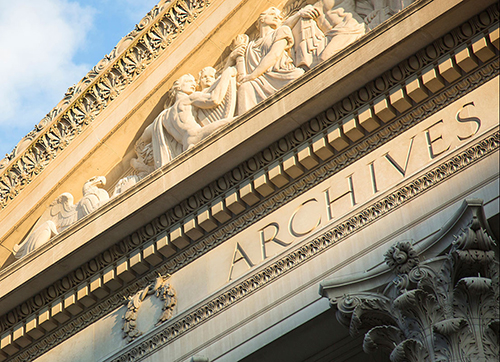 First Government Client: The National Archives Microfilm project was one of BrightKey's first clients and the very first government contract.
1989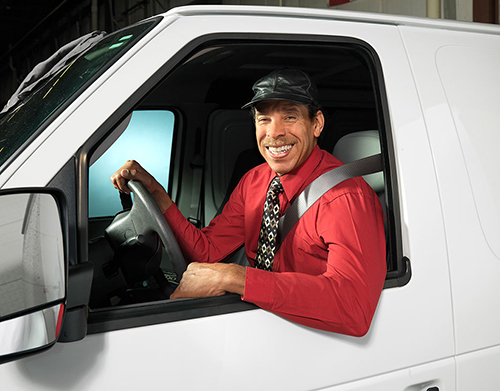 First Employee: BrightKey (then PMDS) hires its first employee other than Rita. Langston Ray joins the team as a courier, bringing in new work to be completed and delivering mail to the post office for shipment.
First Association Client: BrightKey's (then PMDS) first association client, the School Superintendents Association, came to PMDS for warehousing and fulfillment of publications. AASA advocates for the highest quality education for all students by developing and supporting school system leaders. PMDS helps AASA put the right resources into the hands of superintendents.
1991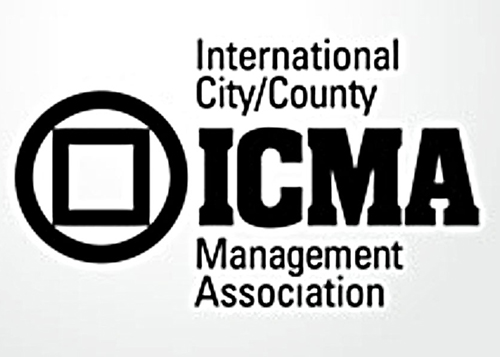 Added additional services: With the addition of a new client, the International City/County Management Association, BrightKey (then PMDS) expanded services to include more turnkey solutions such as customer service, and processing publication and subscription orders. ICMA is dedicated to creating excellence in local governance. The decisions made by ICMA's members affect millions of people in thousands of communities throughout the world.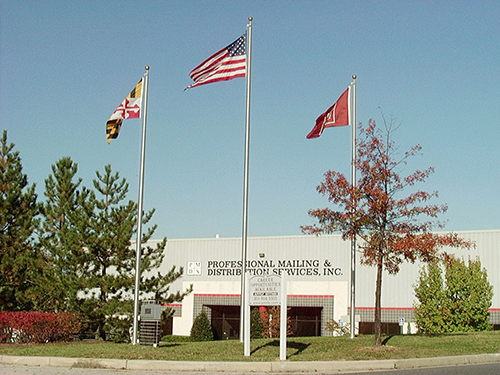 New Headquarters: An increase in number of clients and employees created a need for a new office and warehouse facility to accommodate the recent company growth. BrightKey (then PMDS) moved to Annapolis Junction, Maryland, and this building remains our headquarters office to this day.
MOVING FORWARD
1994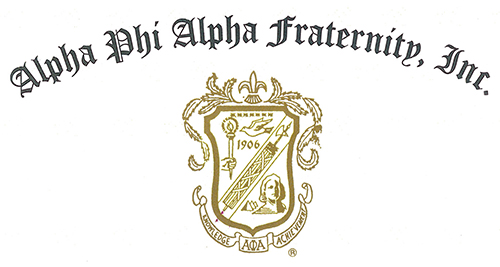 Alpha Phi Alpha: BrightKey (then PMDS) welcomes its first fraternal client, processing pledge applications and distributing membership materials. Alpha Phi Alpha has the distinction of being the first inter-collegiate Geek letter fraternity for African-American men. The fraternity has had many distinguished members such as Thurgood Marshall and Dr. Martin Luther King Jr. Alpha Phi Alpha remains a client to this day and celebrated 20 years of partnership in 2014.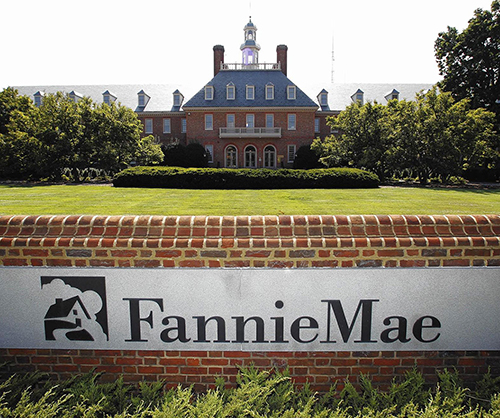 Fannie Mae: Another client we still have to this day is Fannie Mae. We started with processing conference orders and housing their materials, and now this project has grown include a wide range of turnkey services. Fannie Mae, originally called the Federal National Mortgage Association, was founded in 1938 during the Great Depression as part of the New Deal. They provide financial products and services that increase the availability and affordability of housing for low-, moderate- and middle-income Americans.
1995

Math matters: One of our first call center clients, Mathematical Association of America, is the largest professional society focusing on undergraduate-level mathematics. MAA provides members with a wealth of programs, events, and publications, all of which are stored, processed and fulfilled by BrightKey. In 2013 the project expanded to include the processing of registrations, distribution of materials, and scantron scoring for MAA's American Mathematics Competitions. MAA AMC is dedicated to the goal of strengthening the mathematical capabilities of our nation's youth by identifying, recognizing, and rewarding excellence in mathematics through a series of national contests.
GROWTH YEARS
1998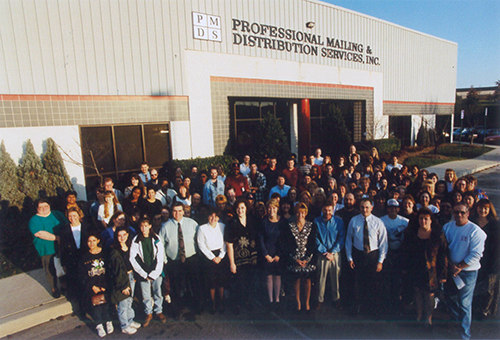 BrightKey grows to over 100 employees handling warehousing, fulfillment, customer service, marketing and administrative services.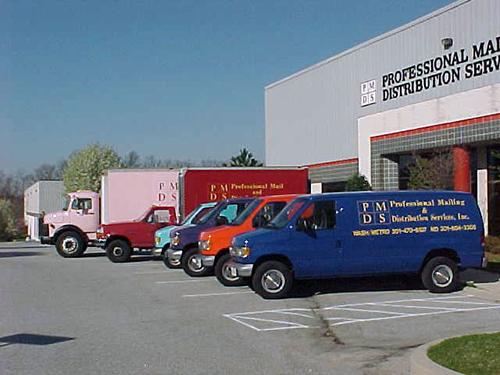 Meet the Fleet: In addition to the expanding services offered, we had a fleet of football team color themed courier and delivery trucks for pickups and deliveries, transporting customer materials, post office runs, and more.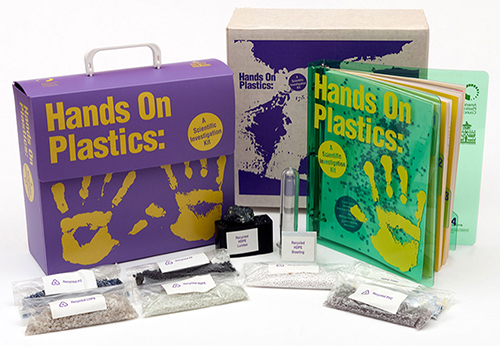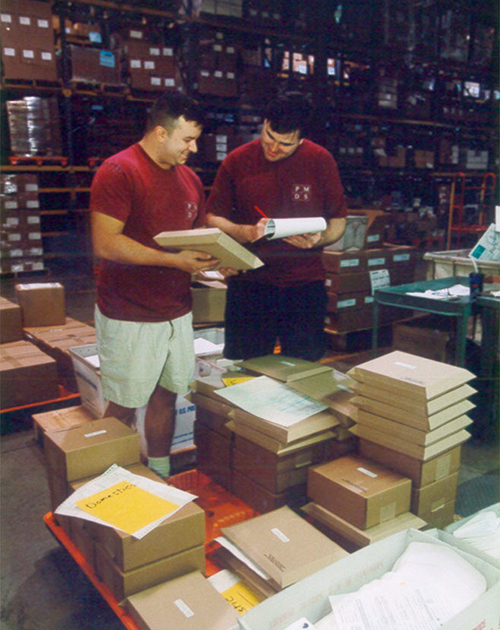 Hands On Kits: American Plastics Council signs on for kit collation and distribution. Our mail shop hand-assembled their Hands On Plastics kits, which are used in schools to introduce students to the chemistry and characteristics of plastics.
1999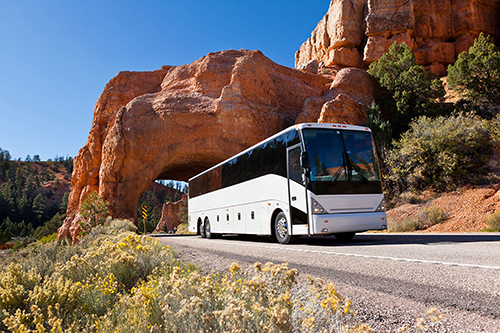 Services expand to include Telemarketing: BrightKey (then PMDS) began telemarketing services for The American Bus Association, whose members include motorcoach operators, tour operators, tourism-related organizations, and products and service suppliers. Using a combination of telemarketing, post office mailings and emails, we conducted a ten-question census survey. Any resulting updates served to increase accuracy of address information and strengthen efficient communication with ABA's constituent audiences.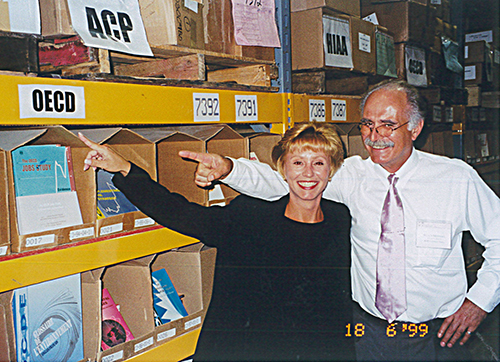 Our first International client comes to visit: BrightKey (then PMDS) welcomes a new client, the Organization for Economic Co-operation and Development based in France. Services include warehouse and US fulfillment for their publications. The OECD provides a forum in which governments can work together to share experiences and seek solutions to common problems. They set international standards on a wide range of things, from agriculture and tax to the safety of chemicals.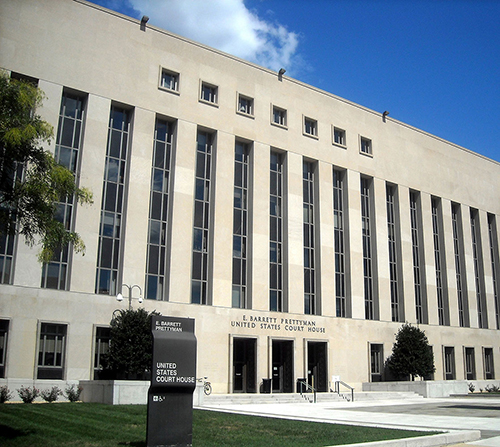 DC Court mailings: For over ten years, BrightKey (then PMDS) has processed and mailed the weekly earning statement stubs for the Administrative Office of the United States District Courts (AOUSC). These mailings required dedicated attention to detail and had to be collated using sequence numbers. Regularly scheduled courier runs take place within tight time windows to ensure mail processing and entry into the USPS mail stream on a given day.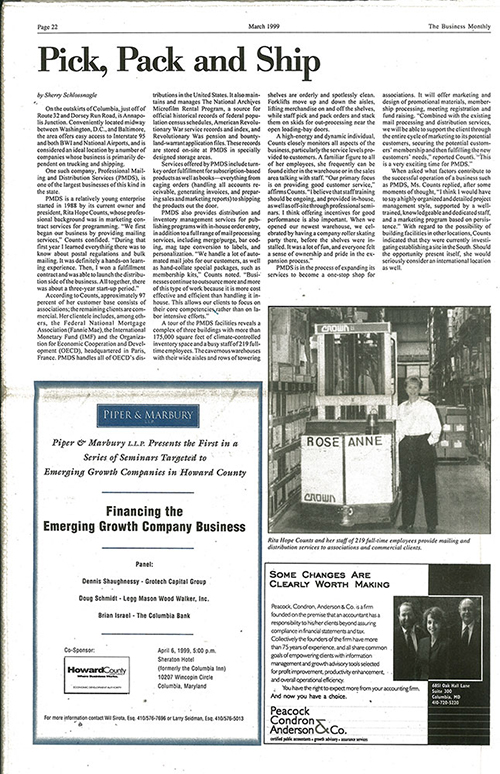 Feature article in Business Monthly: In March of 1999, the local newspaper, The Business Monthly, interviewed Rita Hope Counts in an article highlighting our range of mailing and distribution services to association and commercial clients.
2000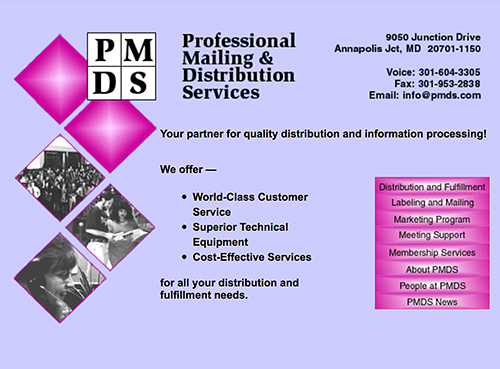 Launch of First Website: To keep up with ever growing technologies and to stay competitive, we developed and launched our first website under the original company name PMDS. Existing and prospective clients could now easily find us, and a comprehensive listing of services.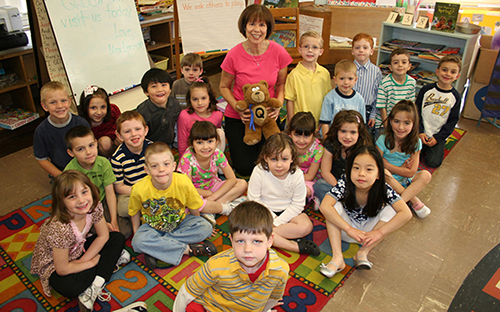 Lions Quest comes to BrightKey (then PMDS) for teacher training workshop coordination and the shipment of classroom materials to support the important mission of helping young people develop the skills and strength of character needed to succeed as adults. As seen in the accompanying photo, the Q-Bear plush is the international favorite mascot used to bring the quest alive for children in the classroom. Lions Clubs International Foundation acquired Lions Quest in 2002 and they remain a client to this day.
2001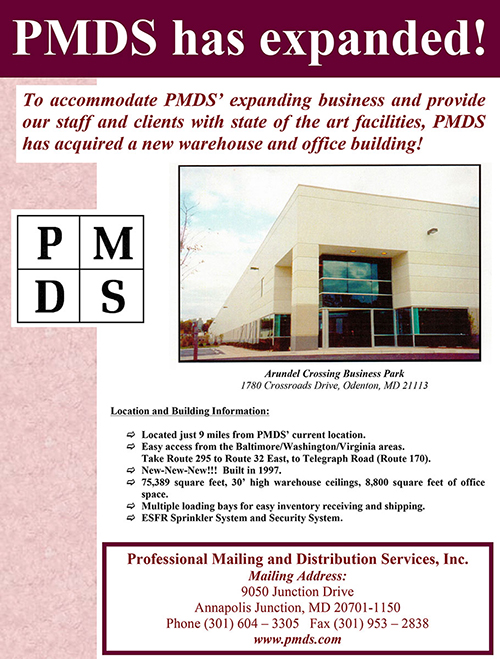 American Society of Testing Materials partners with BrightKey (then PMDS) for warehousing, distribution and fulfillment services. ASTM is a standards development organization that serves as an open forum for the development of international standards. Their standards enhance performance and help everyone have confidence in the things they buy and use – from the toy in a child's hand to the aircraft overhead.
Crossroads expansion: To accommodate PMDS' expanding business and provide our staff and clients with state of the art facilities, PMDS acquired a new warehouse and office building.
2002
First onsite mailroom: The American College of Cardiology uses BrightKey (then PMDS) to staff and manage their onsite mailroom serving over 350 of the College's employees. Our staff receives and distributes mail (300+ pcs daily) and packages to the ACC staff residing in their eight-floor building, as well as processing any outgoing mail.
BRIGHT NEW DIRECTIONS
2003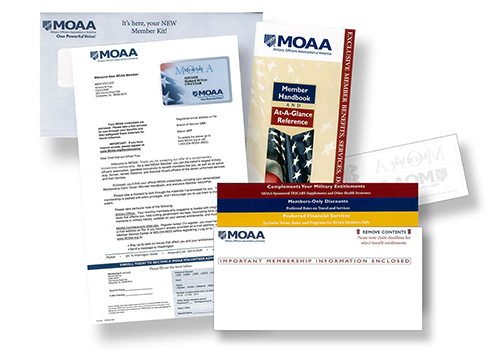 Serving the Military: Military Officers Association of America partners with BrightKey (then PMDS) for membership mailings and distribution. MOAA is the nation's largest and most influential association of military officers representing the interests of military officers and their families at every stage of their careers. They tasked our mail shop with putting together mailings from member packets containing member cards and other information, to condolence letters to families of deceased officers.
2006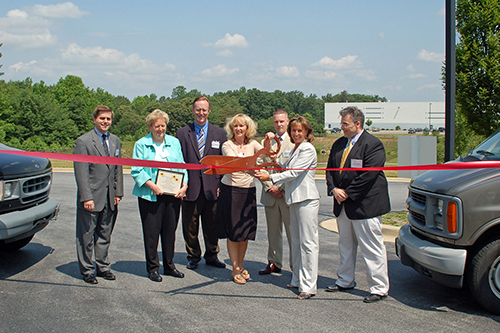 Partnership with Gasch Printing: In response to increasing client needs, BrightKey (then PMDS) begins a partnership with a local printing company, Gasch Printing. This opened up the possibility of offering print on demand and full color printing services.
2007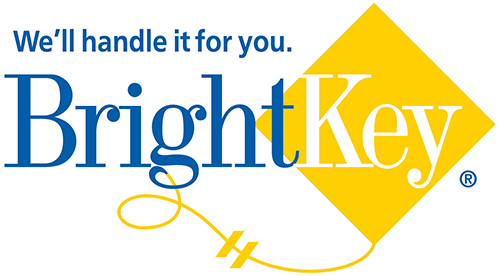 New Name: BrightKey is born! Ever the visionary, Rita Hope Counts decided to have PMDS rebranded—after years of expanding services, Professional Mail & Distribution Services no longer conveyed the full extent of services offered. The name BrightKey stems from a Benjamin Franklin quote "…the used key is always bright". The Franklin theme is continued visually in the use of the kite symbol in the new logo, playing off of his iconic lightning storm experiment using a kite and key.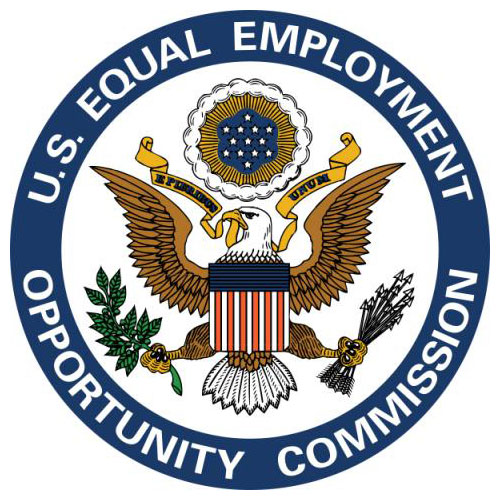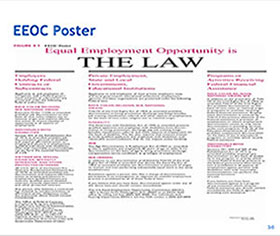 First client in Government sector: BrightKey begins warehousing, processing and fulfilling orders for our first government funded contract, the Equal Employment Opportunity Commission. EEOC is responsible for enforcing federal laws that make it illegal to discriminate against a job applicant or an employee because of the person's race, color, religion, sex (including pregnancy), national origin, age (40 or older), disability or genetic information.
EXPANDING THE VISION
2008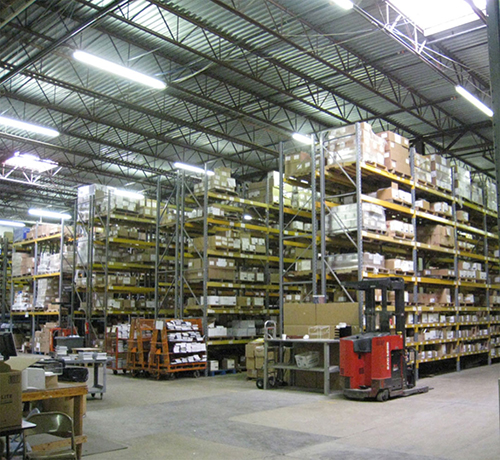 New acquisition: BrightKey expanded once again, acquiring a new building location from Pitney Bowes Government Solutions as well as absorbing any project contracts that were based out of that location. Clients absorbed during this acquisition included: Elsevier­ (a world-leading provider of information solutions that enhance the performance of science, health, and technology professionals.), ACE–the American Council on Education and APA–the American Psychological Association.
ESOL Teachers: TESOL (Teachers of English Speakers if Other languages), commissioned BrightKey to redesign their publication covers and to launch and maintain their eBook series. In addition to these publication services, TESOL's BrightKey team handles membership renewals, customer care and the processing of publication and subscription orders. TESOL is the largest organization focused exclusively on English language teaching for speakers of other languages. Whether you are a teacher, student, administrator, researcher, author, writer or curriculum developer, there is a place for you in TESOL.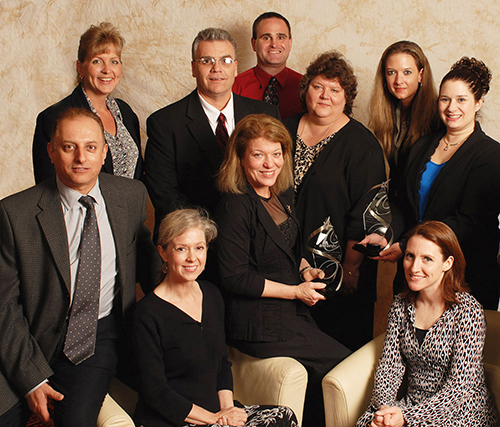 AMA Awards: The American Marketing Association awards the marketing firm, Creative Strategy, for the amazing rebranding job they did for BrightKey.
2009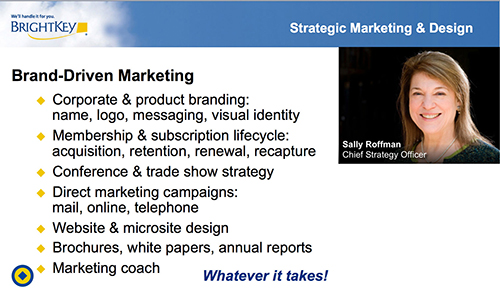 Marketing Expansion: The marketing firm, Creative Strategy, joins BrightKey to become the new Strategic Marketing Division. This was a major expansion to the existing marketing team and added marketing and creative services to the support service menu.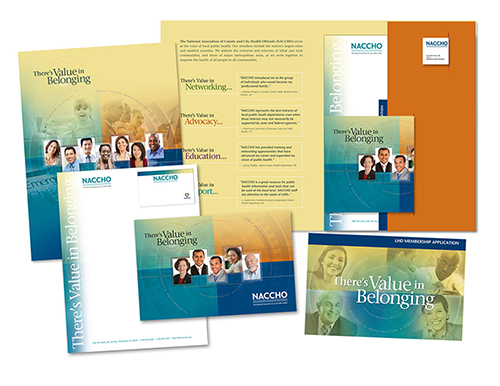 Kit mailings: BrightKey writes, designs and prints materials for The National Association of County and City Health Officials, new member kits. Kits are assembled and distributed using BrightKey's Mail Processing Center. NACCHO is an organization focused on being a leader, partner, catalyst, and voice for change for local health departments around the nation.
League of American Bicyclists: BrightKey supports one of the Nation's largest membership organization for cyclists by designing and printing their membership renewal materials. The League of American Bicyclists envisions a world where everyone recognizes and enjoys the many benefits and opportunities of bicycling.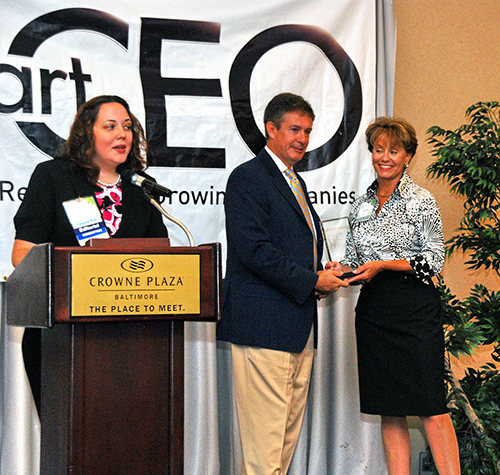 Brava Award: The Maryland based magazine, SmartCEO, recognizes Rita Hope Counts as one of Greater Baltimore's top female leaders. The Brava award celebrates female CEOs who have been able to not only grow successful companies, but are actively involved in giving back to the community through philanthropic acts.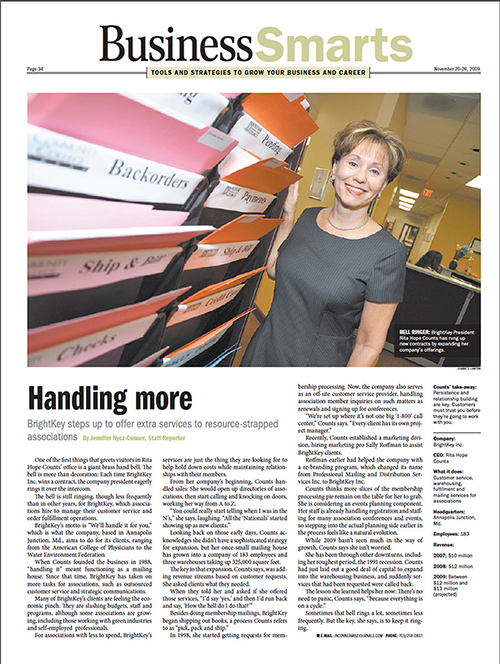 Feature article: The Washington Business Journal published an article about BrightKey and Rita Hope Counts in their Business Smarts section. The article interviews Rita on how the company has grown and expanded, offering services to resource-strapped associations and highlighting how client needs and requests have driven expansion over the years.
2010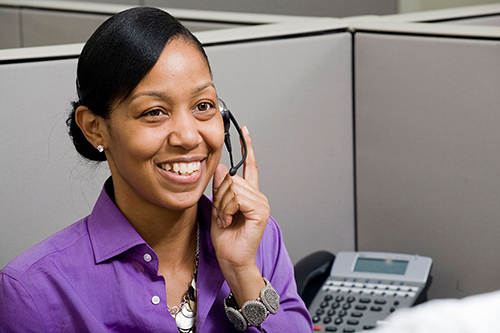 Strategic Outreach: BrightKey launches a dedicated department and team for telemarketing projects—the Strategic Outreach Division.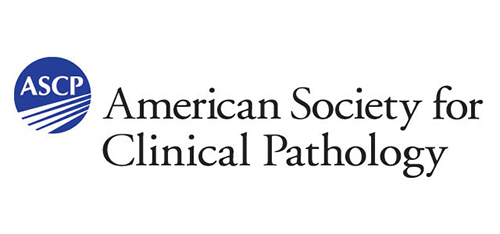 ASCP becomes the first outreach client.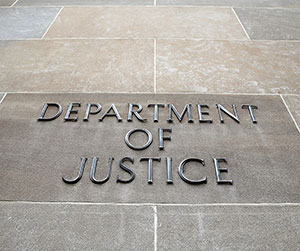 DCMA: 1st Federal onsite mailroom that paved the way for other contracts such as the Library of Congress, Department of the Army, and DOJ.
2011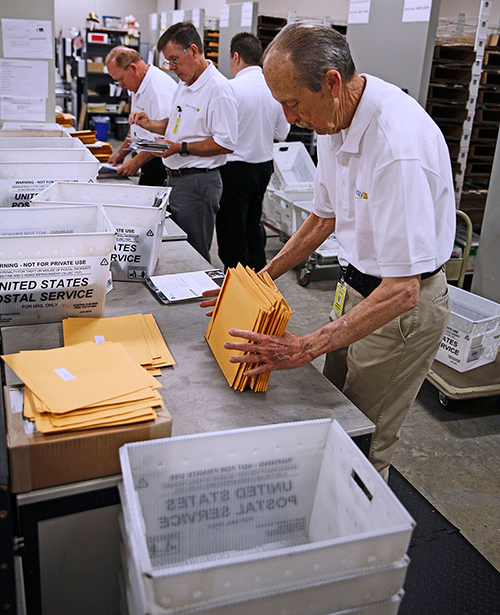 Office Depot Signs on as First Commercial Onsite Mailroom: The BrightKey mailroom team processes incoming mail and packages for the 2,500 employees in the Boca Raton corporate headquarters building. In addition to sorting and delivering the daily mail, the staff handles special mailings, including payroll for most stores. Routine services include pickup and delivery to the Innovations Center—Office Depot's "Store of the Future." In 2015, a second Office Depot mailroom opened in Itasca, Illinois.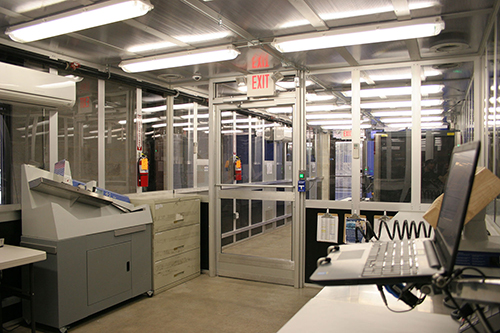 First Negative Pressure Mailroom Installation: BrightKey uses best practices and adds state-of-the-art technology to efficiently and effectively screen mail and package for high-risk organizations. The CBRNE screening reduces the risk of chemical, biological, radiological, nuclear, and explosive threats.
2012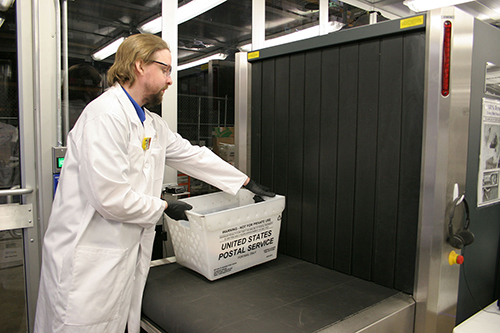 First Fully-Staffed Federal Onsite Mailroom: In Washington, DC, a BrightKey team manages the mailroom for a federal government agency—a process that begins with radiological screening and X-ray inspection in a large-tunnel machine.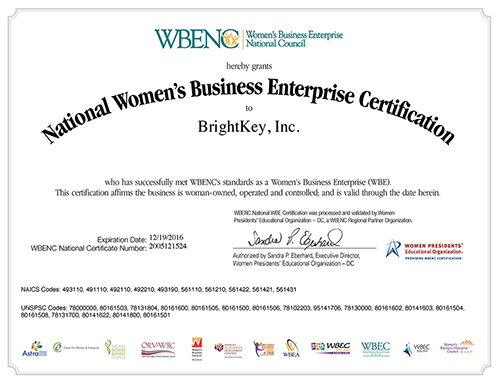 BrightKey Certified by WBENC: First certified by the State of Maryland, BrightKey earns certification by the Women's Business Enterprise National Council, the largest third-party certifier of businesses owned, controlled, and operated by women in the United States. WBENC, a national 501(c)(3) non-profit, partners with 14 Regional Partner Organizations to provide its world class standard of certification to women-owned businesses throughout the country.
A BRIGHT NEW FUTURE
2013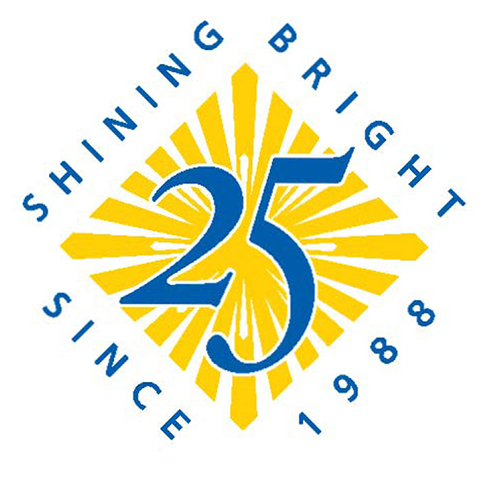 BrightKey turns 25!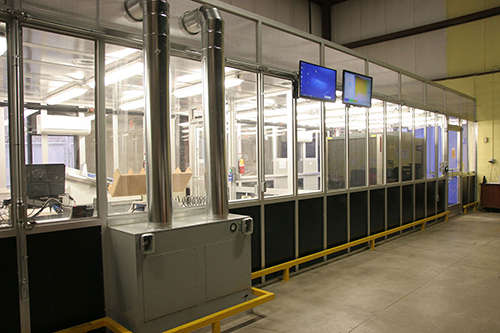 Secure Mail Screening Moves to BrightKey: BrightKey builds its own modular Pressure Mailroom to deliver offsite-screening services to clients. Starting with a proprietary risk assessment process, each customized solution meets client needs for safety and security. The process begins by following the US Postal Service guidelines for visual inspection and then includes testing for illegal materials, explosives, as well as biological agents like anthrax and ricin. Add-on activities include manual inspection and digital mail imaging.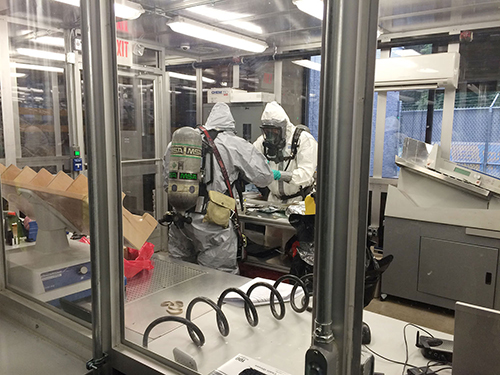 Testing the Negative Pressure Mailroom.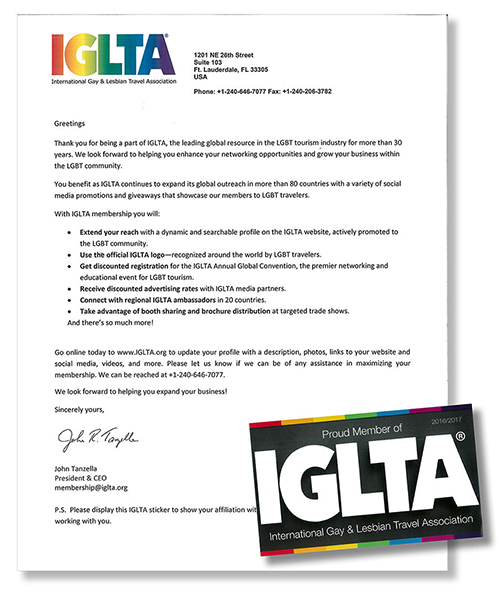 Minority Associations: BrightKey begins membership mailings, customer support and outreach for the International Gay & Lesbian Travel Association.
2014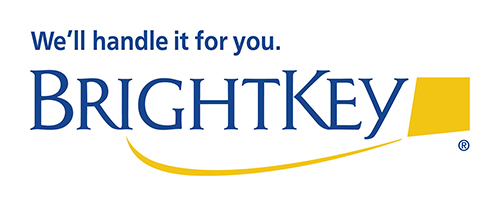 The BrightKey logo gets a fresh look.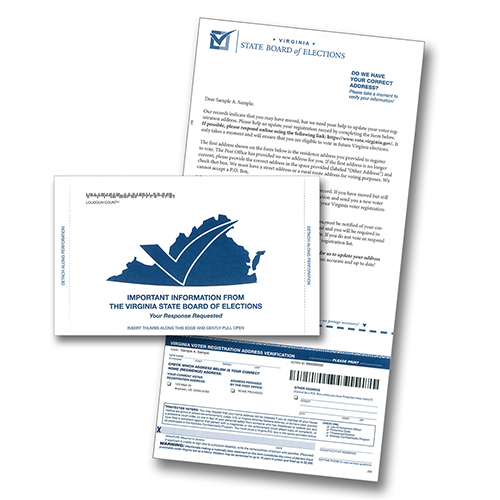 Virginia Board of Elections: BrightKey handled a voter registration mailing for the Virginia Board of Elections. Creative services included developing a database mailing using an inline format to streamline the complex process of confirming voters who moved out of the state and updating their voter registration records.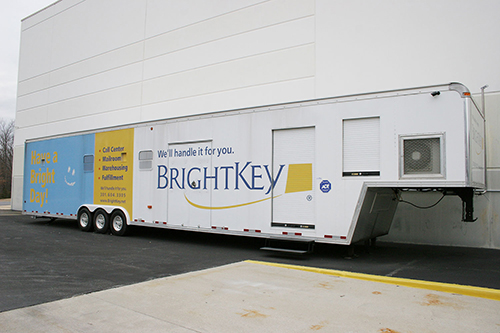 State-of-the-Art Mobile Mailroom: BrightKey builds out a 50-foot trailer with all the security features, HEPA filtering, and screening capabilities of a standard modular Negative Pressure Mailroom to add mobility and a backup screening option. A national first, BrightKey sets a new standard for secure mail screening.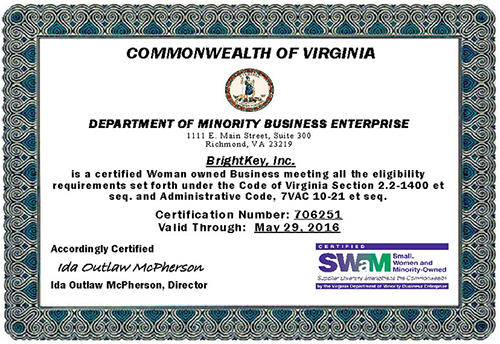 SWaM: BrightKey becomes certified through the Commonwealth of Virginia as a Small, Women-owned, and Minority-owned Business (SWaM). This certification enhances procurement opportunities for state-funded projects.
2015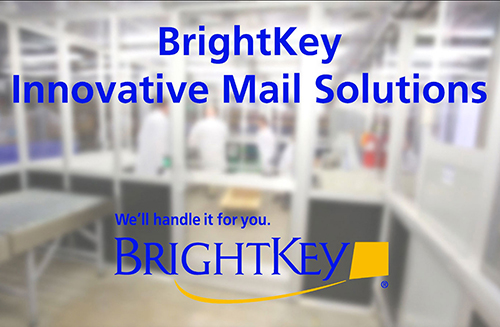 Secure Mail Screening Becomes BrightKey Innovative Mail Solutions: As security threats mount nationwide, Innovative Mail Solutions expands to serve the commercial sector in addition to government agencies.