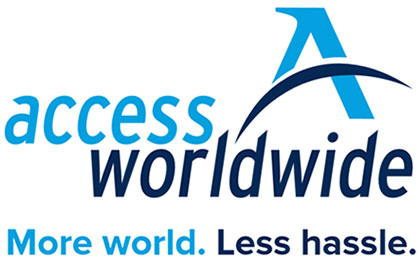 Who is Access Worldwide?
Access Worldwide provides mailing and shipping services for companies who need to communicate by mail internationally, or ship products within the United States or to any country in the world. Each year, multi-millions of mailpieces and parcels are shipped to every country in the world.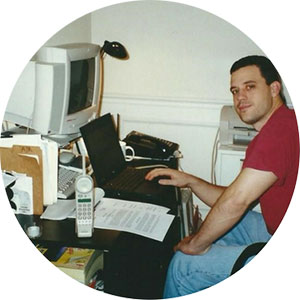 Access Worldwide History
The Access Worldwide journey began with Adam Langston's early work experience delivering a newspaper route in rural Iowa. He earned an International Business Degree at Brown University, followed by five years of hands-on work experience with an Atlanta Georgia based international shipping provider.
Knowing he could improve on the complex and expensive transactions people typically experienced when they needed to mail internationally, Langston founded Access Worldwide in 1999 from his one-bedroom apartment in Atlanta, Georgia. His vision was to provide busy marketing and distribution executives with a simple, reliable, and cost-effective mailing partner who could provide easy access to the international market using all available transportation methods.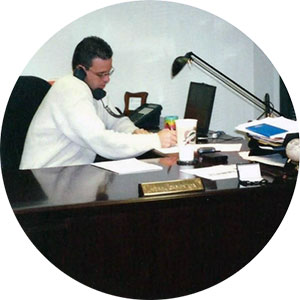 Attention to budget is always important for any business, especially during the beginning stages. Langston reached out to Georgia State University to identify students and their faculty advisors who were willing to help translate his business idea and develop computer platforms and operations management processes that were cost effective and efficient.
Langston, and the person who soon became his first employee, used the meeting room at his apartment complex to make recommendations, layout and design the business concept using paper diagram illustrations arranged on the conference room table.
After that piece of the puzzle was crafted, Langston sought help from Georgia State University to design a website and computerized delivery system management program that would incorporate all the thousands of variables that make up the complex system of transportation methods for entry into international Posts.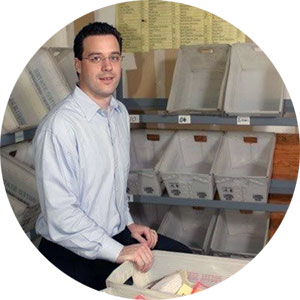 Less than one year later, Access Worldwide moved from Langston's apartment to a 5,000 square foot facility that seemed HUGE, and the first employee was hired.
In 2002 and 2003, Access Worldwide was named one of Atlanta's 50 fastest growing privately held businesses by the Atlanta Business Chronicle. Also in 2002, Entrepreneur Magazine ranked Access Worldwide one of the top fastest growing new businesses in the United States. In 2007, 2009, 2010, 2011, and 2012 and again in 2013, Access Worldwide was recognized as an Inc. 5000 growth company.
In November of 2015, Access Worldwide employed 25 full-time employees and 30 temporary employees operating in their Atlanta distribution facility. In addition, employees are also based in several other U.S. states to support customer mailing and shipping requirements.
Access Worldwide Timeline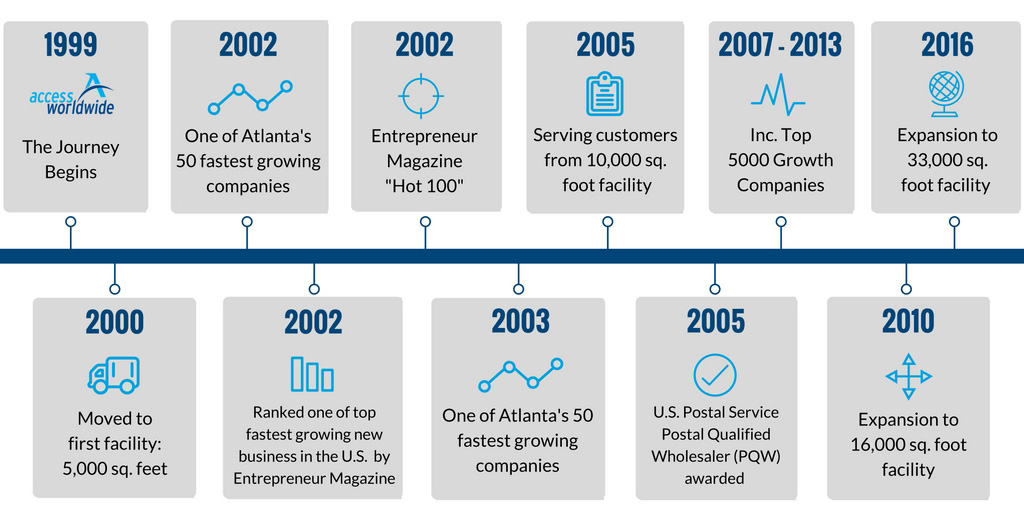 Access Worldwide Timeline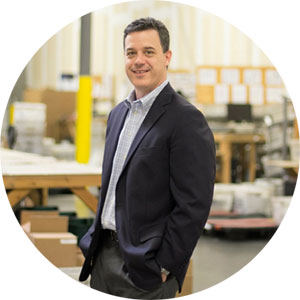 Access Worldwide Operations
According to Langston, the most interesting part of the Access Worldwide operation is that most of what happens is done outside of the facility. Determining which modes of transportation: Airplanes, trains, line haul freight carriers, ports, airports, and Postal Operators around the world; using a variety of currencies, languages, and time zones that will provide customers confidence they will reach the world on time, and on budget.
Customers and employees log into the AllAccess Portal, an online end-to-end management system to identify and access the most effective mailing and shipping solutions, track process, close out the mailings/shipments and complete the invoicing process.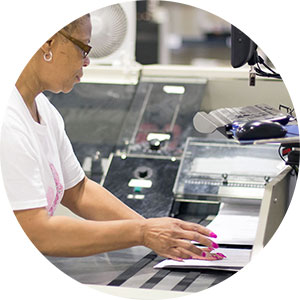 Introducing Automated Processing
While many of the receiving and initial piece verifications continue to be performed manually, employees welcomed the introduction of automated sorting equipment used to weigh the pieces, apply country correct indicia and foreign Post markings, and sort the mail by destination country.
Fulfillment management systems allow warehousing, picking, packing, and shipment processes for millions of products destined to every country in the world. All the required entry documentation and clearance documents are prepared that assure acceptance by the receiving foreign Post.
Security of data and products is a primary consideration and managed with the multi-level quality processes. Non-disclosure agreements are enforced and assure the confidentiality of products and customer information.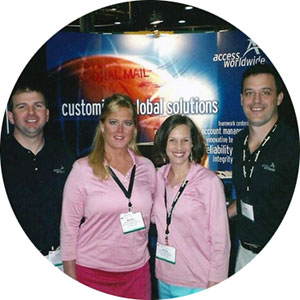 Interaction with the Postal Service
On a national postal level, Access Worldwide participates as an association representative on the Postmaster General's Mailers Technical Advisory Committee (MTAC) providing advice and recommendations on matters concerning mail-related products and services in order to enhance customer value and expand the use of these products and services for the mutual benefit of mailing industry stakeholders and the Postal Service.
Access Worldwide participates with Postal Service employees at the National Postal Forum conference each year. This national event is attended by mailing industry stakeholders from every aspect of the industry and provides a venue to continue to learn about advancements in the industry and promote growth. The United States Postal Service approved Access Worldwide as a Postal Qualified Wholesaler (PQW) in 2005. As a PQW, Access Worldwide is recognized as a partner working closely with the Postal Service to help businesses global mailing and shipping preparation, transportation, and printing. This includes working with U.S. Customs and Border Protection to facilitate packages coming into the United States.
United States Postal Service Detached Mail Unit Technicians work on-site at Access Worldwide to verify and accept the mail produced prior to dispatch to U.S. and international locations.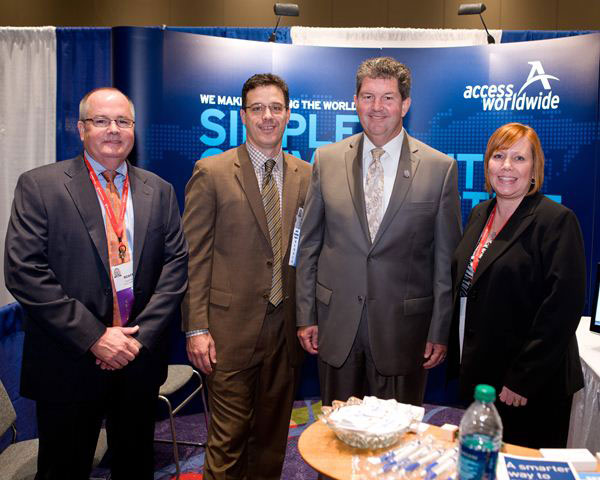 In 2012, Access Worldwide with Postmaster General Patrick R. Donahoe
At the local Atlanta, Georgia level, Access Worldwide is a member of the Greater Atlanta Postal Customer Council (GAPCC) supporting the mission to promote local cooperation and support of postal service initiatives, foster a close working relationship between the postal service and business mailers, share information and exchange ideas about new and existing Postal Service products, services, programs, and procedures that affect business mail, that help PCC member organizations grow professionally through focused education programs.
Making the Mail Moment Happen Completing the Online Shopping Experience
Innovations in technology and materials allow the Postal Service to process and deliver billions of letters and packages each year making mail an essential tool for businesses and households. The mailbox is the end point for millions of letters and parcels. Consumers and businesses order merchandise online, and expect to receive their items at their homes in the U.S. or internationally. Access Worldwide has developed processes to allow access to a variety of transportation methods that start with the United States Postal Service.
Helps Maintain Relationships
Do you have a letter, postcard, envelope or package that you want to send to someone outside of the United States? Working with Access Worldwide can help you maintain your international relationships. It is simple and cost-effective to reach people to let them know about special events, or share important messages with them. Whether it's a birthday, anniversary, or special holiday, you want to send a package to a global addresses to recognize that special event. Use the mail to maintain that relationship.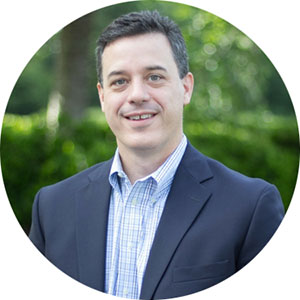 Access Worldwide Future
Where is AWW headed? The strategic plan includes maintaining and incorporating technology that will continue to facilitate international mailing and shipping. The next expansion for the primary distribution center is targeted for first quarter 2016 into a 33,000 square foot facility.
Continued growth is part of the ongoing Access Worldwide strategic plan. Between 2016 and 2026, three additional distribution centers will be operational in the U.S. to provide access for customers to reach the world.