RR Donnelley

RR Donnelley Introduction video
[music]
00:09
Tom Quinlin, President and CEO:
Hello, on behalf of RR Donnelley's more than
00:12
65,000 employees worldwide
00:14
it is a pleasure to join and welcome you to the National Postal Museum website.
00:20
This site tells a story of an industry that has played
00:22
an important role in American history
00:24
and that continues to play a vital role in today's economy.
00:28
It's a story of how businesses around the country,
00:30
including RR Donnelley, hope to create, manage, produce,
00:34
and distribute the content that you discover in your mailbox each day.
00:39
In towns and cities from coast to coast
00:41
RR Donnelley professionals design layouts, recommend formats,
00:45
take photographs, wright copy, provide language services,
00:48
manage databases, and collaborate with our customers.
00:52
They play a role in developing a wide variety of materials
00:55
including your favorite catalogs that arrived in the mail each day.
00:59
Others use sophisticated printing, binding,
01:01
and finishing technologies to produce and assemble catalogs,
01:05
magazines, statements, direct mail pieces,
01:08
and other materials delivered to your home.
01:11
Still others drawn on RR Donnelley leading logistics resources
01:14
to work in cooperation with the USPS
01:17
to enable fast efficient delivery of materials to you.
01:21
You see our work outside your mailbox too,
01:23
when you shop in stores or online, as you work, travel,
01:27
relax with a good book, and more.
01:29
Who is RR Donnelley?
01:30
We're a company that helps people communicate more effectively.
01:34
And we're proud to tell some of our story on this website.
01:38
We hope you enjoy learning more about us and about the mailing industry.
01:41
And if you ever have the chance we hope you'll visit
01:44
the National Postal Museum in our nation's capital.
[music]
RR Donnelley Co-Mailing video
[music]
00:02
Narrator:
It's something that's easy to take for granted,
00:04
a favorite magazine is delivered
00:06
right to your mailbox, right on schedule.
00:10
But how does that magazine make the
00:11
journey between a modern,
00:13
high-tech printing and binding facility, and your mailbox.
00:17
The answer is that your magazine might
00:19
make a stop in a facility like this one
00:22
which is one of RR Donnelley's logistics centers.
00:26
One of the functions that takes place in this facility is called co-mailing.
00:30
And it offers an example of how the mailing industry
00:33
and the United States Postal Service work together to increase efficiencies
00:38
that help to contain costs.
00:40
Let's see how it works.
00:42
Co-mailing is a service which takes multiple publications and sorts, groups,
00:47
and prepares them in one pass for delivery to the United States Postal Service.
00:53
Organized to carrier route sequence to minimize postal delivery costs.
00:58
In essence co-mailing takes many publications and using sophisticated
01:03
computer programming techniques shuffles them together
01:06
to create one combined master addressing list.
01:10
It then uses a co-mailling line to put all of the titles
01:13
into the proper sequence as they are addressed, bundled, shrink-wrapped,
01:18
and palatalized for shipment to the United States Postal Service.
01:23
This co-mailing line features more than 25 pockets.
01:27
Each pocket can hold a different publication or title.
01:30
When all the pockets that will be used to execute the run have been loaded,
01:34
the system begins dropping the titles onto the conveyor.
01:38
Complex software tells the computer driven co-mailing line
01:41
when each copy of each individual title needs to drop
01:45
so that the publications will line up to match the master address list.
01:49
This means that the conveyor might line up 5 copies of title one,
01:53
followed by 10 of title two,
01:55
followed by 4 of title three, and so on.
01:58
Once the titles are on the conveyor they move under in addressing unit
02:03
which ink jets the right address onto each publication.
02:07
The system is even sophisticated enough to allow the operators to handle the addresses
02:13
farthest from this Chicago area logistics center first,
02:17
so that Alaska and West Coast addresses are given
02:20
a head start toward their delivery to the USPS.
02:25
Once the titles are addressed, they ride the conveyor into a unit which groups them,
02:30
bundles them, and wraps them.
02:33
Each wrapped bundle represents a package
02:36
that is so well sorted that it is ready to slide
02:39
into the appropriate mail carriers bag.
02:42
As the bundles exit the machine
02:44
they continue on the conveyor into a shrink-wrapping unit
02:47
which can wrap each bundle in a protective film.
02:50
Finally, the shrink-wrapped bundles are organized on pallettes
02:54
which are clearly marked and will soon be loaded onto trucks
02:57
for shipment to the appropriate USPS mail processing centers.
03:02
Just this one RR Donnelley facility can ship millions of pounds
03:06
of personalized printed materials each day.
03:10
During the peak mailing season this mailing industry operation alone will receive,
03:16
unload, process, pack, and dispatch hundreds of tractor-trailers each day.
03:24
Co-mailing is just one of the ways that the mailing industry
03:27
and the USPS work together to bring a world of commerce,
03:31
information, and entertainment to your mailbox.
Pioneers & Early Adaptors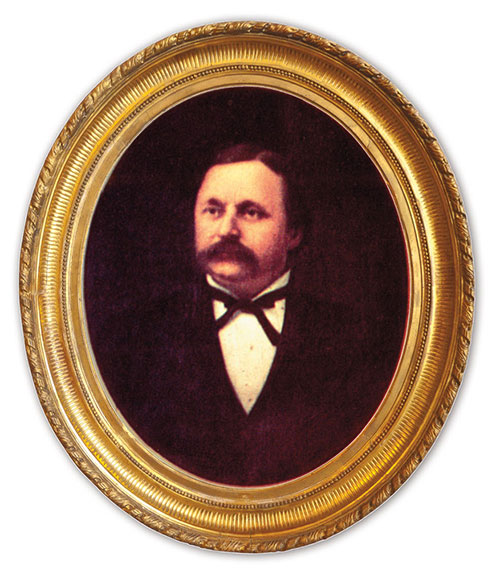 Every time you collect your mail, you are almost certain to find something that RR Donnelley had a hand in putting there. It might be a favorite magazine, a catalog you'll curl up with, a book you've ordered, a billing statement, an intriguing offer of some kind, a coupon, information about your health care benefits, or more. RR Donnelley is recognized as one of the largest providers of mail to the United States Postal Service.
Helping organizations communicate with you through the USPS is just part of what RR Donnelley does. The company is a global provider of services that help companies communicate more effectively. RR Donnelley's more than 65,000 employees serve customers on four continents, with services that include printing, digital photography, translations, logistics, creative and internet design, and more.
How did this, the largest company of its type in the world, begin?
In 1854 a young Canadian named Richard Robert Donnelley settled in Chicago, where he had been invited to manage a publishing company's printing operations. Already an experienced printer, the reputation for quality and integrity that he earned in Chicago soon allowed him to establish his own business. In 1871, the company was about to open a new printing plant in Chicago's central business district when disaster struck. It was the Great Chicago Fire, and by the time it had burned itself out, R. R. Donnelley's printing operations had been completely destroyed. The company's reputation was so strong though, that Donnelley was able to borrow the money to start over, and the business was quickly thriving again.
RR Donnelley Chicago Fire
[music]
[galloping horse]
00:07
Narrator:
In 1871, just 7 years after Richard Robert Donnelly, RR Donnelly's founder,
00:12
had arrived in Chicago to run printing operations
00:15
that featured modern steam driven presses,
00:19
this pioneering printer was ready to open a new, modern building
00:23
in Chicago's central business district.
00:27
The building would feature printing operations as well as
00:30
typesetting, binding, and other functions central to completing
00:33
finished books, magazines, and other materials.
00:38
Before RR Donnelly could move into the new building though disaster struck Chicago.
00:43
Hot, dry weather and high winds enabled a fire
00:46
that broke out in a barn to spread quickly jumping
00:50
over rivers and consuming everything in its path.
00:53
By the time the flames had receded
00:56
more than 40% of Chicago structures had burned.
01:01
Among the buildings devastated were RR Donnelly's home,
01:05
his printing plant, and the new building that the company had just built.
01:10
Note the pillars alongside the doors of the new building.
01:15
This is how they looked after the fire.
01:19
After this incredible loss RR Donnelly
01:21
sought to rebuild but because of the extent of the devastation
01:25
there was not enough insurance to cover all of the losses.
01:29
He had to borrow the means to travel to New York to raise the money to rebuild.
01:35
What collateral did he have?
01:37
Just the company's exceptional reputation
01:40
for integrity, quality, and fair dealing.
01:43
This was attested to on this piece of ledger paper
01:46
by prominent Chicago business and civic leaders
01:51
that strong reputation for integrity was enough
01:54
even for New York's hard boiled financiers.
01:58
RR Donnelley was able to obtain financing and build again,
02:02
restarting a company that is still
02:04
providing a diverse array of communication services today.
[music]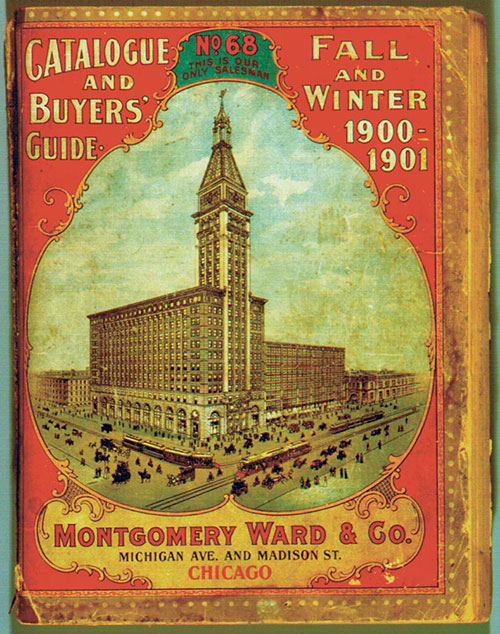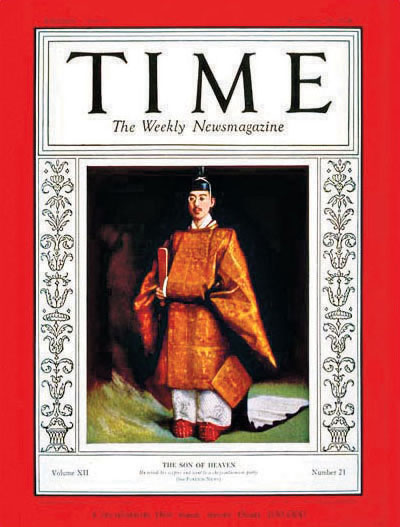 The organization, now known simply as RR Donnelley, is credited with a number of important "firsts". Just a few of these include…
Establishing one of the first formal printing apprentice programs in the U.S., which helped train generations of craftspeople.
Pioneering heat-set printing, which enabled the production of affordable but high quality photo-magazines. Generations of Americans rushed to their mailboxes each week for Life magazine, the landmark publication that featured crisp photographs reproduced by RR Donnelley's innovative printing.
Developing a unique computer-enabled binding method that allowed publishers to deliver readers content matched to their interests.
Inventing fully digital high-speed printing presses that create true 1 to 1 communications in color.
Since its founding, more than 150 years ago, RR Donnelley has enjoyed a rich collaboration with the USPS, to help bring a world of entertainment, information, commerce, and other content into America's mailboxes.
RR Donnelley's printing apprentice programs
[music]
00:04
Narrator:
In Chicago in the early 1900's children were required to go to school only to age 14.
00:12
Illinois did have child labor laws.
00:15
How many hours could a 14-year old work for wages?
00:18
The answer may surprise young people today.
00:21
It was 48 hours a week.
00:24
It was in this environment that RR Donnelly undertook a pioneering step in its industry.
00:30
Recognizing that a well-trained workforce would offer competitive advantage
00:35
it launched an innovative formal apprentice program designed
00:38
to educate and train master craftspeople for its printing operations.
00:43
The program combined rigorous classroom sessions
00:46
in advanced high school subjects such as English
00:48
and mathematics with practical printing training.
00:53
Conducted in special classrooms in selected areas of its printing operations,
00:57
the program would award participants with
00:59
both a high school education and exceptional job training,
01:04
virtually assuring graduates of employment as they completed this multi-year program.
01:10
Among the skills apprentices were taught was typesetting.
01:14
Before there were fonts, there were pieces of metal type.
01:18
Each representing a letter or other character.
01:20
A typesetter would stand a table and select the characters
01:24
that spelled the words in a book, magazine, catalog,
01:27
or other publication.
01:30
Each small letter, known as a minuscule, was kept close at hand in a box with slots for each character.
01:38
The capital letters were kept in a box that was inclined.
01:42
So a young person setting type would reach into the lower case for small letters,
01:47
and the uppercase for capitals,
01:50
which is why you refer to upper and lower case characters today.
01:54
More than a hundred years later once public education policy
01:59
made American high school attendance an option for all students,
02:02
RR Donnelly discontinued the reading, writing, and arithmetic
02:05
part of its apprentice program.
02:07
But today it continues to offer exceptional training
02:11
including innovative computer based training programs to the craftspeople it develops.

1936 Life Magazine Exploding Ink Ad
Production employees had looked on in wonder as RR Donnelley engineers attached complex dryers that they'd collaborated in designing to a press. They were witnessing an innovation called heat set printing, which would enable faster printing with even better quality. The paper travels at incredible speeds through units that look something like pizza ovens, where the heated air dries the ink and bonds it to the paper, allowing more ink to be put onto the page for denser, richer images. One of the first customers to embrace this new technology was famed publisher Henry Luce, who employed it for the production of LIFE magazine. Each week, as LIFE arrived in mailboxes, it brought stories and pictures that helped to educate, inform, and entertain Americans everywhere.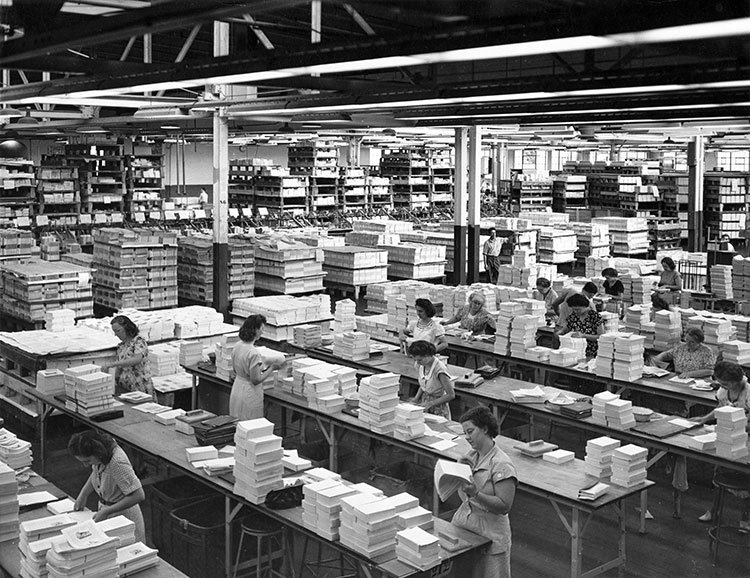 Catalogs on a Massive Scale
The year is 1940, and for a single catalog publisher RR Donnelley produces, wraps and addresses 13 million "big book" catalogs in its flagship Chicago printing plant. Cost-effectively and quickly moving these catalogs into the postal stream was a challenge. RR Donnelley had a post office on-site to handle catalogs that were to be delivered to addresses in and around Chicago. The balance of the catalogs were loaded onto rail cars for delivery to multiple distribution points around the country, where they were inserted into the mail stream. How large was the project? Even with the efficiencies that RR Donnelley provided, the postage for this catalog alone was calculated to comprise about 1 ½% of the Post Offices's annual revenue at the time!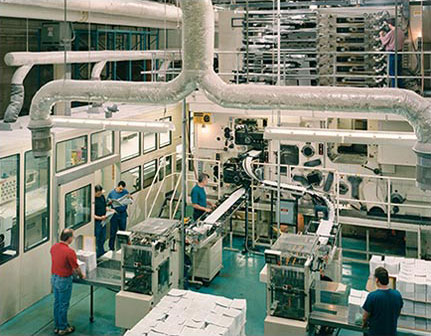 Production Photo Circa 1970
In 1969 RR Donnelley became the first printer in Chicago to operate a solvent recovery system. This special system captured ink components in order to reduce emissions decades before the term "carbon footprint" became commonly used.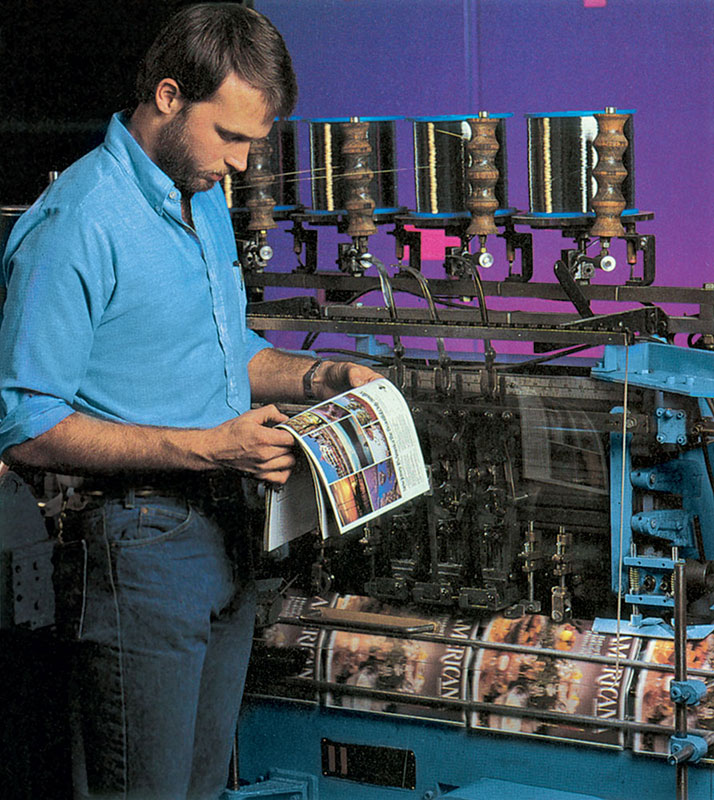 Binding Line
The year was 1984, and RR Donnelley helped a magazine targeted to America's farmers make history by publishing an issue that features 8,896 different versions. The publication was produced using an RR Donnelley innovation called Selectronic® binding, which enables content to be customized to the magazine's different audiences. Ads and articles are specifically targeted to readers based upon the publisher's understanding of their interests, demographics, and other variables. So one subscriber in Indiana might reach into the mailbox to discover a magazine featuring ads and stories about raising soybeans, while another farmer in Nebraska finds that the same issue is much more about raising corn.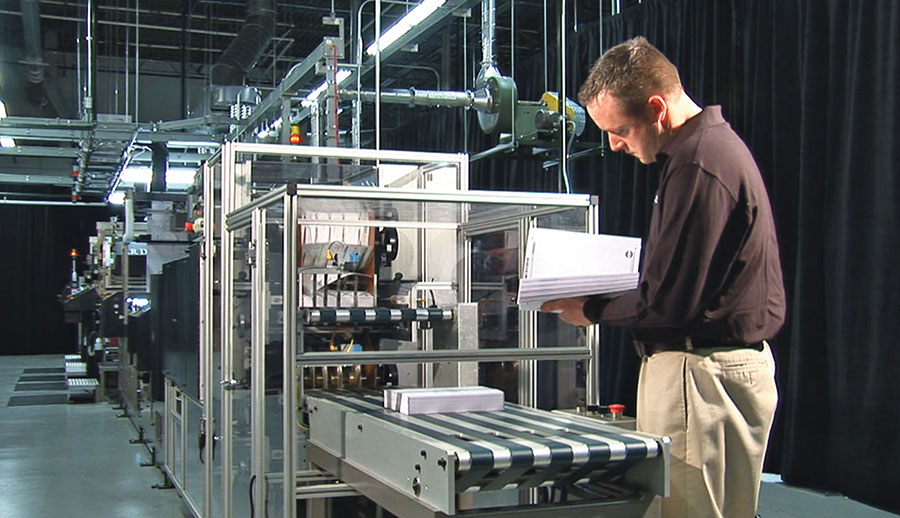 ProteusJet
Maybe you've received a utility bill with colorful graphs that show you how your energy usage is trending, or even how it compares to your neighbor's use. How is all of that personalized information printed? One way is via a special high speed digital press that RR Donnelley engineers and imaging scientists developed. Introduced in 2008, it was the industry's first 1200 dots per inch (DPI) four color inkjet web press and it was just the first in a continuing series of digital printing innovations that the company calls ProteusJetSM solutions.