Wilen Group

00:00
Richard Wilen:
A gentleman friend of ours told me that
00:05
I needed to be in the printing industries.
00:08
Why?
00:09
Because my family was in the printing industries.
00:12
And I kept thinking I don't want to be a printer
00:14
and I don't want to do anything like that.
00:17
But yet, when I got thrown out of NYU,
00:21
okay, I went to New York City Community College because he was Assistant Bursar there
00:26
and took courses in graphic arts
00:29
or printing technology which I had graduated from
00:32
and learned an awful lot about things that don't exist today.
00:39
We have changed, as a matter of fact,
00:40
anything I learned there didn't exist when I went into real-world.
00:47
I have created a company named Wilen Media
00:53
and at that time, and now it's Wilen Group.
00:58
Many years later I brought my children
01:01
into the business in fact I brought them to printing plants.
01:04
Darren may have gone to the plant when he was 13.
01:09
I know that my youngest son was there, younger than that.
01:14
He came to see the different printing plants that we operated in.
01:19
And they were doing work for me which included printing and mailing.
01:25
And that's how I got involved in understanding mailing.
01:31
The years went by and I brought my children
01:34
into the business and that was on purpose.
01:38
I wanted them to be in the business.
01:40
I loved what I was doing aside from the fact
01:42
that I didn't think I would.
01:44
And I still love it, although I retired about six months ago.
01:52
The story is a very simple one.
01:56
I set out to put my children and myself in business
02:00
and I have achieved that result.
The Early Years (1969-1979)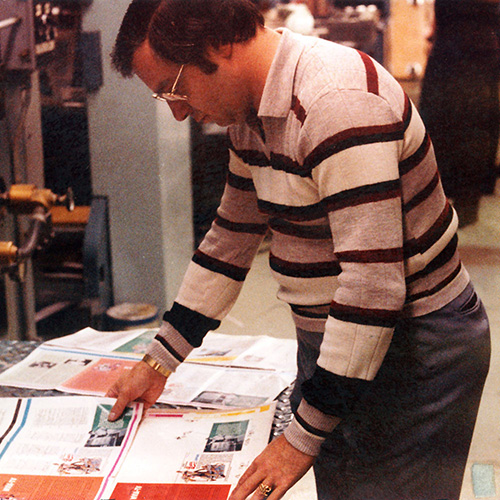 In order to understand how the Wilen Group of companies grew to be a major Direct Mailer and Digital agency it is necessary to know the history of Wilen's interaction with the postal system from its very beginnings. In 1969, Richard Wilen started a print brokerage company, specializing in service to the nascent Cable Television ("CATV") industry in the basement of his Long Island, NY home.
In 1971 Mr. Wilen formalizes the company as Seal Send Systems. Richard and Robert W. Beemer (creator of COBOL computer language) combine forces to produce the Honeywell Computer Journal. In 1972, Wilen acquires Athena Communications as its first CATV client. The 1970's was a period of growth for both Wilen and CATV. As a broker Wilen prints and direct mails the first HBO Program Guide; this leads to Wilen producing advertising, direct mail and bill inserts for Teleprompter Corporation (Manhattan's 1st CATV Company). As Wilen's CATV customer list expanded the company established its Long Island office in 1978.
Richard and the new Wilen Media Company became ensconced with CATV producing Cable Guides for new cable networks i.e. HBO, Showtime and ESPN. These guides were delivered to subscribers via USPS. This effort lead the company into several new directions. Richard directed the course of the business as it became the preeminent CATV marketing company always using Direct Mail as an integral strategy.
Richard began to understand the importance of trademarks and patents when a few of his brands became ubiquitous such as 'Premium Channels' and 'TV Blueprint'. To become more cost efficient to its customers required Richard's creativity and inventiveness.
The Formative Years (1980-1989)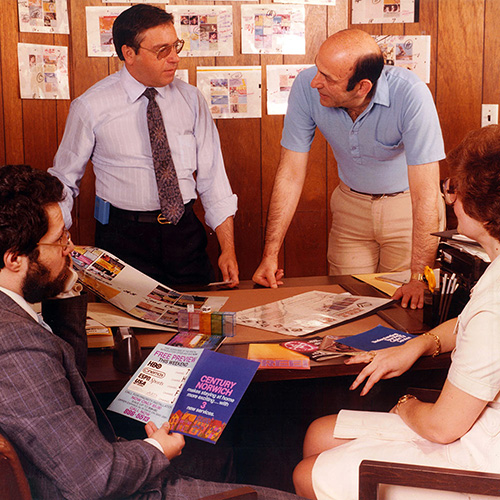 Wilen Media was formed to assist CATV operators acquire, maintain, inform, entertain and invoice subscribers. The integration of these marketing and financial functions into direct mail started the flow of patented products and systems several of which are in common usage today. During this time Wilen expanded its Long Island office while simultaneously maintaining client contact offices in Manhattan.
One of the earliest products was pioneering printing 'Program Guides' on the lightest weight paper available. The purpose of light weight paper was to expand value by creating expanded print coverage space while meeting USPS weight requirements, for 1st class mail, justifying piggybacking promotion materials to be included with the invoice/statement.  In addition to direct mail magazines (US Patent No.4,824,503 Magazine Assembly System and Method), new patented formats were created that allowed for including a modified light weight paper 'Program Guides' within a CATV billing envelope. This was further developed into light weight billing inserts that included a return envelope. (US Patent No. 7,770,069 Insert With Return Envelope and US Patent No. 7,726,650 Insert With Return Mailer).
In 1980, Wilen became a publisher, in the form of 'Premium Channels' the 1st multi-pay television program guide, which was the linchpin to multi-pay TV and multi-pay TV marketing. During the 1980's Richard invented several methods to automate the production of program guides leading the initial transition into word processing as replacement for typesetting one of the forerunners and early adopters of digital printing technology.
Major Growth in Printing and Direct Mail (1990-1999)
Due to Wilen's CATV marketing prowess in 1991; Wilen began a multi-year relationship as the authorized direct marketer and promoter for pay-per-view Boxing events. The promotions, expanded Cable Guide publishing and rapidly growing CATV Direct Mail programs had Wilen printing their work at several printing plants around the country. The significant coordination efforts, printing press availability, strict publishing deadlines and lightest weight paper necessities were endemic of Wilen's growth.  During this time Richard continued to expand 1st Class US Mail with light weight paper to piggyback with today's low rate for the 2nd oz. of postage using the available weight space. Further, Mr. Wilen to this day believes that the Direct Mail industry is obligated to support the USPS for both job creation and excellent delivery.
Throughout the 1990s Richard's three sons (Darrin, Corey and Kevin) joined their father in multiple management capacities. In 1997, at the age of 56, Richard made a large investment in buildings, printing presses, digital plate making equipment, computers and staff as Wilen opened the Florida facility and Wilen Press was created.
00:00
Richard Wilen:
Printers did not, they liked heavyweight papers, heavier weight papers.
00:05
And I was printing things that went into billing envelopes.
00:08
And the lighter the paper meant the more square inches
00:12
I could use to insert into the envelope for the extra weight
00:16
that wasn't covered by the bill.
00:18
And I would go down in weight a lot, from I think,
00:24
the first time we were using, when we created the HBO guide,
00:28
I didn't create the HBO guide but I was involved in it at the beginning.
00:34
And we were printing on 40-pound paper.
00:36
Then we went down to 38-pound paper.
00:39
When I started off my project I reduced it by 10 pounds to a 28-pound paper
00:47
and in fact I went down to 26 pound paper.
00:49
I had the mills producing lighter and lighter weight paper which is sort of like,
00:54
you can see through it in certain cases.
00:58
So, but the lighter, the better.
01:03
And in order to make the paper more opaque I would print
01:08
full saturated color on the paper with the process.
01:14
So it made the paper opaque you couldn't see through with the saturated color.
01:18
Some I would use were metallic, like silver was one major.
01:27
So the entire page was silver with process colors on it.
01:32
And we produced these for ourselves.
01:35
We even produce them as brochures because we also did marketing brochures.
01:40
But I published a magazine called Premium Channels
01:44
and that magazine was all silver.
01:49
The entire, every, each page was silver.
01:52
They would 24 pages and 32 pages depending on the weight of their bill,
01:56
depending on the size of their envelopes.
01:59
And each of them, to begin with, so many different building companies,
02:03
mailing our material, some had bigger envelopes some had smaller envelopes.
02:07
I had to switch papers on the presses that we used and we had then,
02:15
there was nothing that we could do other than get lighter and lighter and lighter.
02:20
As a matter of fact, I think there's a sample somewhere around of a 24-pound paper
02:26
which was made by Madison Paper Company for us.
02:30
It was not a coated paper, it's called supercalendered paper.
02:35
And but we were never able to get to where we wanted.
02:39
It would break apart on the press, on everybody else's presses.
02:44
So, but that's the basic story about how we started doing brochures.
02:51
And then one day I got a call from a gentleman named Rick How,
02:57
and then another call from a guy named John Sie
02:59
and John's are very famous man the cable industry.
03:04
Would I produce a publication that had HBO in it and Showtime?
03:09
Because I was then producing guides for other people,
03:13
other companies and I said, sure.
03:17
Why would I refuse?
03:19
And that's how Premium Channels got started
03:22
being the first multi-pay television guide in the world.
03:27
I named it Premium Channels and that's why it's called premium channels today,
03:32
the services, all because of the publication.
00:00
Richard Wilen:
The use of silver ink on light weight papers
00:04
was a revolution in being able to use those papers
00:12
and make it a higher quality publication.
00:16
So we applied for a patent on it, and we received that.
00:20
Shocked that I did.
00:23
And so I applied for a number of patents as the years went by
00:27
and we have received most of them and some of them
00:30
we're still waiting for patents on.
00:33
But to me the fact that we received the patents was good.
00:40
The fact that they have had no use to us whatsoever was not good.
00:46
We produced all the materials according to those patents
00:49
in the way the patents were laid out way before the patents where issued.
00:58
And by the time the patents were issued
00:59
a lot of what we were doing was obsolete
01:03
which is true with most printing and mailing history,
01:07
of my history and everybody else's.
01:11
But during the time we were going for the patents
01:15
it enforced the company, the people there,
01:21
to say, gee this is great, and certainly the post office.
01:25
We work with the post office in Long Island, Hicksville,
01:31
and produced materials, they helped us make sure the weights were right,
01:38
and things like that at that point.
01:41
And so they were a godsend to me
01:46
because I didn't understand the postal industry.
01:49
I didn't understand that, but,
01:53
I did understand and learn the difference
01:54
between 3rd Class Bulk Rate and 2nd Class Mail.
Wilen transitions to High Volume Direct Mail and High Technology Manufacturing (2000-2009)
In 2000, Wilen Press becomes the sole tenant of its 55,000 square foot facility as well as adding its 2nd web printing press and the employee count rises to 100. In 2003, Richard forms the Wilen Group as a way to separate management functions, but more importantly Wilen, re-establishes itself as the preeminent CATV marketing and publishing source. During this time Richard received a patent (U.S. Patent No. 6,691,610 Method for Printing Metallic Inks). The purpose of this patent was to make light weight papers more opaque as well as more pleasing to the eye.
In 2006, in order to satisfy CATV acquisition demands Wilen establishes its letter shop and direct mail division as a standalone business unit. Wilen continues its technology growth and recognition from its dedication to inline print manufacturing and integrated 600 dpi digital printing. The company was growing so fast that it constructed and added an additional 35,000 square feet of manufacturing space to its Florida facility. This helped accommodate a 3rd web printing press with inline finishing capabilities.
While all this was taking place Richard Wilen became more creative than ever. Richard ran a project to expand Wilen's capabilities into E-mail and Internet marketing and even payment systems. This project also paved the way for moving the company into gift cards, print-at-home formats and Internet software method techniques. This was evidenced by a plethora of new patents, such as US Patent No. 8,577,735 - Interactive Gifting System and Methods, US Patent No. 8,616,434 - Multi-Component Forms, US Patent No. 8,893,966 - Customizable Interactive Gifting and Advertising System and Method, US Patent No. 7,882,651 - Slide out card configuration with booklet, and US Patent No. 9,002,737 - Gift Card Mall in the Home.
In 2007, Wilen Press' vertical and horizontal integration, extensive IT integration and the combination of digital printing into inline print manufacturing ensured Wilen is a client's most valued go-to business partner. A third press is installed and launched for variable data and advanced inline finishing business.
In 2009, Wilen Press became Wilen Direct emphasizing its focus on 1:1 marketing and expanded digital capabilities.Wilen Direct became the 1st direct mailer to install and use the Kodak Prosper S10 system, allowing for 600dpi digital printing.
00:00
Darren Wilen, President:
Hi I'm Darren Wilen.
00:01
I'm president of the Wilen Group.
00:03
I got involved with the organization
00:06
at the early age of nine when Richard started the business
00:10
in the basement of our home.
00:12
He was getting involved at that point
00:13
at the beginning of the cable TV industry.
00:16
And one of the projects that we had, an early project,
00:19
was basically the placing together,
00:23
the organization of the original cable TV contracts
00:27
that eventually became what are today known as
00:31
Cablevision in Brooklyn and Queens.
00:33
So the master agreements were placed
00:37
by my friends and I based that, in fourth grade.
00:40
I think I paid them gum or candy to get things done
00:44
so that was the the early stories
00:46
in the beginning of the business.
00:01
Darren Wilen, President:
So as the '90s wore on we were constantly changing our business.
00:07
And as we would always strive to be in those lighter weight papers
00:11
the printing plants back in those days
00:14
really wanted everything to be the same.
00:16
And as we would innovate and always try to be more relevant
00:20
and try and do different things the printers were unhappy.
00:22
And that created more stripes and more problems for us
00:25
because the printers said make things easier for us so we can produce things.
00:29
And our business was to be able to find a niche
00:33
and be special and and do things
00:35
that people couldn't copy couldn't replicate.
00:38
So that really led us into the mid-90s where Richard decided to,
00:43
as his own 55th birthday present,
00:45
to go ahead and buy a printing press and build a printing plant,
00:49
which is now 20 years later, the business that everything
00:54
became which started out as Wilen Press and and is now Wilen Direct.
Wilen's Continuing High Technology Digital and Inline Manufacturing Growth (2010-present)
In 2010, Wilen pioneered the implementation of full 4 color digital, with in-line finishing on the Kodak Prosper S10 system. During this time Wilen Direct started a period of rapid growth based on its unique capabilities combined with Wilen Media's transformation into a digital marketing agency named Wilen NY.
In 2011, Wilen Direct developed full color digital for use on the outside of envelopes. Since Wilen was in the unique position of continuing to serve the CATV industry and as a marketing leader Wilen Direct started supplying promotional plastic cards to all of its clients.
As a leader and innovator in digital and variable data imaging, personalized direct marketing, advanced mail strategies and technologies, and fulfillment, which include all of the traditional direct mail services and more, such as: format development, inline/offline finishing, data hygiene, postal optimization, variable data printing, digital integration, logistics, real-time mail tracking and response analysis and program optimization.
By 2013, Wilen had grown to more than 250 employees and was in need of additional space. Wilen constructed an additional 55,000 square feet for warehouse, envelope inserting and postal sorting and finishing space.
00:00
Darren Wilen, President:
So we finally got the press up and running
00:03
now in the late '90s Wilen Press started to print
00:06
all of the work for Wilen Media.
00:09
So the media and publishing company survived in New York
00:13
and now the new printing operation would handle all the printing.
00:16
So we would do New York's work as well as
00:19
the beginnings of work now for different trade publications
00:23
becoming a printing business.
00:25
And that really took us through the next 10 years
00:27
and that business evolved and strived.
00:29
And there would be different forms of technology
00:32
that we would invest whether it be in-line printing
00:35
or other forms of printing that would allow us
00:39
to create more complex, more innovative ways
00:43
to be able to create messaging and be able
00:46
to create solutions for our customers needs
00:50
which would be advanced marketing at the best response
00:54
which is something that we still do today.
00:00
Darren Wilen, President:
So all of a sudden now in the beginning 2000s,
00:03
now the guide business was coming to an end
00:04
because TV was burgeoning and on demand
00:08
and all these new technological services.
00:11
But what we found was our clients wanted
00:15
to find out different ways to market all the different services was
00:18
which was not just TV.
00:20
So we started creating long-form programming,
00:23
bigger guides, and bigger catalogs many catalogs and magazines
00:28
which then needed to be distributed into the homes
00:32
in a different way then are in the in the bill products
00:35
that had been for the previous 30 years.
00:38
So we started to find different ways to mail them
00:41
to the home which at that point we were teaming up with different letter shops
00:45
all over the southeast and around the country to start marketing.
00:49
And when we got involved in that business things
00:51
started to take off
00:52
because of the acquisition portion of the business
00:54
which was much bigger than anything that we've done before.
00:58
So as we invested into the early 2000s
01:02
we started getting involved and put letter shop equipment into the home.
01:06
That started in 2004-2005.
01:09
There was a big printer show, international show, called Drupa.
01:13
We went out and we would see these different technologies
01:16
and there was Sytech's equipment and imaging equipment.
01:19
So in 2005 and 2006 we started to bring all of this equipment in house.
01:24
And all of a sudden we became a direct marketer in-house
01:28
or direct mailer in-house as part of Wilen Press.
01:32
And in our first year as a printer and mailer
01:35
we went from zero producing no pieces of direct mail in-house
01:40
to 200 million pieces in its first year.
01:43
And that was the beginning of Wilen Group as a direct marketer.
00:00
Darren Wilen, President:
So now as a direct marketer the world is open for us.
00:02
So we started to invest in all the latest technologies,
00:06
imaging equipment and the beginning of variable.
00:09
At that point it was monochrome variable which allowed,
00:12
now, the most important aspect which is the beginning of big data.
00:17
Big data would come and become more prevalent years later
00:19
with iPhones and social media.
00:22
But we got involved with big data at its earliest form.
00:25
The ability now to take direct marketing and
00:28
being able to personalize messaging to be able
00:32
to get into the home at a level that no one has done before.
00:36
So on our printing side our initial investments
00:39
with companies like Kodak, and HP, and Pitney Bowes,
00:44
put us on the forefront of an investment,
00:47
not having been a printer or even been a direct marketer,
00:51
that allowed us to buy the latest and greatest of equipment
00:54
and be able to be an entirely different type of direct marketing solutions provider
00:59
to our customers.
01:01
And that really started to make things fun for the industry.