Never before has the preparation, processing and delivery of mail been changing so rapidly.
United States Postal Service, 200125
The new century presented new challenges. After decades of growth, mail volume began to fall in 2007, reducing revenue. The Postal Service relied almost exclusively on revenue from postage to fulfill its mission — delivering affordable, universal service to a constantly expanding delivery network. The Postal Service's close partnership with large-volume mailers became even more important as it worked to improve service, manage costs, and grow revenue in an increasingly competitive business environment.
To help keep advertising mail relevant in the multichannel advertising universe, the Postal Service introduced a number of innovations in the early 2000s. Starting in 2003, repositionable sticky notes could be attached to envelopes, calling attention to products, services and company contact information, and inviting customers to look inside. That same year, the Postal Service introduced Customized MarketMail, which enabled advertisers to mail pieces of virtually any design and shape, and also signed its first negotiated service agreement with a major mailer, offering pricing incentives in exchange for increased use of the mail. In 2009, the Postal Service began offering "summer sales" for Standard Mail volumes above a certain threshold as well as "saturation mail volume" pricing incentives. In 2011, the Postal Service introduced "Every Door Direct Mail" (EDDM), which allowed bulk mailings to be addressed simply to "Postal Customer," regardless of which sort of delivery route customers lived on. The Postal Service also introduced discounts to encourage use of the mail. In 2011, it offered the Reply Rides Free promotion to encourage the inclusion of marketing messages in bill and statement mailings; the next year, it began the 2nd Ounce Free promotion. Beginning in 2011, the Postal Service also offered limited-time postage discounts or credits to mailers who integrated interactive digital technologies like QR codes onto their mail.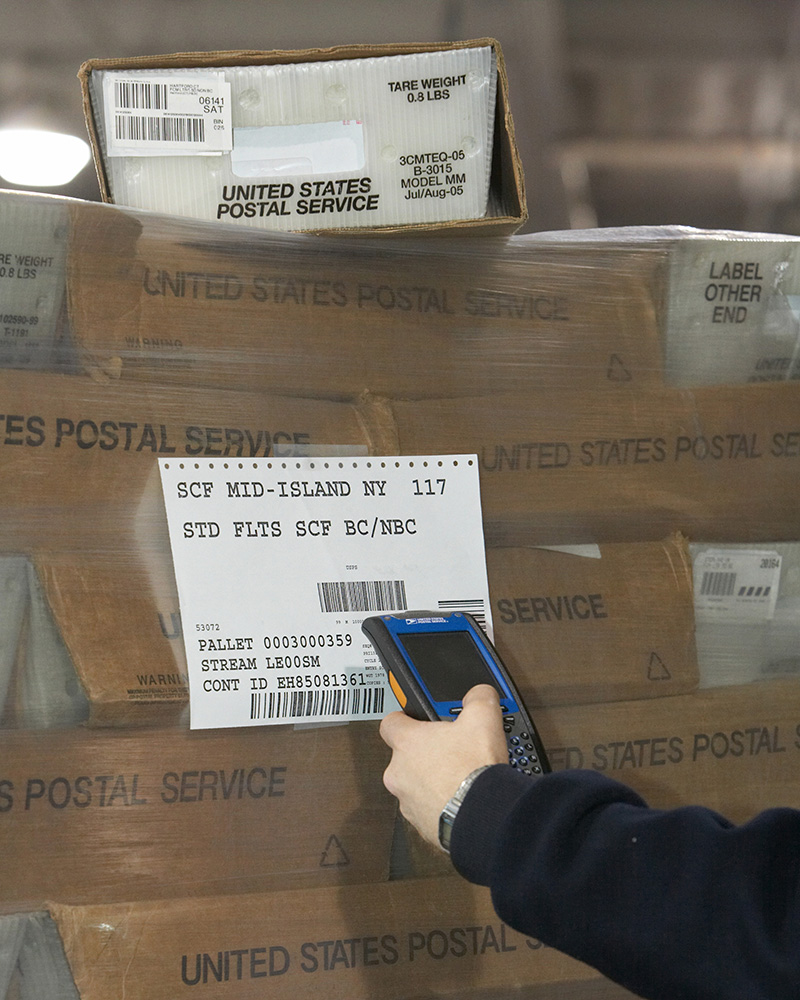 Scanning Barcodes to Track Mail
By scanning barcodes on mail — whether by hand or using automated equipment — the Postal Service could provide mailers with detailed information on where and when their mail was processed and delivered.
Above: Scanning a pallet of Standard Mail, 2006.
Below: Scanning a Priority Mail package, 2014.
In 2003, the Postal Service launched Parcel Return Service, which enabled participating merchants to save on postage on returned merchandise. Consumers could return packages without paying postage by using a prepaid return label addressed to the nearest post office or bulk mail center, where the merchant or his agent picked the package up. The Postal Service also expanded Parcel Select service, completing the "last mile" of delivery for parcel consolidators and private carriers. Private carriers relied on the Postal Service for the "last mile" delivery of packages in less-populated areas, where they could not deliver packages profitably. This helped both the private carriers and the Postal Service, which under its universal service mission, delivered to even the most remote areas on its daily rounds. The first private carrier to ally with the Postal Service in this hybrid service was Airborne Express, in 1999. UPS followed in 2003, and FedEx came on board in 2004; both increasingly relied on the Postal Service to deliver packages the "last mile."
Because the ability to track mail was important to large-volume mailers, in 1999 the Postal Service launched Delivery Confirmation service, providing the date, time, and ZIP Code of delivery for Priority Mail and parcels to customers either online or via a toll-free number. In 2002, the Postal Service officially launched Confirm service, which provided tracking information to participating mailers via an identifying "PLANET" barcode printed on their mail. To enable even greater mail tracking, in 2006 the Postal Service introduced a new "Intelligent Mail barcode," with four vertical bar types rather than two. It encoded almost three times more information than previous codes, consolidating information from both the POSTNET (routing) and PLANET (tracking) barcodes, with room for other services in the future. Confirm service subscribers and ACS users were given the option of using the new barcode in 2006. It became optional for large-volume mailers in 2009, and by 2010 about 30 percent of business mail contained Intelligent Mail barcodes. To hasten the adoption of the Intelligent Mail barcode, mailers were required to use it for automation price eligibility beginning in 2013.


POSTNET Barcode
With barcodes, mail can be sorted automatically. The first postal barcode, the POSTNET barcode, was introduced in 1982 and converted 5-diget ZIP Codes to a machine-readable format. In 1983, the ZIP+4 code expanded the barcode to nine digits. In 1990, the barcode expanded again when the Postal Service added two more digits with exact address information.


Intelligent Mail Barcode
The Intelligent Mail barcode (IMb) was launched in 2006. The IMb can hold nearly triple the data of the POSTNET barcode — not just the delivery address, but also the sender's address, the mailpiece information, and information on extra services. In 2013, large mailers were required to use the IMb to qualify for postage discounts.
The Internet enabled additional innovations. NCOALink and LACSLink helped mailers update their address files. Electronic Merchandise Return Service allowed customers to download pre-paid return labels from retailers' websites. Postage-paid information-based indicia became available through licensed vendors like stamps.com, Click-N-Ship let customers print and pay for shipping labels for packages online, emailed delivery notification was provided to Track and Confirm customers, and emailed Return Receipts were available upon request. The website mailtracking.usps.com became a one-stop shop for business customers to access tracking information, while ribbs.usps.gov/mtac and usps.com/nationalpcc helped keep business customers informed of the latest postal policies and initiatives.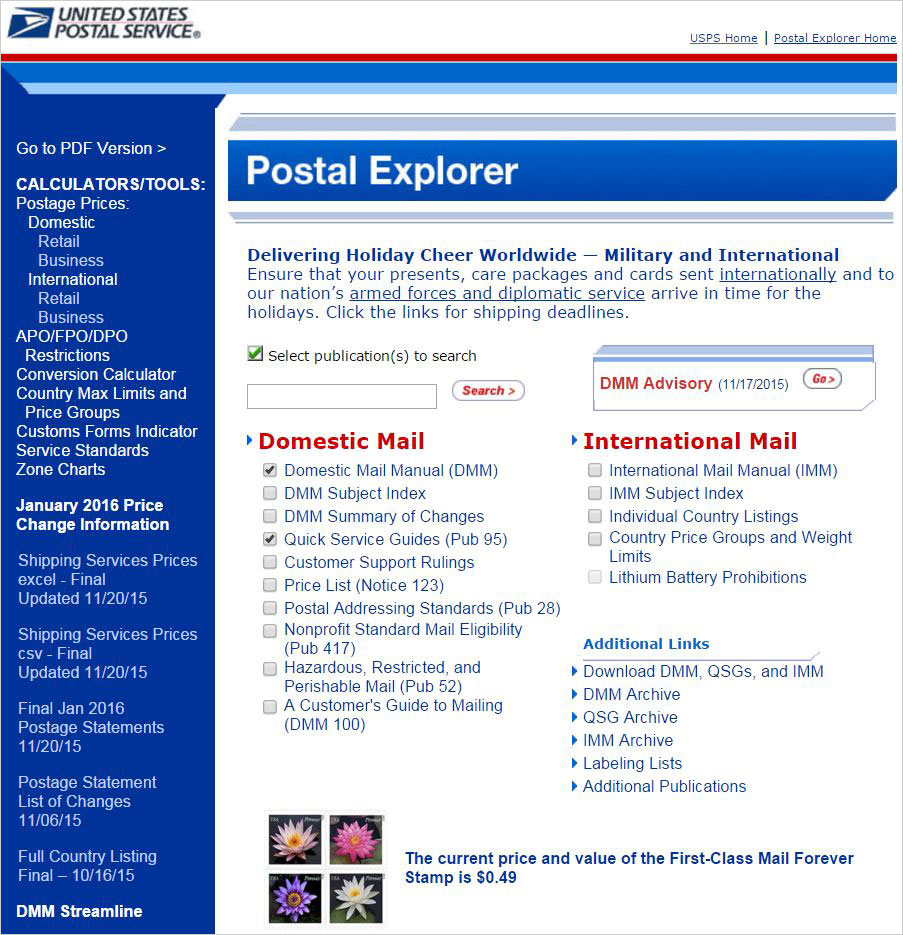 Postal Explorer, 2015
Postal Explorer, online at pe.usps.gov since 1998, provides access to postal information and tools, from mail manuals and service guides, to rate calculators and zone charts.
The Postal Service also continued to streamline its mail acceptance procedures. In 2000, Standardized Acceptance and Verification (SAVE) procedures were introduced for First-Class Mail and Standard Mail. PostalOne!, tested by large mailers since 1999, was deployed nationally in 2004, giving business mailers a web-based process for mail entry, payment, tracking, and reporting. In 2005, the Facility Access and Shipment Tracking (FAST) system replaced DSAS, managing drop shipments at facilities nationwide and giving mailers the ability to schedule multi-stop and recurring appointments. In 2009, the Postal Service completed deployment of Performance Based Verification, an automated process that used mailers' past performance to determine the frequency, sample size and type of verification to be performed on large mailings. Meanwhile, the Electronic Verification System, introduced in 2007, allowed bulk parcel shippers to submit manifests and pay for postage electronically, eliminating the need for postal clerks to visit mailers' plants and distribution centers to verify shipments. The manifests were randomly sampled for accuracy after the parcels enter the mail system. eInduction, launched in 2013, let large mailers deliver shipments of mail to processing facilities without having to fill out paper forms.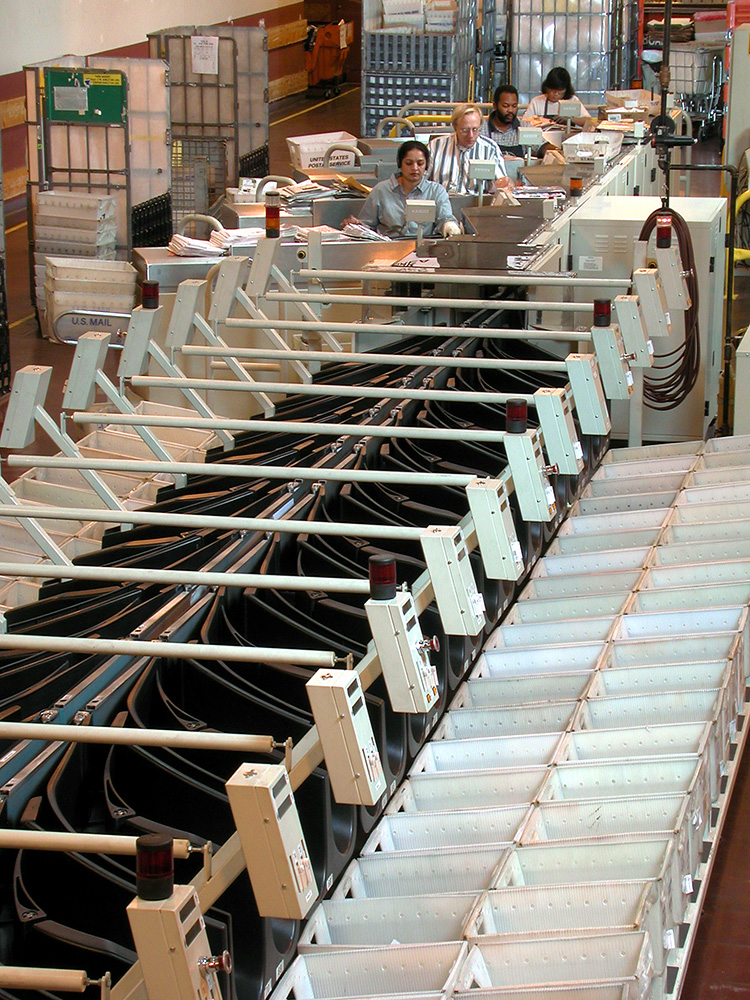 Sorting Flat Mail, 2000
Beginning in the 1990s, the Postal Service further automated its flat sorting operations to hold down operating costs. New automated flat sorting machines could process mail more than twice as quickly as the Flat Sorting Machine (FSM) 881 pictured above, which relied on operators to key in part of the address.
To help keep postage rates low, the Postal Service worked to further automate its processing operations. It upgraded flat sorting machines to increase the number of flats that could be automatically sorted to the correct delivery office, and in 2011 completed the deployment of flats sequencing system (FSS) machines, which could sort flats into delivery sequence. The Postal Service also further automated parcel processing, deploying new sorters and upgrading existing equipment to increase the machines' productivity. And in 2004, the Postal Service began deploying the postal automated redirection system (PARS) to its processing plants, to identify and redirect forwardable mail during processing. PARS also automated the processing of change-of-address forms and electronically notified mailers who subscribed to ACS.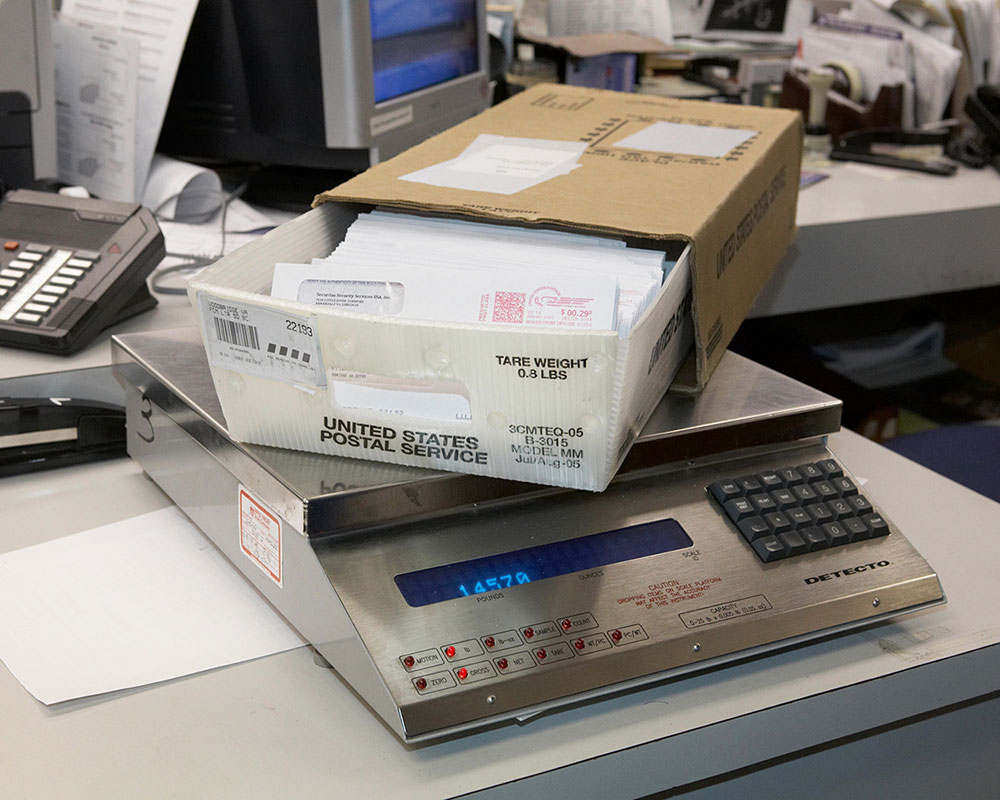 Weighing Mail at a Bulk Mail Entry Unit, 2006
Bulk mailers qualified for discounted rates if they pre-barcoded and presorted mail while complying with envelope and address size and quality standards, which were developed in partnership with MTAC.
The Postal Service also increased its educational outreach to small- and medium-sized businesses. In the early 2000s, the Postal Service added the "Business Mail 101" application to usps.com to help beginning or infrequent mailers choose the best mailing solution for their businesses or organizations, and a Business Rate Calculator on Postal Explorer to automatically compute rates for every class and quantity of mail. In 2001, a "Shipping Solutions" website launched, and in 2004 customers were given the ability to design and download Business Reply Mail at usps.com/replymail. "Workshop-in-a-box" PowerPoint presentations at usps.com/nationalpcc, meanwhile, covered various topics, including the benefits of using direct mail. The Postal Service also developed a streamlined new series of Domestic Mail Manual (DMM) tailored to specific user groups — the DMM 100, A Customer's Guide to Mailing, for retail customers; and the DMM 200, A Guide to Mailing for Businesses and Organizations. It also offered seminars on advertising with mail, nationwide "Grow Your Business Day" workshops, Business Mail Academy courses, and a Mailpiece Design Professional certification program, among other offerings.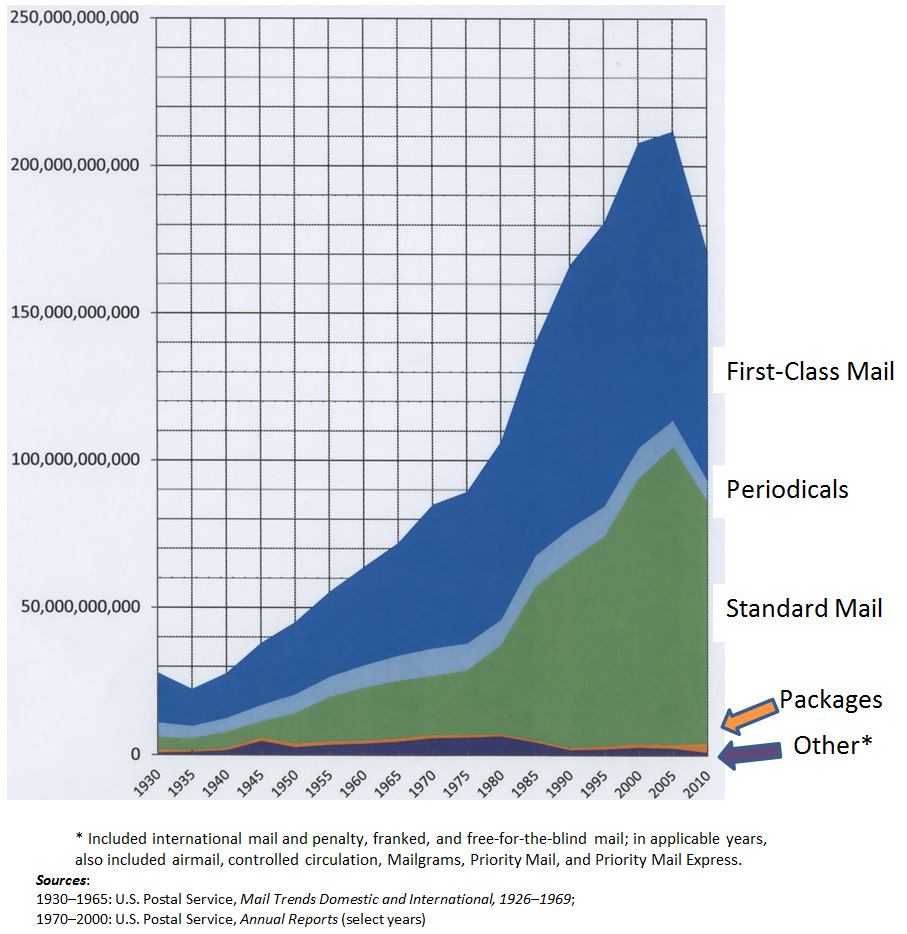 Pieces of Mail, 1930–2010
After World War II, mail volume rose steadily until the 1970s, when worksharing discounts contributed to a surge of First-Class Mail and Standard Mail. Since 2006, total mail volume has receded.
---
25) U.S. Postal Service, Comprehensive Statement on Postal Operations, 2001, 36.