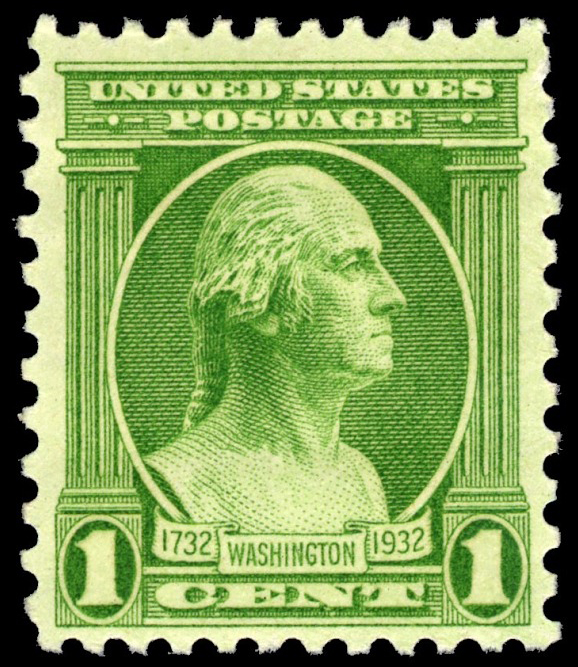 One of the most extensive commemorative postage stamp issues devoted to Washington is the 1932 George Washington Bicentennial Issue. This twelve stamp issue includes the work of Gilbert Stuart and Charles Peale, two well-known American portrait painters.
To celebrate the bicentennial of Washington's birth, the George Washington Bicentennial Committee asked the Post Office Department to issue stamps featuring Washington at different points in his life. Postmaster General Walter Brown and his staff searched the nation for the most accurate depictions of America's first president. According to Brown, "We hope to show Washington as a youth, a civil engineer, as a commander and chief in the army, and so on through life." The Postmaster General desired to use portraits of Washington as opposed to historical paintings that depicted events; the Post Office Department feared these historic images would be less accurate than a portrait. The challenges the Post Office Department faced in its search to find realistic renderings of Washington are good examples of the struggles stamp designers still face to this day.
Since accuracy was and still is such an important factor for stamp designers, the Postmaster General chose the most accurate depiction of Washington for the 1-cent stamp of the Bicentennial Issue. It features the "Houdon Bust" which the artist, Jean Antoine Houdon, created from life when he stayed at Washington's home in Mt. Vernon. Not only did this work adorn the stamp, it was the official portrait of the bicentennial celebration. Bureau of Engraving and Printing (BEP) engraver J. Eissler used BEP designer A.R. Meisser's sketch of the bust to make the engraving for the 1-cent denomination of the 1932 Washington Bicentennial Issue.