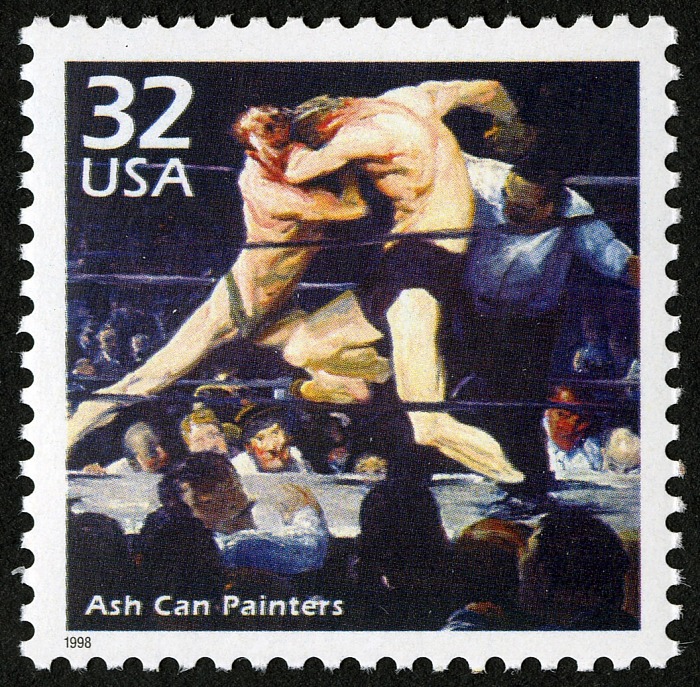 American cities are economic and cultural centers. Their large buildings and diverse populations offer a wide range of subjects for artists. Consequently, depictions of the city adorn many pieces of American art. One group of painters, the Ash Can School (also called the Ashcan School), often illustrated the urban lifestyle. Their images were very different from traditional urban renderings. They drew the dirt, grim, and less fashionable aspects of New York and other metropolises. According to the Postal Service, "Their probing depictions of teeming lower East Side streets, harried dock workers, and low brow sometimes vulgar forms of entertainment shocked the art establishment by challenging the relevance and necessity of beauty in art." The artists, who consisted of men such as George Bellows, Robert Henri, George Luks, and Arthur B. Davis, considered themselves in opposition to academic painting.
The Postal Service honored this group of painters in a stamp released as part of the Celebrate the Century Series. The stamp depicts a representation of the work "A Stag at Sharkey's" by George Bellows. Two boxers swing at each other in a club located near the artist's studio. A referee watches intently and a crowd encircles the men in the ring. Art director Carl Herrman spoke about the use of this piece for the stamp. "I looked at a number of Ash Can painters' works, but most of them were too complicated or wouldn't crop well to fit into the square format." At first, the stamp depicted the words "Ash Can School." However, the designers changed the stamp fearing the public would not know to whom the words were referring. Ultimately, the stamp features the words "Ash Can Painters." According to Terrance McCaffrey, the head of stamp design, "then it became Ash Can Painters because that really said what the whole movement was about…"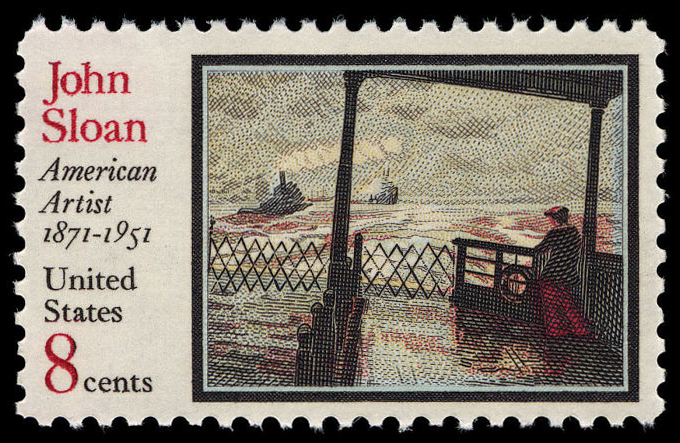 The work of John Sloan, another member of the Ash Can School, is also featured on a commemorative stamp. Like his fellow painters, Sloan separated himself from the romantic school of art, focusing on less academic pursuits. He was born in Pennsylvania and worked in Philadelphia and New York. His 1903 piece "The Wake of the Ferry" is featured on an 8-cent stamp released on August 2, 1971 in the artist's hometown, Haven, Pennsylvania. Bradbury Thompson designed the stamp that shows the deck of a ferry on a stormy day.