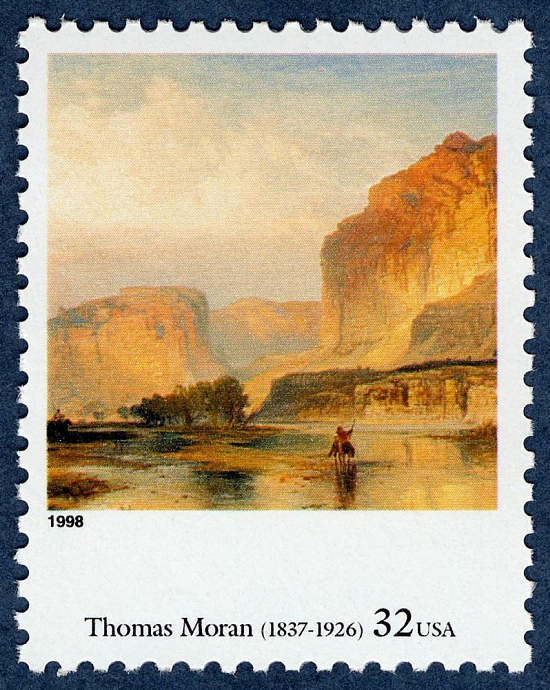 America's majestic landscapes, natural wonders, and other unique locations compose an important element of the American essence. Many great works of American art have depicted the places that separate this nation from other lands. A variety of US postage stamps feature these images.
The artist Thomas Moran immortalizes the mountains and beauties of the west in his work "Green River Cliffs, Wyoming." Born in England, Moran moved to the United States where he studied art. In the 1870's he followed an expedition to the Yellowstone Region and made sketches for some of his most famous landscape paintings. He soon became renowned for his depictions of America's landscapes.
The Postal Service issued Moran's painting on a postage stamp in 1998 as part of the Four Centuries of American Art Issue. The painting depicts large rock formations and a river where one man rides on his horse. For the stamp, much of the scenery on the left and right was cropped. The designers wanted to focus the eye on the break in the cliffs.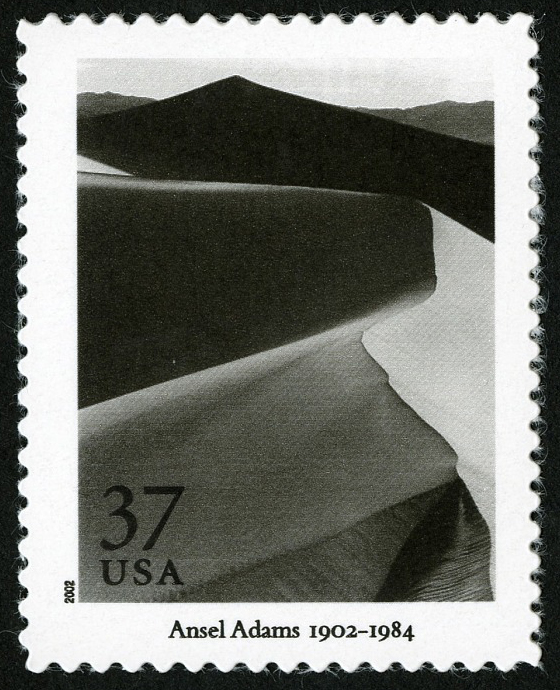 The vastness of the American West has been captured in photography as well as paintings. One photograph, known as "Sand Dunes, Sunrise," explores the unique layout of Death Valley in California. Ansel Adams, the photographer of the piece, is known for his detailed images of the American West. His work is showcased on a stamp included in the 2002 Masters of Photography Issue. According to the Ansel Adams Trust, "Sand Dunes, Sunrise, 1948, reveals the sharpness of detail and rich tonal range from the deepest black to the purest white that are hallmarks of his [Adams's] work."