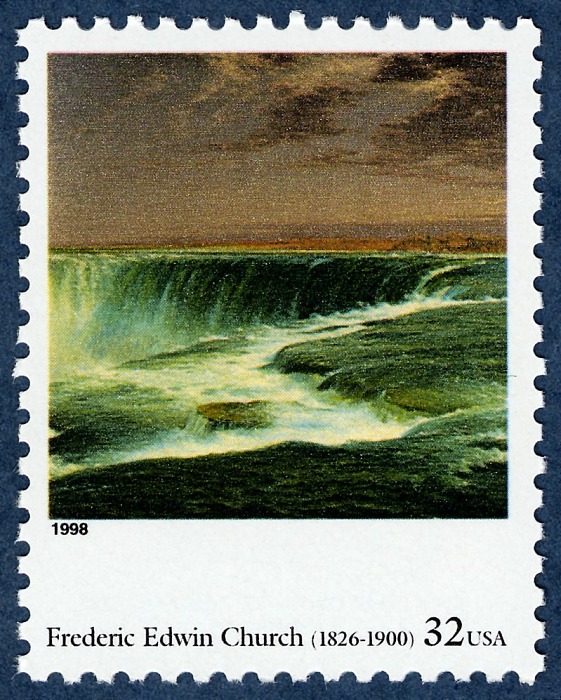 Niagara Falls is one of America's most recognizable and famous natural wonders. Tourists from all over the world flock to see the falls, and artists have depicted its immenseness. One image of Niagara by Frederick Edwin Church has stood out as a brilliant rendering of the natural landmark. Art historian John Howat spoke about the work, stating "Niagara was a momentous cultural event…numerous newspaper and magazine critics pronounced it the greatest oil painting, as well as the greatest representation and evocation of America's most renowned natural wonder…"
The Postal Service released the stamp depicting the painting as part of the Four Centuries of American Art Issue. For the designer of the issue, Howard Paine, Church's work was a good example of the uniquely American natural landmarks that many artists desired to depict. He stated his opinion about the work: "I've always loved this painting…I love the green water and the fact that you're right on the roaring edge of it." To attain the square shape for the block, Paine had to crop many of the horizontal aspects of the piece. The focus for the stamp is the u-shaped falls depicted on the right side of Church's original painting.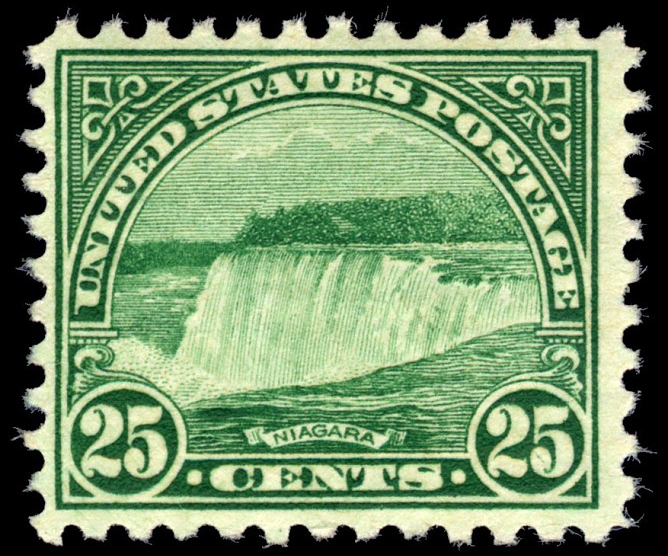 The stamp featuring Church's work is not the first representation of Niagara Falls. The Post Office Department released a 25-cent Niagara Falls stamp in 1922. It shows an image of the natural wonder as seen from Goat Island, the land that separates the falls into the American and Canadian sides. The stamp designers originally considered using Church's work for the stamp and asked the Corcoran Gallery for a representation of the piece. While it was never used, some believed that the painting had in fact been the image the designers featured on their stamp.