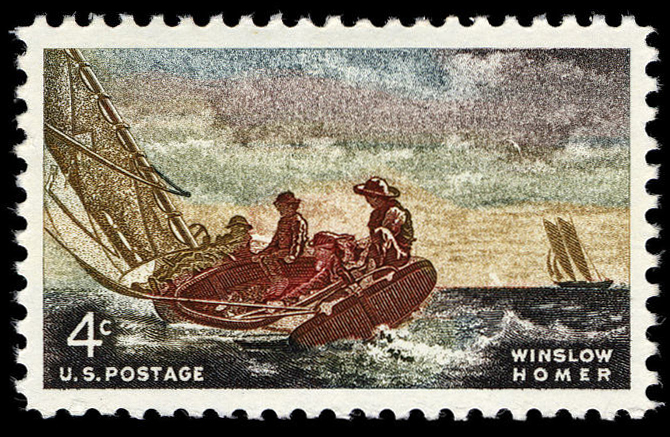 The United States is surrounded by the world's two largest oceans, the Atlantic and Pacific. America's connections to these two large bodies of water have become an important part of its identity. Children play in these waters, fishermen draw their livelihood from them, and citizens treasure their vastness and bountifulness. Winslow Homer, one of America's greatest artists, loved the sea, and he brilliantly depicted its qualities.
One of his pieces entitled "Breezing Up" honors the sea and man's connection with it. The Post Office Department released this work in 1962 on a stamp that celebrates Winslow Homer. Victor McCloskey designed the stamp which shows a sailboat in Gloucester, Massachusetts. This image was appropriate, as the setting, Gloucester, is a spot where over 8,000 sailors lost their lives to the ravages of nature's ocean. Postmaster General Day hoped that this stamp would not only honor America's oceans, but would also "broaden the interest of all Americans in historic paintings which have become a part of the American tradition."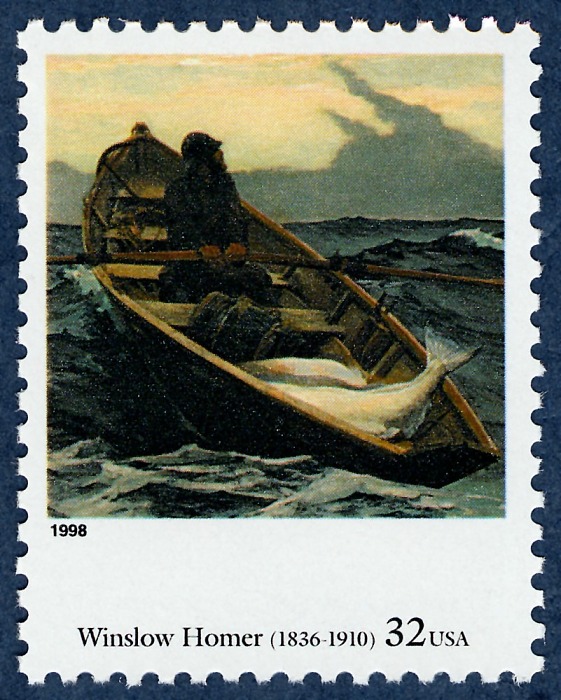 The Postal Service released another work of Homer's, "Fog Warning," on a postage stamp in 1998. It was a part of the Four Centuries of American Art Issue. The piece depicts a fisherman rowing in turbulent waters. He wearily looks to a sailing ship, his destination. This work once again shows man's struggle in the sea. To make the stamp, Howard Paine, the designer of the issue, had to crop the painting's right side which included the man's final destination, the sailing ship.