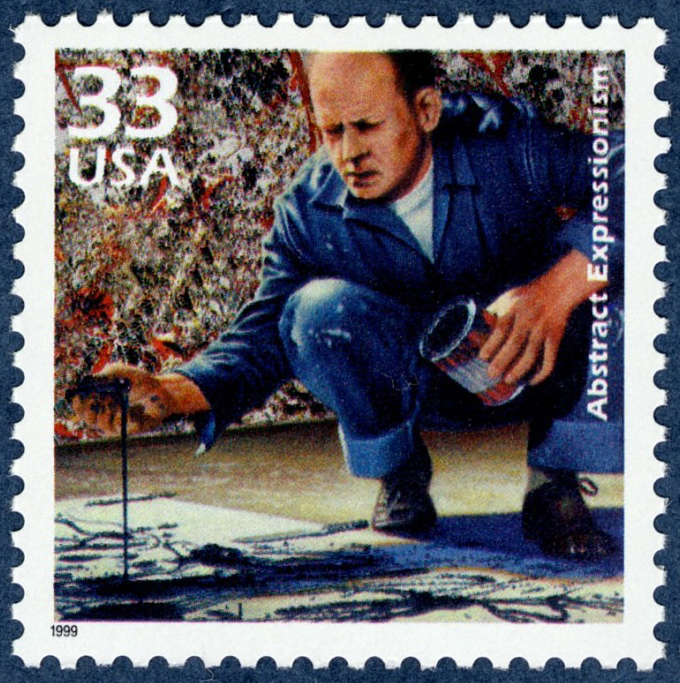 Jackson Pollock was another leader in the unique abstract expressionist movement. He dripped and splattered paint onto canvases typically on his floor, creating gestural paintings full of energy. He is honored on a postage stamp released in 1999 in the Celebrate the Century Series. This stamp was included with the fifteen stamps commemorating the 1940s.
Carl Herrmann, an art director at the time, thought of using a Pollock piece on the stamp, but determined "it would have looked like a piece of carpeting." He decided to display an image of the artist instead. His first thought was to use a photo by Hans Namuth showing Pollock at work on his painting "Autumn Rhythm." However, this piece was made in 1950 as opposed to the 1940's.
Stamp designer, Howard Koslow, wanted to portray a photo taken by Martha Holmes in 1949. Life magazine featured the image and it shows the artist painting with a cigarette in his mouth. The background of the work is Pollock's garage. For the stamp, this plain background was replaced by an image of Pollock's painting entitled "Out of the Web." Koslow removed the cigarette from Pollock's mouth because the Postal Service forbids any depiction of smoking on its stamps. This act caused controversy. Don Smeraldi, a USPS spokesman said, "We're not honoring a smoker who happened to be an artist; we're honoring an artist who happened to be a smoker." However, others argued that the cigarette was a crucial aspect of Pollock's image and that the USPS was distorting its representation of the artist.
The debates surrounding the inclusion of a painting, the troubles associated with finding a work from the correct time period, and the controversy created by the manipulation of a work, are all examples of the issues designers face when they create stamps that feature American art.