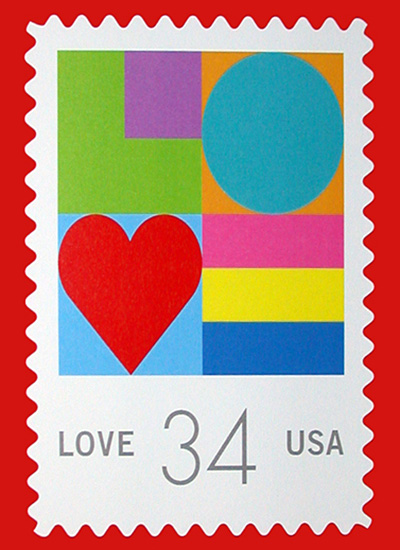 A terrible day inspires a hopeful design.
Artist: Michael Osborne
Art director: Ethel Kessler
Date of issue: August 2002
Computer-generated
Only a few days after September 11, 2001, Michael Osborne received some much-needed news: He had been given approval to begin developing a new Love stamp.
Osborne immersed himself in the project, finding both the work and the subject extremely therapeutic. "In light of the horrific events that took place only a week earlier, I put everything I had into designing the Love stamp," he said. "Once I started, the emotions I felt fueled the creative process."
U.S. Postal Service art directors were impressed by Osborne's colorful, life-affirming designs and by his incredible sense of presentation. He submitted a beautiful wire-bound book that featured dozens of variations on the Love theme, as well as pencil sketches and other subtle graphic elements that showed his clear affinity for the small medium of stamps.
The Citizens' Stamp Advisory Committee, which reviews the public's requests as well as all prospective stamp art, was overwhelmed by the wealth of choices that Osborne submitted. After much deliberation, committee members selected two designs for the 37-cent and 60-cent Love stamps, which were issued on August 16, 2002.
Below are the colorful designs by Michael Osborne that were included in the wire-bound book that he presented to the U.S. Postal Service.