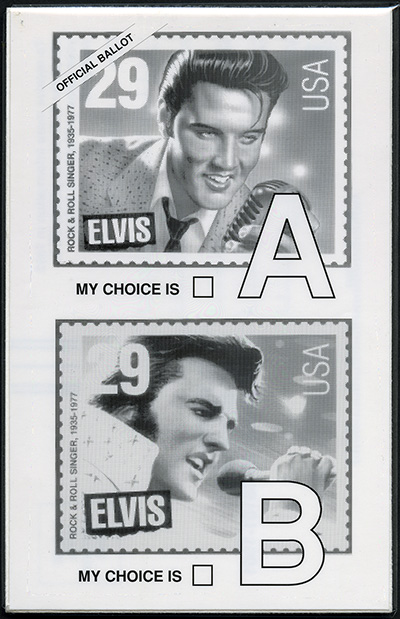 The ballot Americans used to vote for their favorite Elvis stamp
Artist (young Elvis): Mark Stutzman
Airbrush and acrylic on board
Art director: Howard E. Paine
First day of issue: January 8, 1993
Artist (old Elvis): John Berkey
Oil on board
In 1992, the American public voted on a matter of vital national importance: young Elvis or old Elvis?
Allowing the public to select the artwork for the Elvis Presley stamp was an unprecedented move by the U.S. Postal Service. The choice was between two equally superb but thematically distinct portraits: a watercolor of the youthful Elvis by Mark Stutzman, or a more mature Elvis painted by John Berkey.
Pre-addressed ballots were distributed in post offices around the country and in the April 13, 1992, edition of People magazine. America spoke, returning nearly 1.2 million ballots to the Postal Service, and the choice was clear: More than 75 percent of voters preferred young Elvis. The stamp was dedicated at Graceland just a few moments after midnight on January 8, 1993—Elvis's 58th birthday.
Across the country, reaction to the voting process was boisterous and opinionated. Members of Congress debated the worthiness of Elvis as a stamp subject, newspaper editorialists made lofty pronouncements, and presidential candidate Bill Clinton publicly voiced his support for the younger Elvis. Meanwhile, comedians and cartoonists used the opportunity to poke fun at the Postal Service, the 1992 presidential candidates, and even Elvis himself.
A decade later, the Elvis stamp is still one of the most talked-about stamps ever issued by the Postal Service—and the most popular U.S. commemorative stamp of all time.
The U.S. Postal Service commissioned eight artists to develop potential designs for an Elvis stamp. Working independently, they submitted 60 sketches and paintings in every imaginable style, from somber watercolors to abstract modernist designs.
The artists were not restricted to any particular era in the life of Elvis, so their designs explored various aspects of his career, including his films, his early performances, and his reign on the Las Vegas concert stage. These concept sketches and preliminary designs, which reflect the innumerable ways of looking at an American icon, show Elvis stamps that might have been.