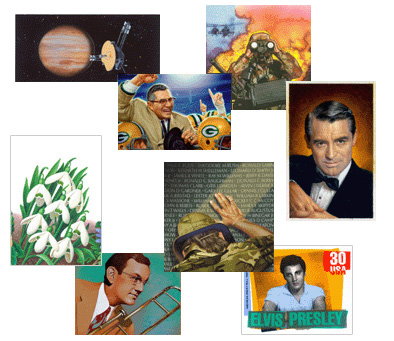 From undersea creatures to Hollywood legends, most stamp subjects are suggested by the public—in more than 50,000 letters each year. The challenge of sorting through these proposals falls to the Citizens' Stamp Advisory Committee (CSAC), which meets quarterly to discuss, debate, and ultimately select each subject.
The specific look of a stamp is determined by a Postal Service art director, who conducts thorough background research, selects an artist, and submits preliminary designs to CSAC. The artist then develops pencil sketches that evolve into a beautiful final design.
Developing a stamp can take two years or longer, but by the time the Postmaster General approves the final art, everyone involved has held to the most important dictum of stamp design: Work small, but think big.
Select a category to view the artwork: