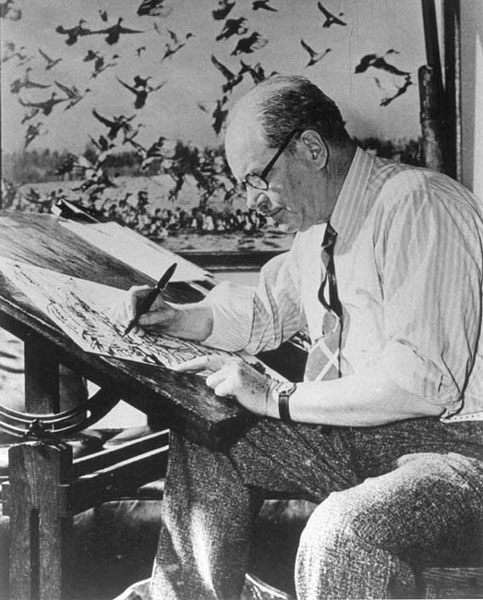 Jay Norwood "Ding" Darling (1876-1962), whose artwork was featured on the first Federal Duck Stamp, was a Pulitzer Prize-winning cartoonist for the Des Moines Register. His greatest enthusiasm was for conservation. In the 1930s, he answered a call from Washington to aid the migratory waterfowl crisis. He served as a member of two committees that examined the crisis, and also was chief of the U. S. Biological Survey, 1934-35. He was one of the leading advocates of the Migratory Bird Hunting Stamp Act.
Ding Darling's etching Mallards Dropping In became the design of the first Federal Duck Stamp issued in 1934. (Alvin Meissner was the designer of the stamp, based on original artwork by Ding Darling.) Haunted by the inadequacies of this hastily composed artwork, Darling sketched variations and gave them to friends for more than twenty years after the issuance of the stamp.
For the first time, all waterfowl hunters over the age of 16 were required to purchase a Federal Duck Stamp and affix it to a state hunting license.