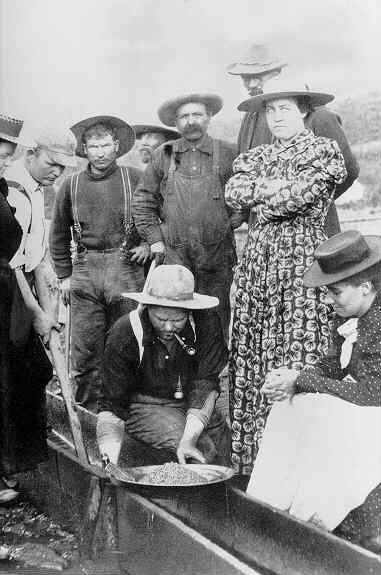 When she stepped off the Excelsior in July, Ethel Berry did not look like a woman worth over $100,000. Her worn and tattered dress was held together with her husband's belt. Seattle reporters, alerted to the great wealth on board the Excelsior by reports from the earlier arrival of another ship from the far north, were immediately taken with the cheery woman amongst the grizzled miners and quickly crowned her "The Bride of the Klondike."
Ethel had gone to the Klondike with her husband, Clarence Berry, who had first gone north seeking his fortune in 1894. Clarence and Ethel were wed when he returned from the Yukon to California in the fall of 1895. When Clarence returned north the next spring, Ethel was at his side. The trip was longer and harder than the young bride had expected. The couple left Juneau, Alaska on March 24, 1895 and did not arrive to their destination until June 10. The couple lived near Clarence's digs along Forty Mile Creek.
Fortunately for the couple, Clarence had to supplement his income by tending bar. When George Carmack came into the bar at Forty Mile one evening boasting of his great gold discovery, Clarence decided to take a chance. He set out for the new discovery, staking a claim on Eldorado Creek. Ethel followed later, bringing five tons of supplies with her on the steamer, Arctic, into Dawson. The couple set up camp, suffering through the icy winter in a poorly built 12 x 16 foot log cabin with no floor and a pitiful window covered with a flour sack. Amazingly, Ethel was not the only American woman on the creek that winter. The couple's neighbors included Salome and Thomas Lippy, who were also destined to find their fortune that year. Clarence's claim on Eldorado Creek would prove to be one of the richest claims in the Klondike.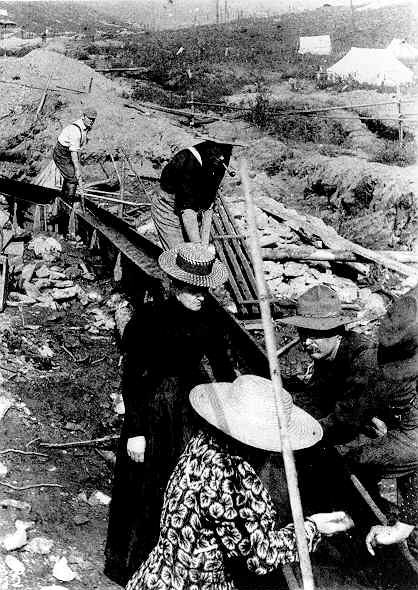 In an interview, Ethel Berry described some of the hardships of that winter. "We could not get one drop of water without first melting the ice, which necessitated keeping a fire all day. Keeping the fire is enough to occupy the whole of one person's time. The wood is full of pitch and blazes up and is out again almost before one can walk across the room and back."
Conditions at the mining camp were hard on Ethel at first. "The roughest experience I had during my entire stay in Alaska was at the mining camp fifteen miles from Dawson City. When I reached the house where I was to spend the winter, I found it utterly unfit for any woman to live in. There was neither floor nor windows, and Mr. Berry had to cut a hole in the wall in order to get the stove in. Finally all of these difficulties were overcome and I was fairly comfortable." Even though the trip was far easier on her than it would be for most women (she admits that she "rode all the way from Juneau to the mining camp"), Ethel faced a cold and often desolate life in the gold mining camps of Forty Mile and the Klondike. She noted that "I think that I may say that few women could have gone through successfully what I have encountered in the last ten months."When the reporter asked her what advice she would have for single women planning on giving in to gold fever, her response was brusque. "Don't go." [Ethel Berry, "How I Mined for Gold on the Klondyke," San Francisco Examiner Sunday Magazine, Aug 1, 1897, pg. 1]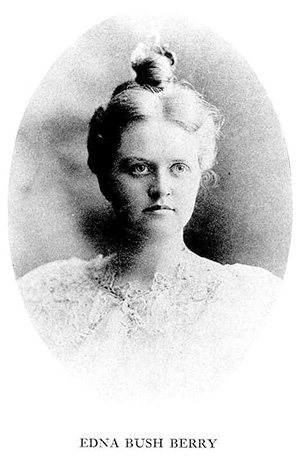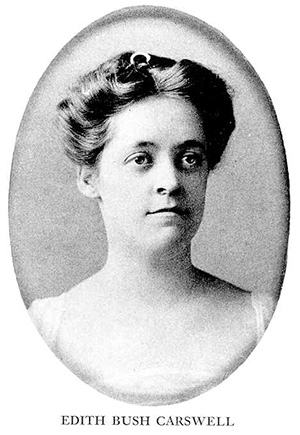 After depositing their gold in California and resting up, the Berrys returned to their gold fields in 1898, traveling across the Chilkoot Pass alongside thousands of hopeful millionaires inspired by their success. This trip, Ethel's sister Edna, nicknamed "Tot," was allowed to go along. Tot later wrote about the families adventures in her book, The Bushes and the Berrys.
Free from worries about money or supplies, Tot's trip to the Klondike was a great adventure. She was too excited to rest after climbing to the Chilkoot Pass summit. I "picked up a small piece of board and, using it as a sled, I tucked my feet up, held my skirts between my knees, and with one big "whoopie" I was on my way." Her excitement wore thin, though, as they crossed the various lakes and streams on their way to the Yukon River. "It was bitterly cold," she wrote, "The lakes were frozen to a depth of six or eight inches and snow was everywhere. Even with all our of our running and our heavy stockings, our feet would get so cold at times that we could go no further. All the dogs wore shoes made of several thicknesses of burlap tied around the ankle, but it would only be a short time until the sharp ice cut through the shoe to the foot. [Alice Edna Berry, "The Bushes and the Berrys."]
Ethel and Clarence were cautious with their money, and through studious investments and planning, managed to keep and increase their wealth - a rarity among the gold rich "Klondike Kings." They brought out $1.5 million from their claims along Eldorado Creek, moved to Fairbanks during the Tanana gold rush and made more money there. When the couple returned to California, Clarence bought oil land in Bakersfield that proved to be yet another solid investment. Clarence died in 1930. Ethel died 18 years later in California.
Excerpts from "The Bushes and The Berrys"
by Edna "Tot" Berry: