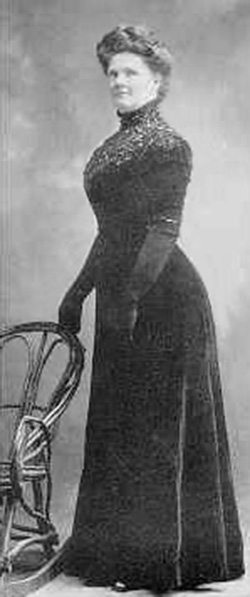 After placing her kids in the care of friends in Seattle, Washington, Harriet Pullen traveled to Skagway seeking to settle in and make a living to support her four children. She arrived there with just $7.00 in her pockets. Captain William Moore, a founder of Skagway, hired her almost immediately to cook, at $3.00 a day, for his pier-building crew. A wily entrepreneur, she used her spare time to collect empty tin cans, which she beat into pie pans. Before long, she was making a good profit by selling apple pies to stampeders. As the crowds flooded the town, she recognized that the real money was to be made not in looking for gold miles away, but by tending to the needs of stampeders on their way into the fields. She used her pie money to set up a freighting business. She still owned seven horses from her farm at Cape Flattery, Washington, and sent for them. Her freighting outfit over the White Pass trail was successful from the start, bringing her as much as $25 a day.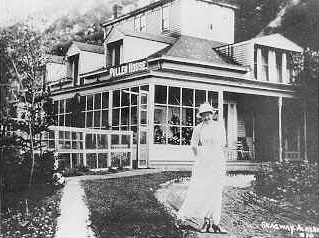 When freighting stopped paying off, Pullen used some of her profits to open a hotel. She bought Captain Moore's home and turned it into the Pullen House Hotel, which she opened a year after she arrived. Her businesses were extremely profitable and before long she was able to send for her children. The hotel-keeper became famous for her hospitality, and became known as "Ma" Pullen.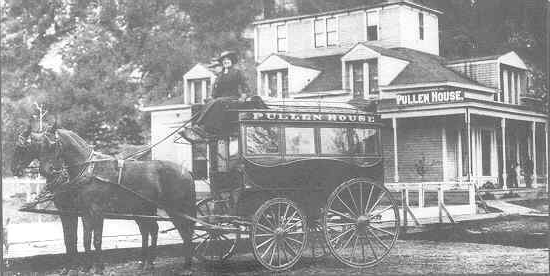 Harriet's neighbors believed her to be a widow - either by assumption, or her own claim. But, after she had achieved success with her freighting company and hotel, her husband arrived in town. Instead of staying and demanding part of her Skagway profits, Harriet Pullen's husband decided to seek his fortune in the Klondike. Harriet remained in Alaska, transforming Pullen House into an elegant hotel filled with the finest china and silver, soft beds and what was a supreme luxury for the time, bathtubs. Harriet Pullen was a strong supporter of Skagway's gold rush history. As the town waned in the 1930s, she continued to collect gold rush memorabilia and artifacts. During tourist seasons, she personally greeted each boatload of visitors, regaling them with stories of the town's wild history. "Ma" Pullen died on August 9, 1947 and was buried near the site of her hotel.