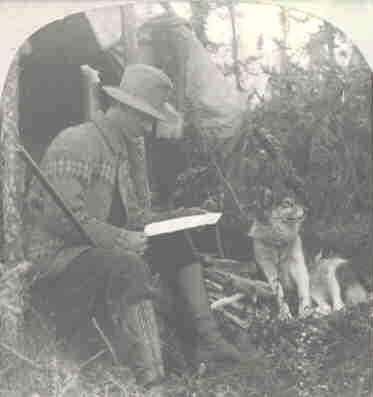 August 28, 1898
"I fancy some of my mail is [at Dyea], including the longed for photos. You see, there were no arrangements made to exchange mail between the two countries, or it would be forwarded to Bennett and then to Dawson. I asked young Dyar to look for mail at Dyea but it is next to an impossibility to get into the post office there. After standing in line all day, they can ask for one name only. . . . When that man went from Bennett, he said he would call at Skaguay and Dyea for my mail. There must have been some for me at the latter place, but I am not sure he called. When he came through Sheep Camp, he said the office was not open. There may have been some there also. I have been sorry I did not take that eighty mile trip myself and be satisfied. I am in hopes another mail will come in before I leave this place. It may be difficult getting mail out this winter so try not to expect letters until they arrive."

Alfred G. McMichael, from a letter written to his wife. From the Alaska State Library, Juneau, Alaska.
Letters from the families and friends left thousands of miles behind helped stampeders fight back feelings of loneliness along the trail and in the gold fields. During the first years of the Klondike gold rush, mail service was inadequate at best. The most common complaint made in letter after letter sent from the far north was of not getting longed-for letters from home. Stampeders trusted letters for the "Outside" to travelers going south, and hoped their faith was well founded. Many such letters did reach their destination.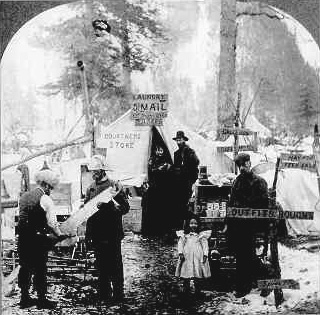 It was far more difficult to receive mail along the trails and in the gold fields. The stampeders were always on the move, making the threadbare mail service even worse. Some people made money by carrying mail between stampeder tent towns and U.S. post offices for fees ranging from 15 to 50-cents.
In the letter quoted from below, stampeder Israel Herbert Lee described the poor conditions of his group traveling on the Dalton Trail. Despite his bravado, the crew would be forced to sell their goods and return south. Lee put together another outfit and crossed over the Chilkoot Pass trail and reached the Klondike in 1898.
November 12, 1897 from the Dalton Trail
"All our horses are dead from exposure or starvation, and we have packed about 1,600 pounds of food on our backs, for the last 35 miles, going ahead with what we could carry and then returning for more. . . . I am in excellent health and there will be plenty of chances when we get there, money is plenty, as every one seems to have plenty of nuggets. One of these men that I shall give this letter to offered me a hand full to pick one out for a plug of tobacco, but I declined to trade, nuggets are hard to chew, besides they wear holes in your pockets."

Israel Herbert Lee, in a letter home to his family. Letter from the collection of the Yukon Archives, Whitehorse, Canada.
For most stampeders, letters from home were too few and came too far in-between. This complaint, often accompanied by a plea for more letters, can be found in almost all their correspondence.
Wednesday, April 27, 1898
"At our camp on Lake Bennett. I hope to send this letter by a man who came through here today with newspapers to sell--dated the 20th--only seven days old. Pretty good, I think, for this country. We expect him to stop on his way back tomorrow or the next day and will send out letters if possible . . . . Do not forget that I think of home very, very often and send love to all. No letters yet--not since I left Dyea. I hope the photos will come. I long for a sight of faces of home, if only in picture."

Alfred G. McMichael, from a letter home. "Klondike Letters: The Correspondence of a Gold Seeker in 1898," edited by Juliette C. Reinicker.
June 15, 1898
"We are both well and enjoying the trip, no letters from you, but we hope to have mail awaiting us at Dawson. I have been writing you all along. George says my letters are too long."

Julia Musgrave, in a letter to her friend Ellen Hazard. From the collections of the University of Alaska, Anchorage.
All to often, stampeders were disappointed by the lack of mail. Their misery was compounded when they could only learn about their mail after standing in line an entire day at the post office. Thousands of miles from home, the smallest notes and gifts from their families and friends could raise their spirits tremendously. Those who had to go long months without a letter found their spirits flagging.
July 14, 1898 "I am so disappointed in not getting a letter from you or in fact from anyone, we are feeling so anxious to hear from you. I do write so many letters and do not get but a few, that sometimes I get almost discouraged. . . . I received your letter with this Easter card and pin but dear the pin was broken. I almost cried."

Julia Musgrave, in a letter to her friend Ellen Hazard. From the collections of the University of Alaska, Anchorage.
St. Michael, June 28, 1899
"Well wife I will converse a while with you this morning. I dream of you and the children last night. How I would like to take you all in my arms if only for a moment. I don't think any man ever thought more of his wife and children than I do. I am not as demonstrative as some but my every thought always has been to furnish all the conveniences to make home life pleasant but so far I have never been able to come up to my expectations. I think I will strike it rich yet and then I think I would enjoy spending money on myself as well as on home comforts, but I am going to give it a hard tussle and then if I fail I will come home and take things as they come."

Robert J. Young, from a letter home. "Letters to Lizzie," by Evey Ruskin, "The Alaska Journal," 1984.
Today, letters from the Klondike stampeders help give historians and scholars a better picture of what life was like for the thousands of determined gold seekers. For instance, In the letter below, George Musgrave describes life in Dawson to a friend back in Massachusetts.
From Dawson [probably early October 1898] "Here is the largest city of tents in the world, and just as far as you go in any direction there is nothing but tents and log cabins. A log cabin size 14 x 15 will rent for from 50 to 60 dollars per month or will sell for from 800 to $2,000. . . . There is one cat in Dawson and she has 7 kittens the boy that owned her wants $35.00 each for the kittens and will get it too. . . . Clothing is cheaper here than with you, but those things are caused by the hundreds and thousands selling out to get out of the country. . . . Wages here are $1.50 per hour but there are 3 for every job."

George Musgrave, in a letter to his friend Russell Hazard. From the collections of the University of Alaska, Anchorage.
In one of their letters, George and Julia Musgrave sent their friends, the Hazards, maps of their travels north. The middle map shows their journey from Seattle. The second map outlines their trip along the Yukon River.