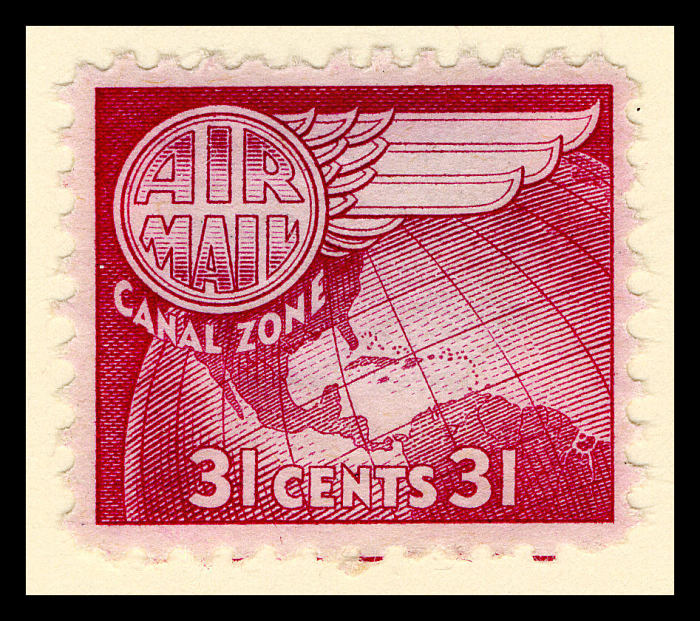 The Globe and Wing airmails comprise two distinct series, the first issued on July 16, 1951 (Scott C21-26), and the second (Scott C27-31) on August 1, 1958. In addition, a single 8-cent stamp (Scott C34) was issued on January 7, 1963.
The Winged Airmail symbol (the image over a good part of the western hemisphere and centered on the Isthmus of Panama) was created to replace the by-then antiquated view used on Canal Zone airmails that depicted what appears to be the 'Spirit of St. Louis' flying over the Continental Divide at the Panama Canal's Gaillard Cut. Aviation had progressed considerably since 1931, when the Gaillard Cut airmail was issued, and it was agreed that a more modern design was appropriate.
The first group of the new airmail stamps was issued in 4-, 6-, 10-, 21-, 31-, and 80-cent denominations on July 16, 1951. At first glance, some of the denominations seem rather strange, but this is explained by the fact that the Canal Zone Postal Service had the right to set its own rates for foreign mail. The airmail letter rate to the U.S., which was set in Washington, was six cents (Scott C22), and the postcard rate was four cents (Scott C21) at the time. The Canal Zone authorities decided, however, on the same fifteen-cent rate as the U.S. to Europe and the Mediterranean, so its stamp intended for that use would be twenty-one cents (Scott C24). In other words, foreign rates were 'cumulative' or 'compound', with the U.S rate being added to the foreign segment. This also explains the 31-cent stamp (Scott C25) of this series, intended primarily for use to Australasia, Asia, and sub-Saharan Africa (six cents to the U.S. and twenty-five cents to its destination). However, the rate on a letter to South America beginning on October 1, 1946, was set at a uniform ten cents. Such letters did not pass through the U.S., so a 10-cent stamp (Scott C23), not a 16-cent stamp, was all that was needed.