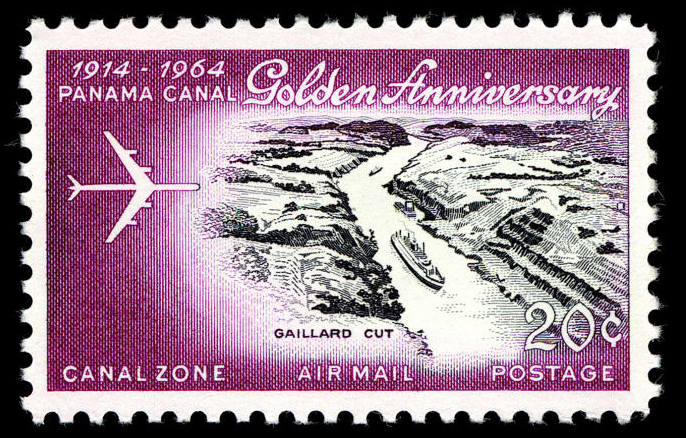 This series of six airmail stamps (Scott C36-41) in 6-, 8-, 15-, 20-, 30-, and 80-cent denominations was issued on August 15, 1964, to commemorate the 50th or Golden Anniversary of the opening of the Panama Canal. Each of the designs incorporates an aerial view of an area important to the canal's operation.
Quantities received from the Bureau of Engraving and printing were in the 500,000 range, except for the 8-cent that was used on airmail letters to the United States. Large quantities remained unsold, however, and they were withdrawn from sale on January 31, 1966. Later that year these remainders were burned. Except for the 80-cent, each of these stamps fulfilled a specific postal rate.
First day covers of these attractive stamps are quite common, usually with all of the stamps on a single cacheted envelope. The Canal Zone Postal Service sold large numbers of the stamps as well as first day covers and other souvenirs at a special booth at the New York World's Fair during a few days in August 1964. Except for the 8-cent and perhaps the 6-cent, which was used on airmail postcards to the United States, these stamps are uncommon-to-rare on non-philatelic covers.