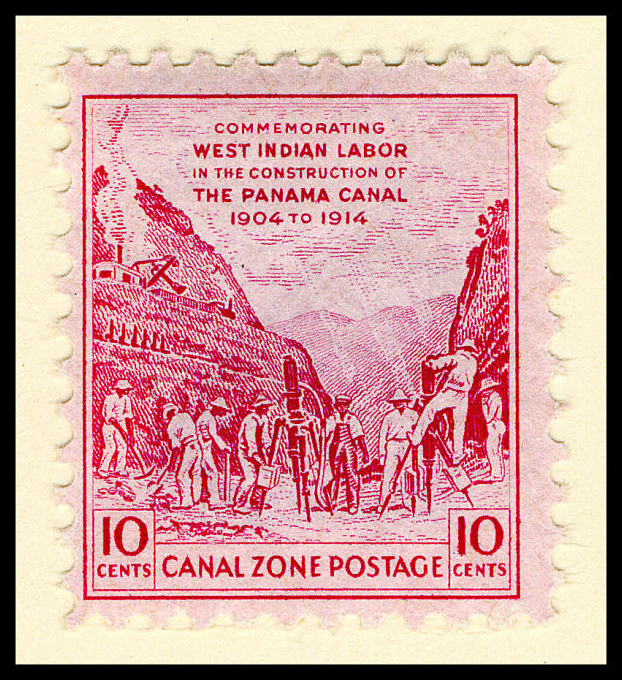 The 10-cent West Indian Labor stamp (Scott 146) honors the thousands of workers imported by America from the various islands of the West Indies to provide the unskilled labor so necessary to building the Panama Canal. It was issued on August 15, 1951, on the occasion of the 37th anniversary of the canal's opening. The stamp depicts a scene at the bottom of the deepest section of Gaillard Cut at the Continental Divide based on a photo shot in 1912. In the image a group of West Indians are seen operating the large and cumbersome tripod drills that dug the holes into which dynamite was placed. The man on the drill was there because compressed air operated the drill, and someone actually had to stand on it to keep it in place. This type of backbreaking labor contributed mightily to the construction effort, and such work was done almost exclusively by West Indian laborers. During the peak of the construction effort there were some 31,000 West Indians employed by the Isthmian Canal Commission, and many of their descendants still worked on the Panama Canal in 1951.
At first glance a 10-cent, non-airmail commemorative stamp may seem odd. This was, however, the airmail rate to the West Indies at the time, and it was expected that the canal workers of West Indian descent would want to (and did) use these stamps on letters back home.
The only printing of the 10-cent West Indian Labor stamp consisted of 480,000 stamps, all of which apparently were sold over time as no records exist of their destruction. There was an elaborate first day of issue ceremony at Rainbow City, one of the Canal Zone townsites set aside for the West Indian employees. As part of the schedule of events, the new stamp was placed on sale. Over 1,250 copies were sold and some 785 first day covers prepared. All were marked by a Cristobal "3" postmark, which distinguishes them from the covers serviced by the Canal Zone Philatelic Agency.
A relatively small number of cachet artist/producers were active in preparing first day covers for this stamp. However, their covers serviced by the Canal Zone Philatelic Agency are common. On non-philatelic covers the 10-cent West Indian Labor stamp is sometimes seen on letters addressed to the West Indies, but not many of them were apparently set aside. It is more often found on airmail letters to Latin America, which cost the same, and in 'make-up' rate usages in many forms. None of these can be considered common though.