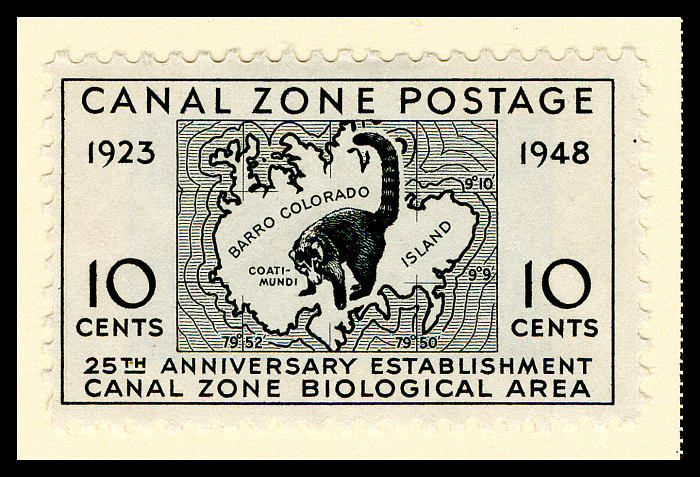 The 10-cent stamp (Scott 141) honoring the silver jubilee of the Canal Zone Biological Area was issued on April 17, 1948. It features a map of Barro Colorado Island, formed in 1913 when the waters of the Chagres River were tamed and Barro Colorado Island literally rose out of the rising waters of Lake Gatun. Superimposed on the map is a picture of the coatimundi, or "gato solo" as it is called by the locals. The gato solos are attractive and unusually friendly animals that most closely resemble a raccoon. Most collectors refer to the stamp as the 'Barro Colorado' or 'Gato Solo'. Established in 1923 to foster the study of tropical flora and fauna in a natural setting, the preserve on Barro Colorado is part of the Smithsonian Institution. This 'charge' to research plants and wildlife has been very successfully fulfilled and continues to this day. The choice of the 10-cent value is rather strange as airmail to United States was 6-cents and ship letters were figured in 3-cent increments. However, it did fulfill the 10-cent airmail rate to Latin America and the Caribbean, or a double-weight ship letter to overseas destinations.
There were 525,000 of the Canal Zone Biological Area commemoratives printed, of which some 63,000 were sold on the first day. Many were saved by collectors, but just over 22,000 first day covers were serviced at the various Canal Zone post offices. Examples from the smaller towns are rather scarce and a desirable addition to one's collection.
First day covers by about ten cachet artists are fairly common, with many by the premier local producer of the day, Jack Reinig, on his own printing press. Postally used examples on non-philatelic covers are surprisingly uncommon, but they are seen on some airmail letters as well as in combination with other stamps in a variety of usages.