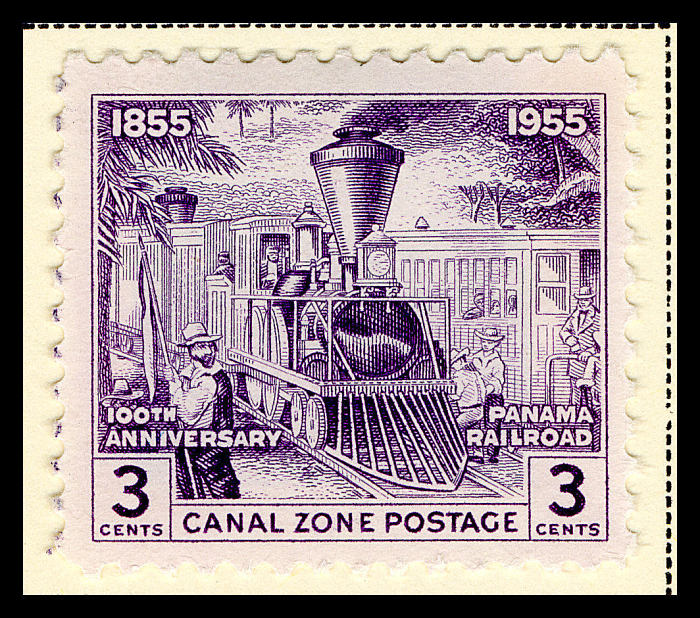 The Panama Railroad Centennial commemorative (Scott 147) was issued on January 28, 1955, marking one hundred years to the day that the railroad was opened to transcontinental traffic. The Panama Railroad was the first across any continent and was also the initial American investment in an overseas project. The design features a rendition based on a woodcut from the January 1859 issue of Harper's New Monthly Magazine. It features a wood burning engine with its characteristic funnel-shaped smokestack and a typical passenger car of the time. The tropical background, the crew, and the passengers capture the 'feel' of that period in history.
The 3-cent rate was appropriate for domestic letters carried by ship, and this stamp is almost always found in that capacity. A total of 560,000 copies were delivered, and all were sold. An extremely popular stamp with cachet designers, over twenty different designs by artists both on the Isthmus and the United States are known. As part of the extensive celebrations marking the historic anniversary, a special railway post office serviced first day covers. Since the Railway Mail Service (RMS) had been discontinued on the Panama Railroad the previous year, this was a very special event. Nearly 200,000 of these stamps were sold that day, and most of the covers were postmarked with a RMS marking. Others were handled at the Philatelic Agency or mailed at other Canal Zone towns, all of which postmarked the stamps that day. The railroad theme, which has a devoted following worldwide, partially explains the popularity of this stamp.
The Panama Railroad Centennial stamp is common on first day covers. It is also frequently seen on regular ship mail and in combination with other stamps or in multiples in a variety of usages. The most esoteric usages are uncommon and eagerly sought out by collectors.