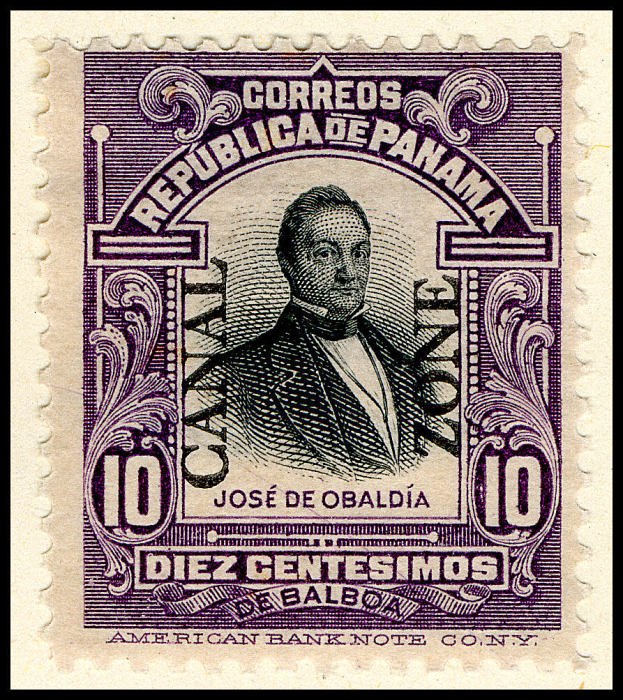 All five denominations of the Seventh Series (1-cent, 2-cent, 5-cent, 8-cent, and 10-cent) exist overprinted with Type I (Scott numbers 31-35). There were as many as five delivery dates of several of these stamps, dating from Oct. 1, 1909, through August 22, 1911. The total numbers delivered were as follows:
1-cent Balboa—4,000,000 (Scott 31)
2-cent Cordoba—4,000,000 (Scott 32)
5-cent Arosemena—2,000,000 (Scott 33)
8-cent Hurtado—200,000 (Scott 34)
10-cent Obaldia—100,000 (Scott 35)
When The Canal Zone Stamps book was published in 1986, it mentioned that the understanding of the printing of this series was incomplete at best. It was a delightful surprise, therefore, when the ABNCo archives were sold at public auction in 1990 (1). A group of collectors was able to buy most of the Canal Zone overprint stamps and make color photocopies and study them before they were distributed among collectors and dealers.
The Specimen stamps were each overprinted "SPECIMEN" in red and had a security hole punched in them (2). The archives contained between one and three sheets of a single domination and printing. Some of the sheets were complete and in good condition, but others were incomplete or in poor condition. When there was more than one sheet of a printing of a single denomination, the group designated each sheet as A, B, or C in order to differentiate the sheets from one another. On the gum side of each stamp, the stamp's position in the sheet, Foreign order number, and sheet letter were written so that future collectors would know exactly from which position on each sheet a particular stamp came.