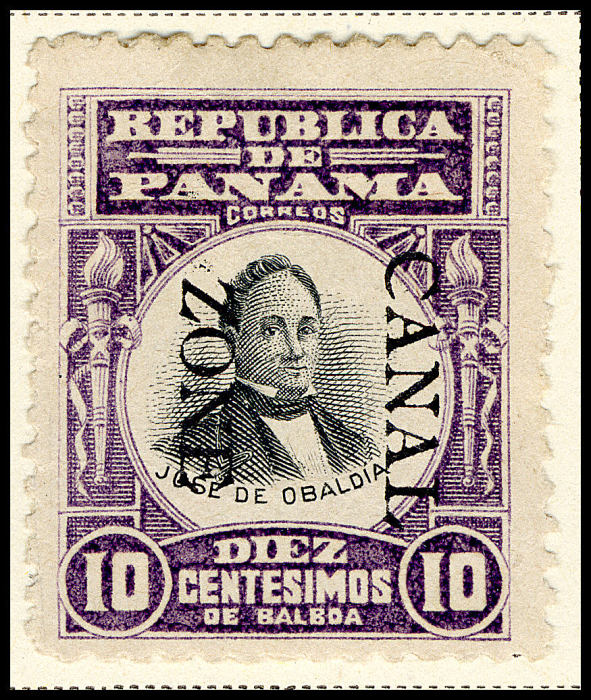 The Hamilton Bank Note Co. of New York engraved and printed the stamps of the Fifth Series (Scott 21-26), the only Canal Zone stamps printed by this firm. Although nine stamps were prepared for Panama using the gold standard used by the United States and just recently adopted by the Republic, only the 1-, 2-, 5-, 8-, and 10-cent denominations were purchased at 40 percent of their face value as established by the Taft Agreement.
Each of the basic Panamanian stamps was printed from two plates: one for the frame and one for the vignette or portrait. The design and frame colors differed for each one. These stamps, often referred to as 'Hamiltons' by Panama and Canal Zone collectors, were overprinted for C.Z. use in the Isthmian Canal Commission (ICC) Administration Building located in downtown Panama City.
The Hamiltons were placed on sale in Panama in October 1906, and the earliest reported date for one of the Canal Zone overprints is October 29th. Deliveries to the ICC took place until April 1909.
The first 20,000 2-cent stamps were overprinted in October 1906, with CANAL ZONE reading up. But, in the second printing in November, it reads down. This was brought to the attention of the director of posts, who ordered future printings of the stamps to have the overprint reading down. However, he did order an additional 30,000 2-cent stamps with the overprint reading up to provide sufficient copies for collectors.
The total number of Hamilton Fifth Series stamps ranged from 50,000 to 2,370,000, so the stamps are common, but numerous scarce to rare errors and varieties can be found. On cover in multiples or with other stamps they are eagerly sought by collectors.