Five British North American provinces issued their own postage stamps before becoming part of Canada: British Columbia and Vancouver Island, New Brunswick, Nova Scotia, Prince Edward Island, and Newfoundland. The Ahmanson collection contains an impressive, complete grouping of all five provinces' stamps in unused condition.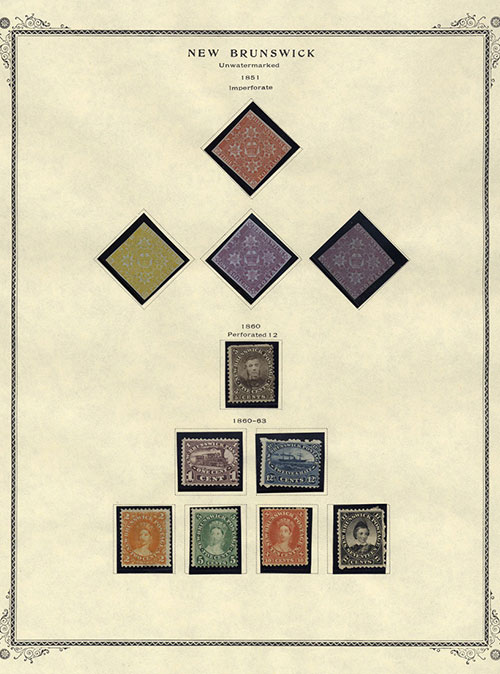 This page from the Ahmanson Collection contains the infamous "Five Cents Connell," the brown stamp in the middle of the page. Printed in 1860 for New Brunswick, it was never issued because of a major protocol breach—Postmaster General Charles Connell appears on the stamp rather than Queen Victoria or a member of the royal family. The entire print run was destroyed except for one sheet retained by Connell as a souvenir of the event, which cost him his job.
Gift of William Hayden Ahmanson, 2002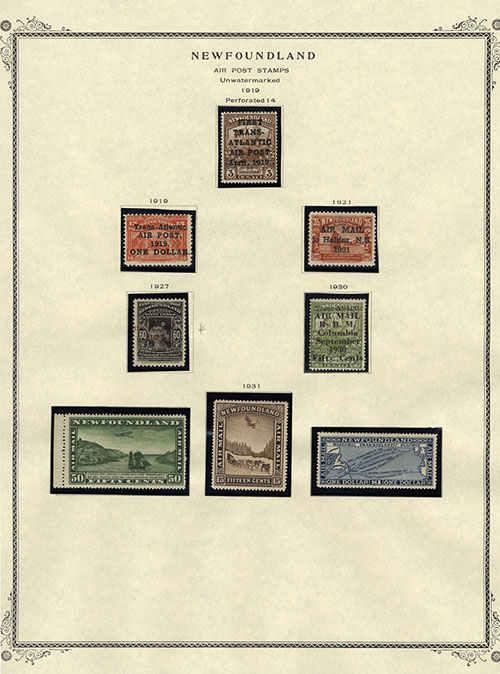 Early airmail stamps, Dominion of Newfoundland, 1919-1931. After World War I, adventurous aviators vied to be the first to make a non-stop Atlantic Ocean crossing. Many of these attempts started from Newfoundland, the easternmost point in continental North America, and carried collector mail to help defray costs. Newfoundland's postmaster general authorized special stamps for many of these flights, and today most of them are scarce.
Gift of William Hayden Ahmanson, 2002