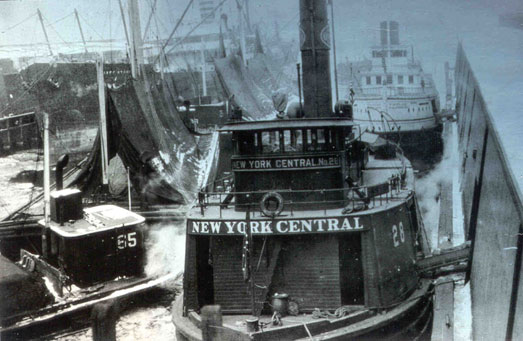 At the turn of the century the harbor of New York bustled with docking ocean liners, but the majority of these steamers didn't have any foreign mail aboard when they tied up. It had been offloaded miles away and hours before. Beginning in 1897, incoming liners were met at the Quarantine Station in New York Bay, where they were detained for health inspection. There, while health officials examined the passengers and crew, the steamships were relieved of the mail.
The foreign mail, which had been sorted and sacked on the high seas for distribution in the United States, was literally dumped into the hold of a special mail vessel. Then it was hastily shipped to shore where it was forwarded directly to the city post office, loaded aboard waiting railway mail cars, or transferred to other steamships. This novel service was established on July 1, 1897. Initially, the steamer Peekskill, operated under contract to the Post Office Department by the Starin Transportation Lines, was the backbone of this service.
Later, the mail tender Postmaster General was used in place of the Peekskill. But, by September 1909 the Harbor Boat Service had grown to such proportions that an additional boat was required. Up to that time the Postmaster General had been almost exclusively used to meet incoming European ocean liners. However, the number of steamships plying the European routes made it impossible for a single mail tender to keep pace with the mail traffic.