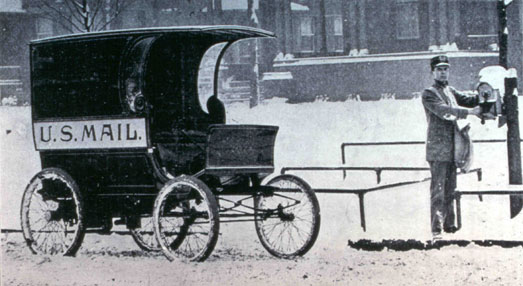 With 190,000 vehicles currently on the road, the United States Postal Service has the largest vehicular fleet in the world. These vehicles drive 847 million miles a year. That is a far cry from the way things were when the first fragile looking motor car was tested by the Post Office Department in 1899.
The first official use of gasoline-powered vehicles to collect city mail began in Baltimore in late 1906. A pair of Columbia "autocars" were used in the test. Each had a special compartment holding two mail sacks mounted on the back of the front seat. The tests were successful, and motorized mail vehicles were introduced elsewhere. By the end of 1912, they were being used in Boston, Detroit, Indianapolis, San Francisco, and four other cities.
Postal officials have used steam, electric and gasoline-powered vehicles alike, and in about the same proportion as they were used personally, and commercially. Electric vehicles, for example, were almost entirely confined to cities or to interurban service where distances were not great and the roads were good.
The Post Office Department faced its first motor vehicle-related crisis in 1913 when Parcel Post was inaugurated on January 1, 1913. It was totally unprepared for the public's response to the new package service. In the first few days of service it was swamped with parcels, deluged by four million packages during the first week of service.