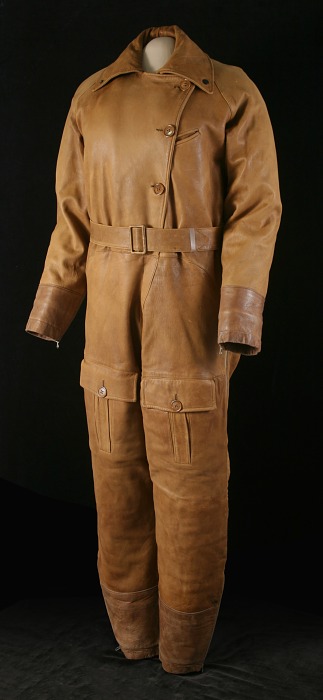 When I first saw Amelia Earhart's leather flight suit, all I could think was the cool fact that she needed a leather flight suit because flying in an open cockpit or at high altitudes could be mighty nippy. This pioneering aviatrix traded fashion for practicality and comfort and, in the process, created a new look for exceptional women who accomplished new feats and achieved public recognition during the 1920s and 30s. Earhart remains an icon of the high-achieving woman who followed her dreams and forged new paths.
Earhart wore a man's flight suit on her 1928 transatlantic flight, and photos clearly show that the fit was less than perfect. Later Earhart owned and wore this brown leather flight suit that was designed for women pilots. Manufactured for the luxury department store Arnold, Constable & Company, it buttons in the front and has a slide buckle for the belt. The suit is fully lined with a checkered plaid flannel in shades of orange, red, and brown. The snap collar protects the neck against drafts and the drop seat in the rear has zippers on the sides and buttons at the waist.
In an interview about flying suits, Earhart said that "the trousers should be long enough to have the boots come well up over them, otherwise strong winds will blow them loose. The one or two piece fleece-lined leather suit that is roomy enough to be worn over a sport dress and sweater or chamois windbreaker is the accepted style for chilly weather." (New York Times, April 19, 1931, page 117)
Born in Atchison, Kansas, Earhart fell in love with aviation at an early age. She was an excellent student and soloed in 1918 after only ten hours of instruction. In 1928 she became the first woman to cross the Atlantic by plane as a passenger; four years later became the first woman to pilot a plane solo across the Atlantic. On May 21, 1932, she flew from Harbor Grace, Newfoundland, to a pasture near Londonderry, Ireland. The feat earned her worldwide acclaim and led to many other record-setting flights.
In 1937, Amelia Earhart tried to become the first female pilot to fly around the world. On July 2, her plane vanished between New Guinea and Howland Island in the Pacific Ocean. The Coast Guard cutter Itasca, stationed near Howland Island, picked up intermittent signals from Earhart before she was lost. In one message, she reported that she was circling, unable to locate the island. Despite the greatest air rescue attempt made to that date, neither Earhart nor her navigator were heard from again, and her plane was never found. Earhart's fate continues to be a source of much speculation.
In 1968 Elsie M. Williamson, assisted by stamp dealer Jacques Minkus, donated Amelia Earhart's personal collection of flown souvenir mail with photographs and a leather flight suit to the Philatelic and Postal History Division of the U.S. National Museum. Williamson had acquired the collection directly from Earhart's husband, George Palmer Putnam.