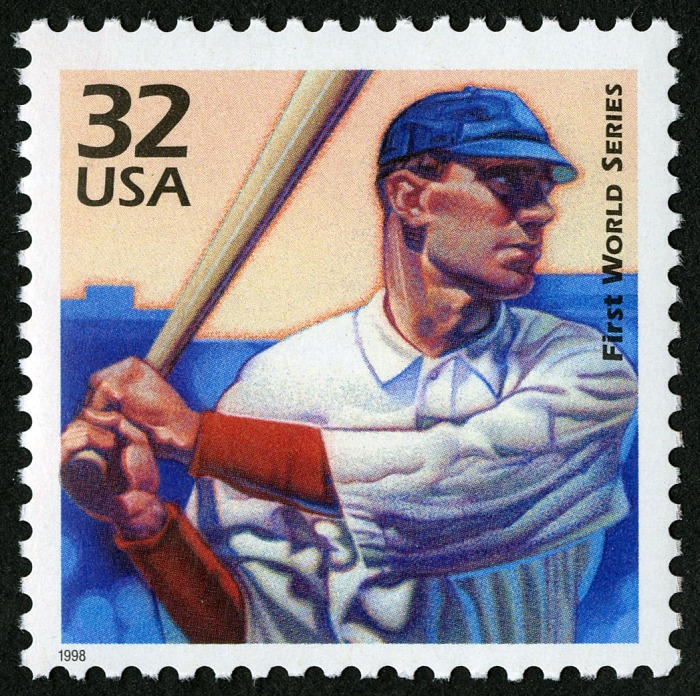 Before I became the director of the National Postal Museum in 2002, one of my positions at USPS headquarters was Chief Marketing Officer. In that capacity I was frequently called upon to be the 'dedicating official' at first day ceremonies — meaning that I made a few remarks and unveiled a super-sized image of the new stamp. One of my favorite such occasions was of February 3, 1998, when I dedicated two sheets from the 'Celebrate the Century' series released by the USPS to mark the end of the twentieth century.
One of the stamps commemorates the first baseball World Series, which was played in 1903. The Boston Americans, representing the newly formed American League, won the series five games to three against the National League's Pittsburgh Pirates. Pittsburgh had some great players, including Honus Wagner and Jimmy Sebring, but most of their pitching staff was on the disabled list. Boston's victory was secured by two of the greatest pitchers of all time: Cy Young and Bill Dinneen, who threw two shutout games. It was more than the Pirates, who were heavy favorites going in to the series, were able to overcome.
At the stamp dedication, I was of course excited to share the stage with Whitey Ford, the amazing pitcher who won numerous World Series games and was inducted into the Baseball Hall of Fame in 1974. But that's not why I like the stamp; I'm a Brooklyn boy and he is from Queens; he was a Yankee and I was a Dodgers fan. Instead, the stamp reminds me of saving ice cream wrappers as a kid—ten of them would get you into a Dodgers game for free—and sitting in the bleachers at Ebbets Field waiting for Duke Snider to belt a homer. I dedicated a lot of stamps in my years with the postal service, but to me the baseball-related ceremonies were always the best.