On January 13, 1919, "Aerial Age Weekly" quoted Second Assistant Postmaster General Otto Praeger's new pledge to open the New York City – Chicago flyway. Speaking of the first attempt, he said "very few people realize what an undertaking this is . . . the task is stupendous. This has never been attempted, either in America or in any other country of the world." Having learned a lesson, Praeger declined to announce a specific start date for the service.

Praeger and his people had been hard at work making the changes necessary to realize a permanent New York – Chicago flyway since November. The hard work had paid off. On May 15, 1919, a year to the day after airmail service began, the postal service opened the Cleveland – Chicago portion of the flyway. The New York – Cleveland segment opened on July 1, 1919. The new service was not without problems, crashes and even deaths, but it was here to stay.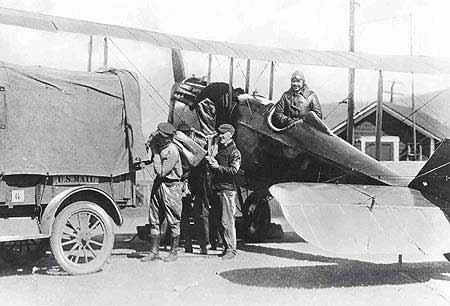 On the Bellefonte, Pennsylvania airfield, an airmail pilot stands watch from his cockpit as the ground crew moves the airmail into a truck for transport to a postal facility for processing.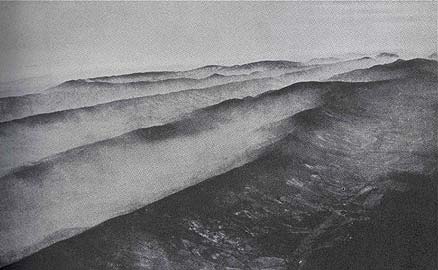 The Allegany Mountains were a rough stretch for the early airmail pilots to cross. The changing and harsh weather earned this part of the route the nicknames "Hell's Stretch" and "Pilots' Graveyard."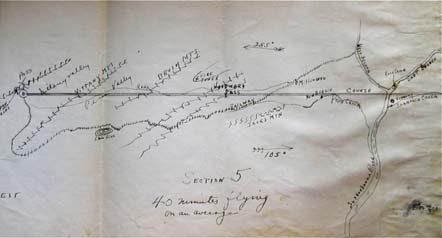 Section of the NY-Chicago flyway, hand made map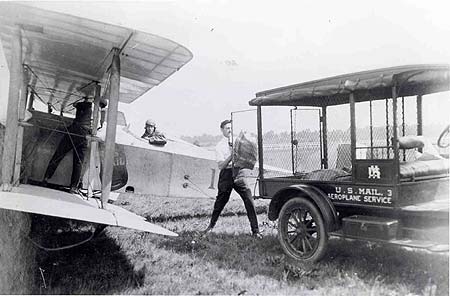 Airmail pilot Max Miller waits in his Standard mail airplane for mail sacks to be loaded on board for his September flight from New York to Chicago.
---
Learn more:
Armed with lessons learned form past mistakes, Praeger decided to open the New York – Chicago flyway in two parts. The relatively easy air route between Cleveland and Chicago would open first, and the dangerous and unpredictable New York – Cleveland portion second.
James C. Edgerton, Chief of Flying, set about to hire the best pilots possible. Lack of flying jobs after the end of World War I led to an inundation of applications. Airmail pilots had to have at least 400, preferably 500 hours of flight experience under their belts. But, that did not stop just about anyone with any flight experience at all from applying.
The de Havilland airplanes were transformed from military purpose craft to mail airplanes. Field managers worked to ensure their fields were useable and kept up. Pilots practiced landings, takeoffs and familiarized themselves with the new routes.
On May 15, 1919, Eddie Gardner, who had made the only moderately successful Chicago – New York trip during the path-finding tests, took off from Cleveland with the west-bound mail, landing in Chicago three hours and 50 minutes later. Aided by favorable winds, pilot Trent Fry carried the mail from Chicago to Cleveland in three hours, 13 minutes.
The fist casualty of the new route was Frank McCusker. He died after jumping from his airplane on May 25, 1919 when it caught fire in midair.
Earl White had the honor of flying the west-bound mail out of Belmont Park, New York when the New York – Cleveland route opened on July 1, 1918. White took off at 5:15 a.m. for Bellefonte, Pennsylvania. The mail was carried from Bellefonte to Cleveland by Max Miller, and from Cleveland to Chicago by Ira Biffle, who landed there just under nine hours later.
Related link:
» de Havilland