The primary purpose of the trips . . . is to establish a daily aerial movement in the face of weather obstacles.
Otto Praeger to Army Capt. A. C. Weidenbach, Fleet's replacement, June 1, 1918
. . . the mail aviators are demonstrating that it is possible to fly in any sort of weather.
Aerial Age Weekly, August 12, 1918
Praeger admonished his pilots and dismissed them for refusing to fly in bad weather. Employees who could not keep to a schedule were of no use to Praeger's service. Pilots, who were willing to fly in wretched conditions, balked at flying in impossible conditions. When pilots refused to fly on July 22, 1919, as ordered, when extremely low visibility would have made the trip almost suicidal, Praeger responded by firing two of the them.
The firings succeeded in the most part for uniting the pilots against Praeger. Although not in total agreement, most of the pilots wanted to push the issue and demand that Praeger acknowledge their concerns. When their demand that the fired pilots be rehired was rejected by Praeger, most pilots refused to fly. The pilots strike was played out in the press, which quickly sided with the pilots against Praeger.

On July 25, Praeger met with some of the pilots to discuss the must fly rules. Both sides claimed victory in the talks, and the pilots went back to flying the mail. Field managers were to have the last say on whether or not pilots would fly. Praeger no doubt believed that his field managers would ask pilots to fly, regardless of weather. The pilots just as firmly believed that as an actual witness to the bad weather, no field manager would insist a pilot fly in impossible conditions.

2nd Assistant Postmaster General Otto Praeger, a hunting and fishing buddy of Albert Burleson, was placed at his post after Burleson was named Postmaster General. In spite of a lack of expertise or experience in aviation, Praeger was determined to make the Air Mail Service a success.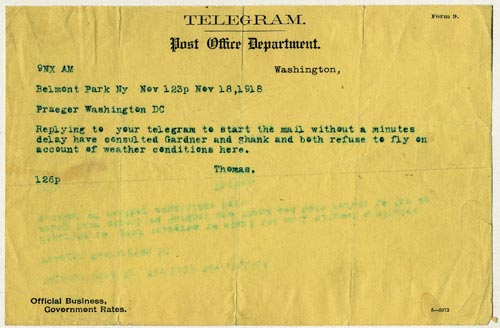 In this telegram to pilots Gardner and Shank, Second Assistant Postmaster General Prager insists that one of them fly the mail that day.
- Courtesy of National Archives and Records Administration