The world's first regularly scheduled Air Mail Service began on May 15, 1918. That morning, pilots readied to fly mail between Washington, D.C., Philadelphia, Pennsylvania, and New York City. The service was organized and manned by the Army's Air Service. Major Reuben Fleet had been tasked with organizing this revolutionary service in less than two months. It was a close call, but Fleet had all his pilots and airplanes ready to go on time. The first flights, with one notable exception, were successful. The army continued to manage the service for the next three months. In early August, the Post Office Department took over, under the direction of Fleet's second in command, Benjamin Lipsner. Colonel Lipsner resigned his commission to run the Air Mail Service under the direction of Second Assistant Postmaster General Otto Praeger.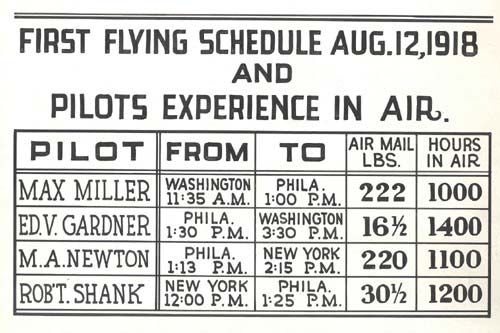 Benjamin Lipsner, Superintendent of the Air Mail Service, created this flying schedule chart to keep track of his first airmail pilots.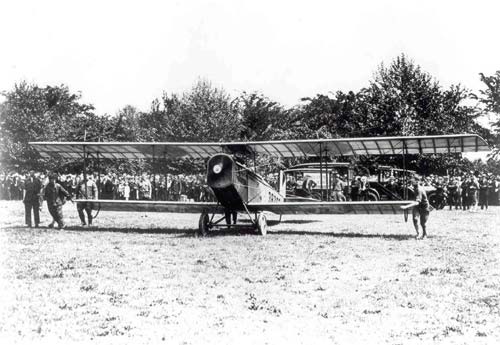 Lieutenant Stephen Boyle in his Curtiss JN-4H "Jenny" airplane on the Washington D.C. polo grounds gets ready for takeoff on May 15, 1918. Boyle was to fly from Washington to Philadelphia, but got lost and crash landed in Maryland that morning.
Learn more about Lieutenant Boyle.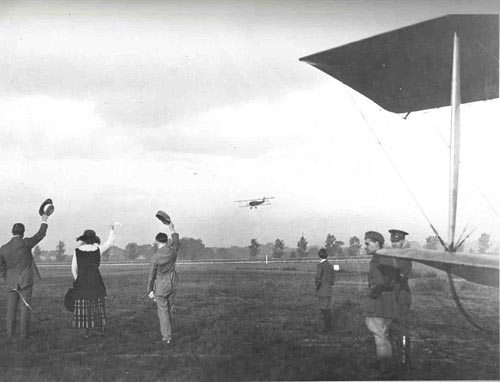 Curtiss JN-4H "Jenny" aircraft after takeoff from the Washington, DC polo grounds on May 15, 1918.