If the first airline companies had relied on paying passengers for income, none could have survived. In the early years, some carriers made as much as 95 percent of their revenues from carrying the mail on contract airmail routes, known as CAMs.
The first five CAM routes were contracted in 1925 to Colonial Air Transport, Inc. (Boston to New York); Robertson Aircraft Corp. (Chicago to St. Louis); National Air Transport, Inc. (Chicago to Dallas); Western Air Express, Inc. (Salt Lake City to Los Angeles); and Walter T. Varney (Elko, Nevada, to Pasco, Washington). Contracted airmail service proceeded slowly over the next couple of years. The U.S. Air Mail Service retained control of the transcontinental New York – San Francisco route, making its last flight on that route on September 9, 1927.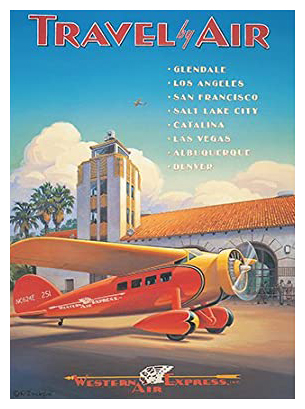 Western Air Express promotional poster.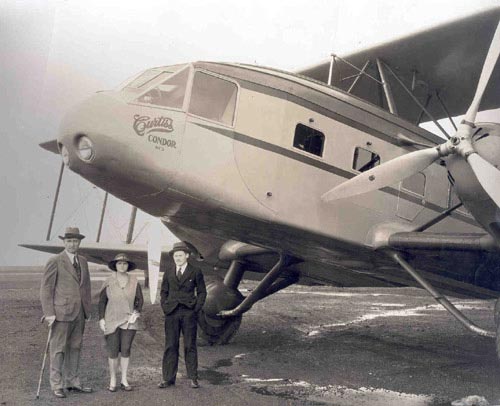 A Curtiss Condor Eastern Airlines passenger mail airplane.
---
Learn more:
Colonial Air Transport received Contract Airmail Route (CAM) #1, between Boston, Massachusetts and New York, New York. Colonial Air Transport began operation on July 1, 1926, carrying mail and passengers in single engine Fokker Universal aircraft. Colonial was organized in 1923, originating as a Connecticut charter service. The company reorganized in 1925 in preparation for airmail contracts.
Robertson Aircraft Corporation received CAM #2, between Chicago, Illinois and St. Louis, Missouri. The company was founded in 1921 by brothers Major William B. and Frank Robertson. They began service on March 15, 1926.

National Air Transport received CAM #3, between Chicago, Illinois and Dallas, Texas. The company carried mail on single engine Curtiss Carrier Pigeons, beginning their service on March 12, 1926.
Western Air Express, Inc. received CAM #4 between Salt Lake City, Utah and Los Angeles, California. Western Air Express was founded by Harris Harshue, with financing from Harry Chandler, owner of the Los Angeles Times. The group bid on and received CAM #4, opening their service on April 14, 1926.
Walter T. Varney received CAM #5 between Elko, Nevada and Pasco, Washington. Walter Varney, the successful bidder on CAM #5, had previously operated an aerial field service over San Francisco Bay. Varney began operation on April 6, 1926.
Contract Air Mail Routes #6 (Detroit, Michigan – Chicago, Illinois) and #7 (Detroit, Michigan – Cleveland, Ohio) were actually put into operation before the first five routes. It began on February 15, 1926.