In 1921, the army deployed rotating beacons in a line between Columbus and Dayton, Ohio, a distance of about 80 miles. The beacons, visible to pilots at 10-second intervals, made it possible to fly that route at night. The Post Office Department took over the operation of the guidance system in 1922, and by the end of 1923, had constructed similar beacons between Chicago, Illinois and Cheyenne, Wyoming.

Paul Henderson replaced Otto Praeger when a new administration took over in 1921. Henderson recognized the immediate need for beacons, noting that "an airway exists on the ground, not in the air." Congress approved funding for the lighting of the transcontinental route in 1923. Work began first on the Chicago – Cheyenne, Wyoming segment, where mail airplanes would be most likely to be flying during the night.

A revolving light beacon tower under construction at the Omaha, Nebraska airmail field.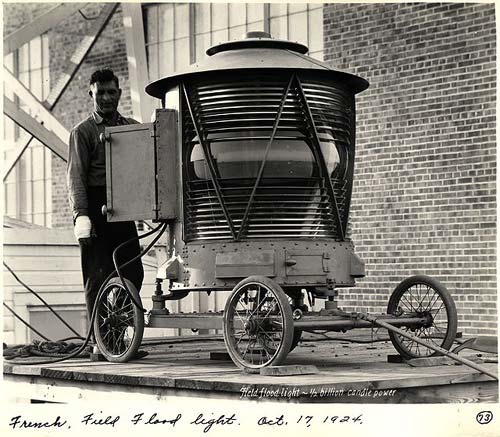 A large field flood light at the Omaha, Nebraska airmail field.