The progress being made in the science of aviation encourages the hope that ultimately the regular conveyance of mail by this means may be practical.
Postmaster General Hitchcock, Post Office Department Annual Report for 1911.
A useless expenditure of money.
Representative Joseph Cannon (R-IL) on a proposal to fund an experimental airmail service, April 12, 1911.

In 1911, Postmaster General Frank Hitchcock enthusiastically promoted Earle Ovington's airmail flights, even swearing him in as the first U.S. airmail pilot. The few flights Ovington made that fall were designed to generate enthusiasm for the idea of transporting mail by air. Despite Hitchcock's attempts to attract funding, Congress was reluctant to pay for an experiment when no aircraft yet existed capable of carrying mail between towns on a regular basis.

Postmasters across the U.S. engaged pilots to carry airmail at fairs and meets for publicity. This 1911 flight was made in Arkansas.
- Courtesy of National Archives and Records Administration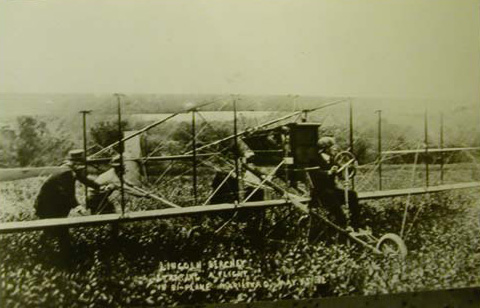 One of several experimental airmail flights undertaken in 1912. Seated in a Curtiss-manufactured aircraft is pilot Lincoln Beachey. Beachey carried mail on May 16, 1912 during the Marietta (Ohio) Daily Journal Aviation Meet.