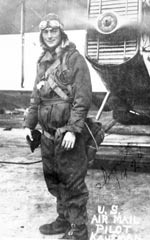 Pilot Stephen T. Kaufman.
- Courtesy of Nancy Wright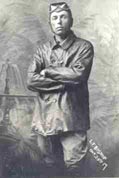 Pilot Lester Bishop.
- Courtesy of the
Air Mail Pioneers
When you participate in a sport or hobby, you often wear special clothes and use special gear. For instance, soccer players prepare for a game by putting on uniforms, cleats, and shin guards. Musicians prepare for a concert by gathering their instruments, sheet music, and music stands. Sometimes gear is necessary to carry out the activity and sometimes it is for protection and safety.
Early aviators used special clothes and gear. Their high boots, jodhpurs, and leather jackets could look very stylish, but fashion was not the reason why pilots used them. They needed their outfits for protection in the open cockpit.
Some items that they brought with them on their flight included:
Issued by the Post Office
Pilot's Personal Items
Badge

Leather Face Mask

 

Helmet

Flight Logbook

 

Goggles

Dress Shirt & Tie

- Courtesy of National Air and Space Museum, Smithsonian Institution

Lined, Winter Flight Suit Boots
(Fur Lined for Winter)

- Courtesy of the National Air and Space Museum, Smithsonian Institution

Jodhpurs

- Courtesy of the Air Mail Pioneers

Parachute

- Courtesy of the National Air and Space Museum, Smithsonian Institution

Fur-lined jacket

Gloves

- Courtesy of the National Air and Space Museum, Smithsonian Institution

 

Silk Scarf

- Courtesy of the Air Mail Pioneers

 

Map

- Courtesy of the National Archives and Records Administration

 
Mail Sacks
You are going to fly the mail!
(Write your answers on a sheet of paper.)
Be sure to wear the proper clothes and gear.
The superintendent has assigned you to fly the mail from Omaha, Nebraska to Cheyenne, Wyoming in ship (another name for airplane) number 385. You go immediately to your prep room to dress properly. Remember to pin on your number badge with pride - you are one of the few daring and courageous airmail pilots.
It is a clear day, October 15, 1923. You know that it will be very cold flying up so high in an open-air cockpit.
You and your mechanic inspect the airplane to make sure that it is ready for the 6 to 7 hour flight. You review the (1)__________ for directions before taping it to the leg of your flight suit. Then, you slip your personal (2)__________ into your pocket because you will need to write down the details of your flight after you finish today's work. With your gear on and airplane ready, you climb into the cockpit. The airplane holds its precious airmail cargo – 284 pounds of (3)__________. All looks good for takeoff.
As the airplane bumpily takes off into the blue sky, you are grateful that you pulled on a (4)__________ over your jodhpurs, shirt and tie. The suit keeps you very warm and dry. You observe the landscape below and happily realize that your neck is free from chafing because of the (5)__________ wrapped tightly under your fur collar. Even though a steady stream of cold air blows all around you, your toes are toasty inside a pair of (6)__________ and your hands remain warm inside your (7)__________.
Without warning, a flock of birds flies directly in front of you. After a bit of commotion, you pass them without injury. Luckily, you are well protected with a (8)__________ firmly on your head, a (9)__________ over your face, and a pair of (10)__________ covering your eyes. You feel able to face almost any emergency, equipped with a toolkit, flares, pyrenes, and even the (11)__________ that you are sitting on, but which you hope that you will never have to use.
You check the compass, your map and look around. You realize that the airfield in North Platte, Nebraska should be on the horizon. There it is! North Platte is your regular, refueling station. It is also a good place to stretch your legs and check the weather reports. You start a gentle descent over the Union Pacific railroad track and look over to the colorful fall trees along the river. You are in position for landing.
Continue the story:
» Leg 2: Logbook
» Leg 3: Forced Landing
» Review This Activity's Classroom Objectives, Subjects & Age Level