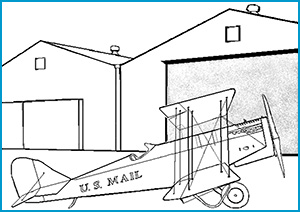 Imagine a slower paced world with no airplanes and no instant communication. During the first half of the 20th century, airplanes dramatically changed people's ability to move and communicate.
Today, airplanes look and fly differently than they did then. Over the years, people have made airplanes better, faster, and safer.
The Post Office's pilots and mechanics made their airplanes better able to carry the mail. Their suggestions and improvements made their airplanes fly faster over longer distances, during both day and night, and able to carry increasingly heavier cargo.
Discover more about the airplanes that moved the mail – try these activities:
» Ins and Outs of an Airplane
» It's an airplane – But Which?
Here are four airplanes that carried the mail. Look for the differences and similarities.