The first postal-sanctioned airmail flights were made in 1911. The Museum's collection contains envelopes carried on both Henri Pequet's February flight in India as well as Earle Ovington's September flights in the U.S.

This cover was flown by Earle Ovington on September 27, 1911.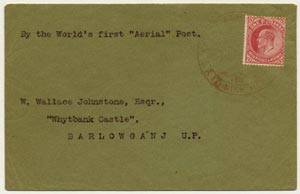 Cover flown on February 18, 1911 in India. Although the cover notes it is the first "aerial" post, Fred Wiseman had taken off just the day, carrying airmail in California.