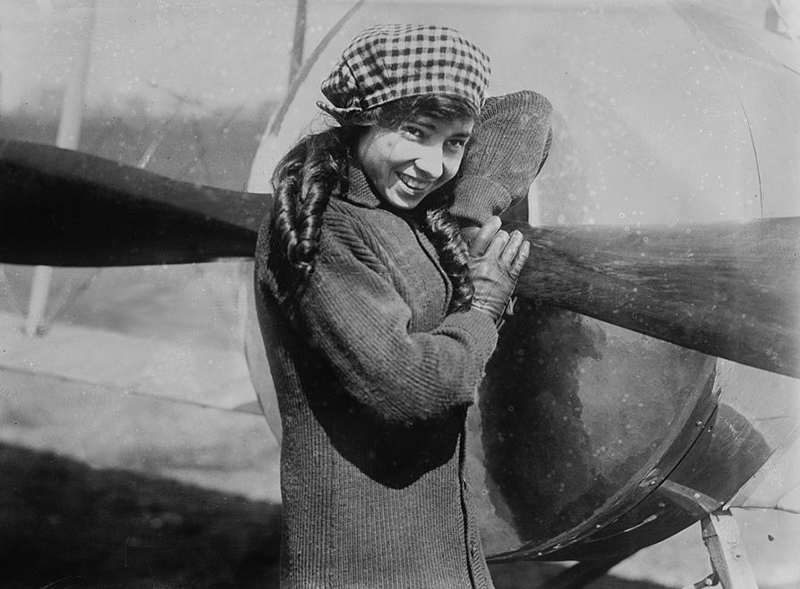 The member of a famous early aviation family, Katherine Stinson was the fourth woman in the U.S. to obtain a pilot's license. Her brother Eddie Stinson became an influential airplane manufacturer, and her sister Marjorie conducted a flight school. Katherine Stinson flew a Curtiss JN-4D on exhibition flights for the Red Cross during World War I and even set a Canadian distance and endurance record before the end of the war.
On May 23, 1918, Katherine flew as a specially assigned airmail pilot, bringing mail from Chicago to New York City, months before the Post Office Department tried to set up their own route between the two cities. Ten hours after taking off, she landed 600 miles away at Binghamton, New York. There, her airplane nosed over when she attempted to take-off and finish the flight.
On May 24, 1918, the Washington Post congratulated Stinson on breaking two records during her "Aero Mail Trip" from Chicago, Illinois to New York City:

Katherine Stinson, the aviatrix, who left Chicago this morning to fly to New York, carrying government mail, damaged her airplane while attempting a landing two miles north of the city at 6:40 this evening. The machine overturned just as it reached the ground, smashing the propeller and damaging one of the wings. Miss Stinson was uninjured.
Having covered the 783 miles from Chicago to this city in ten hours, Miss Stinson bettered by about nine miles the distance made by Ruth Law in her record-breaking flight in the fall of 1916.
Although keenly disappointed because of her failure to reach the metropolis, Miss Stinson was elated at having broken two American records, one for distance and another, held by herself, for endurance. The previous distance record, Miss Stinson stated, was held by Bounds, an American aviator. This was for 700 miles without a stop. She bettered this record by 83 miles today. The endurance record, established by Miss Stinson in her flight from San Diego to San Francisco, December 11, of last year, was bettered by her performance to today [sic] by 1 hour and 5 minutes. Ruth Law's flight over the same route two years ago, Miss Stinson pointed out, was not a nonstop flight.
Katherine Stinson waited eight days for replacement propellers to arrive and the ground to dry before she was finally able to takeoff on May 31 from Binghamton to Garden City, New York's landing field, officially completing the trip.