Air Mail Service Began:
Aug. 5, 1918
Air Mail Service Ended:
Oct. 13, 1919
Total Hours Flown:
unknown
Total Miles Flown:
unknown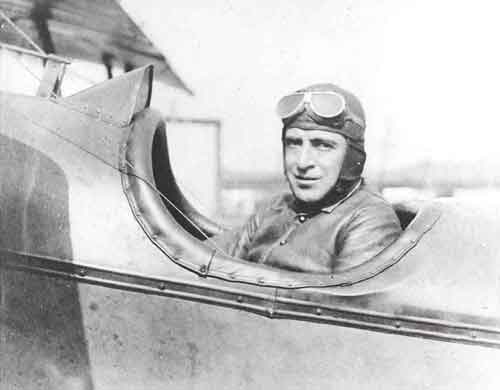 Eddie Gardner, who began flying the mail in 1918, had been nicknamed "Turkey Bird" by fellow pilots who thought his wobbly takeoffs resembled a turkey trying to fly. Somewhat insulted, Gardner insisted on shortening the name to "Turk Bird," which he considered more acceptable. He had already logged over 1,400 hours of flight time and was working as a senior flight instructor for the Army when Gardner was asked to join the newly-formed Air Mail Service.
Before taking to the air, Eddie Gardner spent several years working as a chauffeur and mechanic in Chicago, Illinois. He had a love of auto racing, and in 1910 he purchased a sporty National Motor Vehicle Company racing car from Benjamin Lipsner (who, as the first superintendent of the Air Mail Service, hired Gardner as an airmail pilot).
On May 15, 1919, Eddie Gardner, who had made the only moderately successful Chicago - New York trip during the path-finding tests, took off from Cleveland with the west-bound mail, landing in Chicago three hours and 50 minutes later. Having survived his years in the airmail service, Eddie Gardner died on May 6, 1921 while stunt flying at a county fair.