| | |
| --- | --- |
| Air Mail Service Began: | August 2, 1918 |
| Air Mail Service Ended: | November 19, 1918 |
| Pilot Rehired: | January 1, 1919 |
| Air Mail Service Ended: | April 16, 1919 |
| Assignment: | Belmont Park, New York |
|   | January 1, 1919 – Belmont Park, New York |
Appointed August 2, 1918, Robert Shank was the last of the four pilots to join the Air Mail Service. On November 19, 1918, Shrank and pilot Eddie Gardner were fired when the pair refused to carry mail in a low-visibility fog that had already claimed the life of one pilot that morning.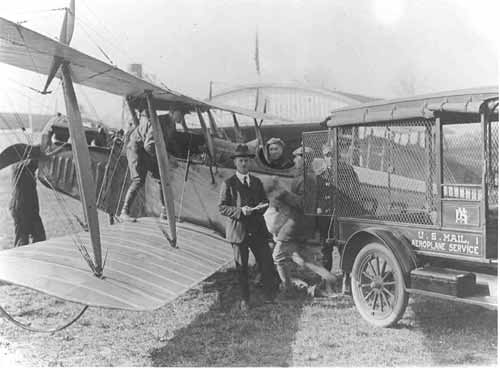 Robert Shank stands behind the mail truck while the mail is being loaded into his airplane at College Park on August 12, 1918. A mechanic is posed in the airplane, checking it out before the flight.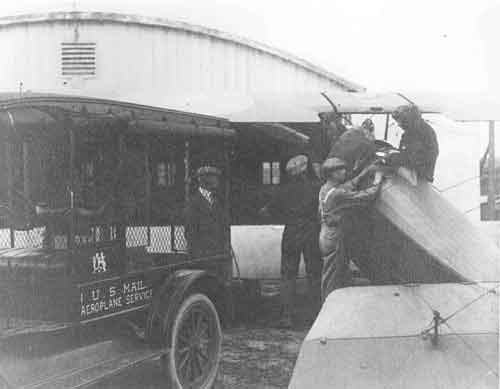 Robert Shank in the cockpit of his aircraft, helping to load the airmail on August 12, 1918.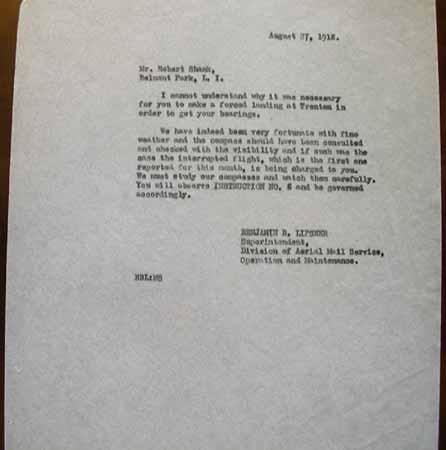 On August 27, 1918, Superintendent Lipsner fired off this letter of admonishment to Robert Shank after his forced landing. Lipsner cautions Shank to rely on his compass more often. Unfortunately for Shank and the other early pilots, their compasses were notoriously unreliable.
---
Learn more:
Shank and Gardner were rehired early in 1919 when James C. Edgerton, the former Army airmail pilot, was named Praeger's Chief of Flying. On August 27, Shank was scheduled to fly a Standard aircraft JR-1B from New York to Philadelphia. When the radiator sprang a leak, another JR-1B was prepared for Shank's use. The mechanics moved the compass from the first airplane to the second, but did not have time to check it. In 1960, Shank recalled that flight to a reporter. He said he relied completely on the compass for that flight, not bothering to look out for landmarks along the way. "When I figured that I was near Philadelphia, I lifted my head and looked out for a landmark," he said. "But I didn't recognize a thing. I was lost." Shank landed on a pasture to get his bearings and ask for directions. Hopping back into his airplane, Shank took off and picked up some railroad tracks to follow into Philadelphia. Even after he reported the incident to postal officials, he was charged with a forced landing incident which went onto his record.
On another flight, Shank had to fly so low under clouds that he clipped telephone lines and landed on Belmont Park field. Shank recalled landing once on a field with fog so dense that the field mechanic had to keep shouting to Shank in order to locate the airplane on the ground.
Airmail life didn't suit Shank or Gardner in the long run, and the pair resigned their posts on April 16, 1919. They decided to try flying sightseers over Atlantic City, New Jersey. As Shank recalled in 1960, "We used three Curtiss JN4C airplanes, known as 'Canucks,' which had been purchased from the Canadian government and we did rather well until the summer season ended," he said. "Then we took off on a barnstorming trip through the south and went broke. Two of the airplanes were sold to Commander Richard E. Byrd and I kept the other." Shank went on to buy and operate his own small airport in 1944, which he operated for 13 years. Shank died in Indiana in 1968 at the ripe old age of 76.