| | |
| --- | --- |
| Air Mail Service Began: | July 1, 1918 |
| Air Mail Service Ended: | December 6, 1918 |
| Pilot Rehired: | April 8, 1919 |
| Air Mail Service Ended: | Sept 1, 1920 |
| Assignment: | Washington |
|   | April 8, 1919 – Washington |
|   | May 10, 1919 – Chicago |
|   | July 1, 1919 – Cleveland |
|   | Mar 1, 1920 – Bellefonte |
|   | July 1, 1920 - Cleveland |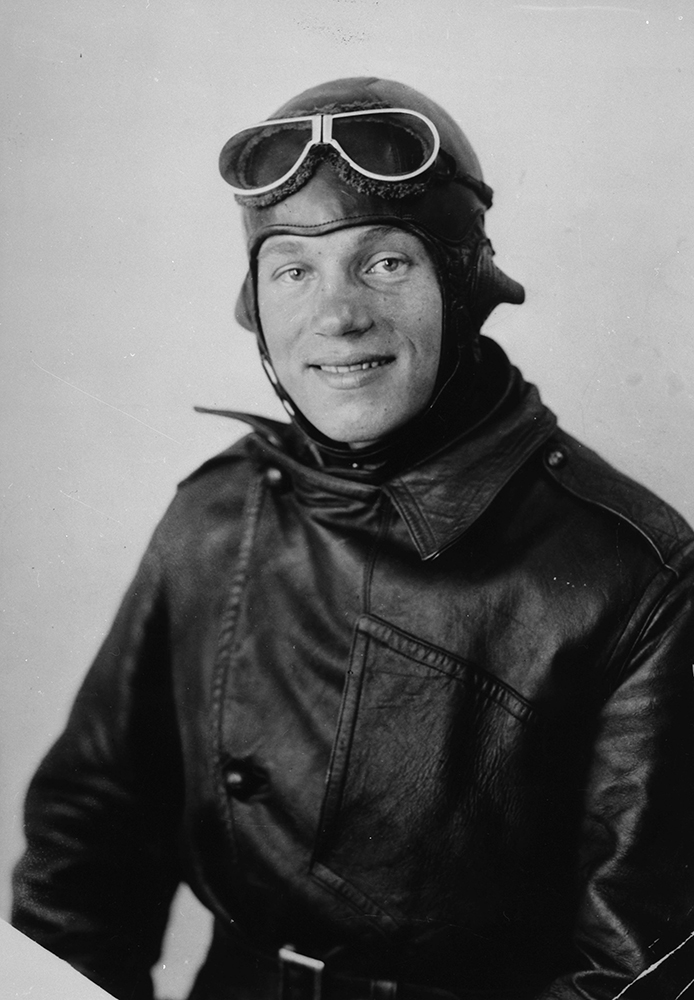 Max Miller in his airmail flight gear.
Max Miller was born in Norway. As a kid, Max was interested in aeronautics, making kites, model airplanes, and gliders. He was in the army in the Philippines, where he probably trained to be an aviator. Miller was the first pilot hired by Benjamin Lipsner for the Postal Service-operated Air Mail Service. Max was married to Daisy Thomas who worked in Lipsner and Otto Praeger's office.
On September 1, 1920, Miller left Hazelhurst air field for Cleveland at 5:30 am in a Junkers-Larsen aircraft with mechanic Gustav Reierson and 600 pounds of mail. Two hours later, the airplane was seen inexplicably only 20 miles away. It was flying low and the motor was cutting out and backfiring. Flames could be seen from the front of the airplane and Reierson was tossing out mailbags. The flames engulfed the front of the airplane, the aircraft nosed over and dove into the ground. The gas tanks exploded blowing the wings off. Both men were killed in the explosion.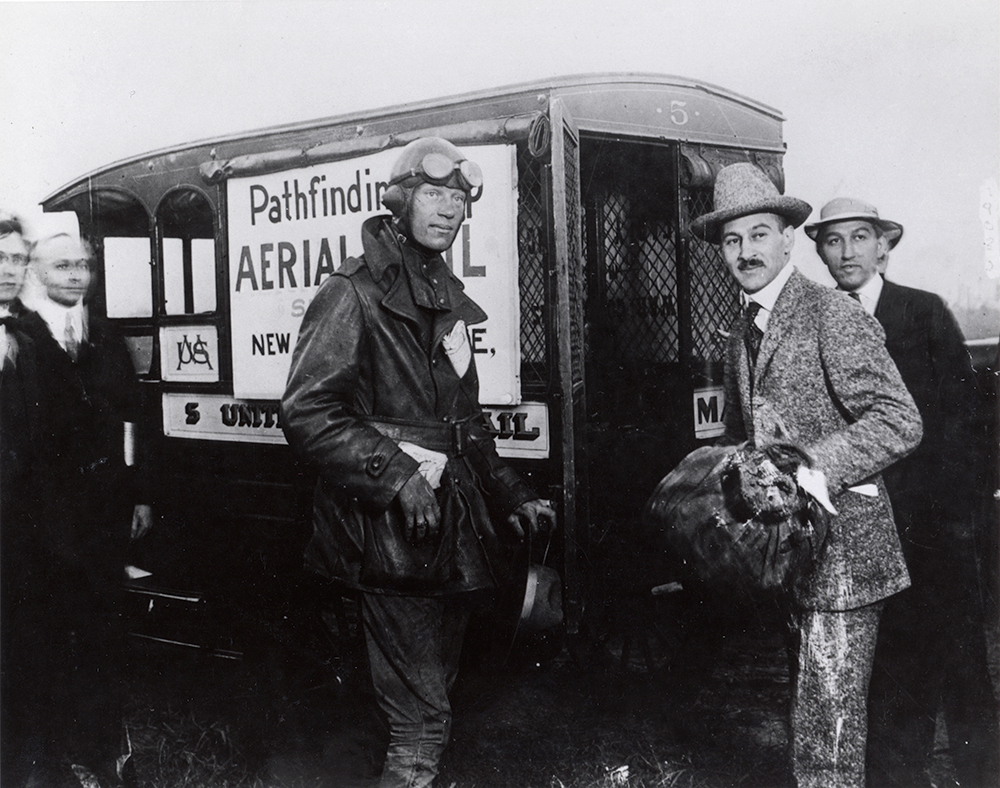 Max Miller (left) and Superintendent Benjamin Lipsner (right) pose with a bag of mail from Miller's historic September 5, 1918 airmail flight.
---
Learn more:
In October 1918, Flying Magazine featured an article by Miller describing life as an airmail pilot, including this description of a foggy flight between New York and Chicago in early September 1918:
I climbed up through the fog again and went on over the mountains. I sailed on my compass course for an hour, 283 degrees, and I figured I was about 100 miles further on. Then I came down to see where I was and get my bearings, and the first thing I knew I hit the top of a tree. That sure gave me a good scare. I hustled back up again into the fog, determined to get plenty of altitude and keep on going as long as my gas held out.
Later that year, Miller stood by the man who had originally hired him for the service when Lispner resigned from the service. Lipsner and Otto Praeger, who was in charge of service, were equally exasperated with each other, and in December 1918, Lipsner publicly and loudly resigned from the service. On December 6, 1918, Miller wrote to Praeger of his support for Lipsner, noting that "it is obvious that I use my best judgment and take the stand of handing herewith my resignation." Praeger jotted a note on the letter that the resignation was accepted on that date. Both Miller and Praeger reconsidered their decisions, and Miller returned to the service.

On April 21, 1919, Miller reported a forced landing he had made at Unionville, Pennsylvania in de Havilland DH-4 airmail airplane, number 64. "The motor was working perfectly when tested on the ground and also during flight, until it went to pieces, without any warning or indication of trouble. I had an altitude of about 8,000 ft. The oil pressure was between 35 and 40 and temperature out of the hood and I immediately put the ship in a nose dive intending to land in the river near Unionville.
"I could not see anything for smoke, but cut the switches and turned off the gas while coming down. After diving about 5,000 ft. the smoke began to clear away and I could see better.
"The smoke was mostly from the oil, but the carburetor had evidently been burning and was extinguished by the dive." Miller managed to land safely, and although the engine and one side of the fuselage were damaged, the rest of the airplane was unharmed.
Miller experienced a few other forced landings, but for the most part he continued flying the mail without incident until his fatal crash on September 1, 1920. This time, he was unable to put out a fire in the airplane.
A pilot sent to Hazelhurst, New York, to investigate Miller's crash telegrammed his findings to Praeger the next day. "Visited wreck of 305 yesterday. Arrived one o'clock. Found Scanlon and Whitebeck [two airmail managers] with trucks. Accident was on farm two miles southwest of Morristown, New Jersey From farmers who were spectators. airplane was in trouble two miles from crash, about 600 feet up. Farmer noticed trouble. Ship backfiring. Pilot seemed to correct trouble and kept on. When near crash another farmer saw fire in front. Ship then just over trees. Suddenly ship pointed straight 60 feet down and crashed. Fuselage telescoped and tanks burst. Mail collected sent to New York Post Office by postmaster Morristown. Bodies removed to undertakers. Remains of ship placed in trucks from warehouse and everything removed by 3 o'clock. Stanton went to Morristown last night for Miller's body."
Another friend and pilot, Harold "Slim" Lewis, telegraphed Praeger about Miller's estate and wishes. "Miller claimed Bellefonte as his residence. His estate should be settled in this county. Car could not be moved without the transfer tax being paid to the state. I advise having an administrator appointed here to close up all affairs of the estate. Have wired Cleveland Trust Co. to find out what balance is. No letters or valuables among his personal effect here, only few clothes. . . Am doing as requested while in Washington regarding his personal affairs."