| | |
| --- | --- |
| Air Mail Service Began: | April 14, 1920 |
| Air Mail Service Ended: | September 3, 1927 |
| Total Hours Flown: | 4043.25 |
| Total Miles Flown: | 413,034 |
| Assignment: | College Park, Maryland |
|   | April 17, 1920 – Newark, New Jersey |
|   | October 1, 1920 - Omaha |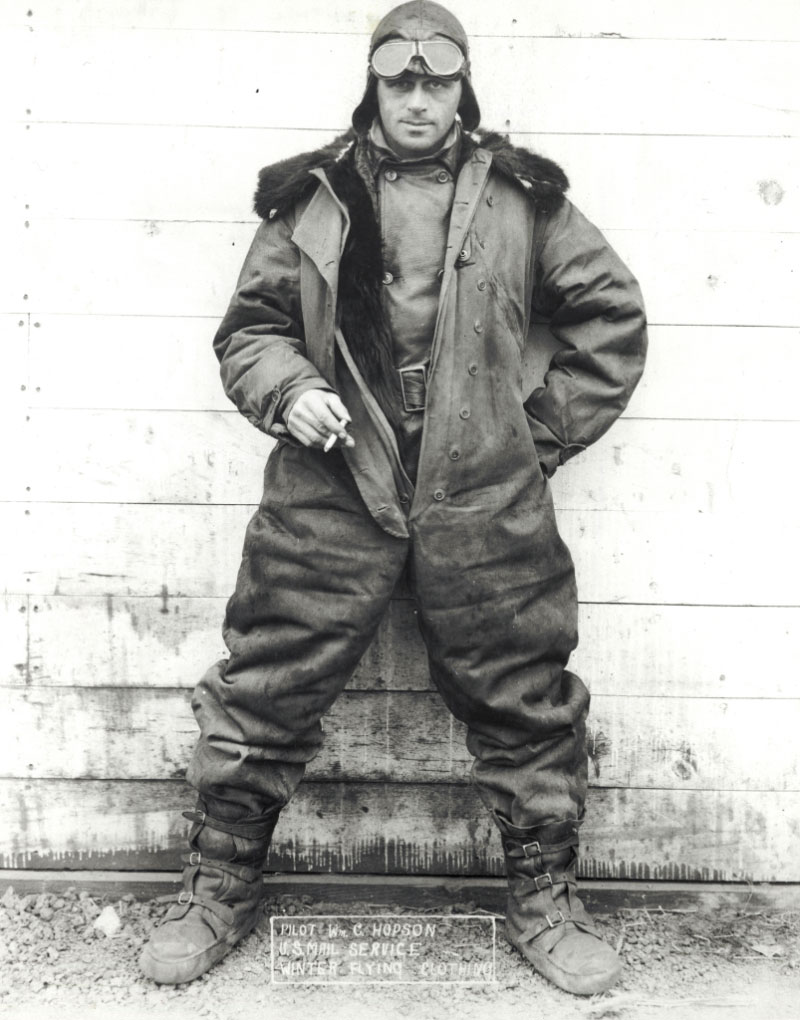 William Hopson, better known as "Wild Bill," was one
of the service's most popular pilots. This photograph
of Hopson, taken in Omaha, Nebraska, shows him
at his most determined and cocky best.
One of the best loved and most colorful airmail pilots was William "Wild Bill" Hopson. Before his years as a pilot, Hopson had driven a taxi cab in New York City. "Wild Bill" began flying airmail on April 14, 1920 and left the service when airmail was transferred to private companies. During his years as a Post Office Department airmail pilot, Hopson logged over 4,000 hours of flight time, covering 413,034 miles.
When private companies took over America's airmail service, Hopson signed on with the National Air Transport company, flying Contract Airmail Route #17 between New York and Chicago. Hopson died while flying the mail over that route on October 18, 1928.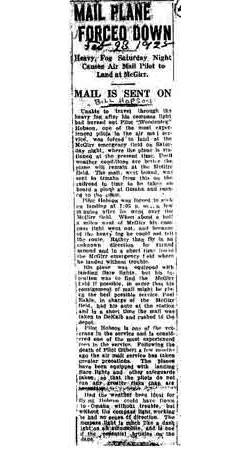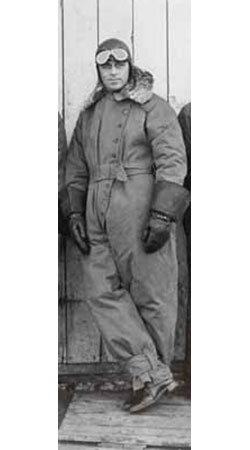 ---
Learn more:
Three days after "Wild Bill" Hopson was given his first assignment as a pilot at the College Park, Maryland airfield just outside of Washington, D.C., he was transferred to the field at Newark, New Jersey.
Like most of the airmail pilots, "Wild Bill" often had one eye on the mail and another on his flying time. On September 18, 1920, Hopson flew out of Cleveland, Ohio at 2:10 p.m. He noticed the wind was with him more than usual, and saw that he had a chance to make a speed record. Flying at 10,000 feet, Hopson rushed with the wind to Hazelhurst Field, the New York airmail station, where he landed 3 hours, 1 minute later. He chopped 49 minutes off the last record, and was well ahead of the regular traveling time of four and one-half hours for the 452-mile trip.
On October 1, 1920, Hopson was transferred to the Western Division. He had requested the transfer to the Chicago - Omaha route, and he subsequently wrote to Superintendent D. B. Colyer on October 11, thanking him for the new assignment. Colyer, no doubt, hoped that "Wild Bill" might tone down his wild ways on the new route. Colyer had already scolded Hopson in July for making stunts in airmail airplanes. "I have heard numerous reports of your stunting mail ships," Colyer wrote on July 23, 1920. "This is absolutely against regulations and further actions of this kind will merit disciplinary action. Do you not realize that the mail service is a business proposition and everything that is not done in a businesslike manner cannot be tolerated?" Despite the scolding, the tone of the letter was a friendly one.
Hopson made a second speed record while flying in the Western Division. On a flight from Omaha to Chicago, he flew a de Havilland airmail airplane at a then-astounding speed of over 140 mph. He made the 440 miles to the Maywood Field in Illinois in three hours and six minutes. The previous record had been three hours and twelve minutes.
Hopson's popularity with his fellow pilots and management helped him sail through dozens of forced landings without the reprimands and demerits that other pilots would have accrued. In 1926 alone, Hopson made at least 13 forced landings, all of which were signed off on by field managers and superintendents as acceptable. Most of the forced landings were brief landings in which Hopson was forced to wait for better weather or to find his way in low visibility. On November 24 of that year, he was flying his de Havilland, #614 when his top engine cowling came unfastened. Hopson landed, fixed it himself and took off again in 20 minutes.
On September 19, 1925, Hopson's old de Havilland airplane #351 was destroyed in a forced landing near Massena, Iowa. After a storm hit the airplane in flight, stopping his motor, Hopson came down on a piece of land owned by John Martin. When he landed, Hopson tore through a strip of corn field 50 feet wide and 100 yards long. The airplane cracked up on this rough landing, with only part of the tail section recoverable. On another occasion Hopson was criticized by an airmail supervisor for not landing on an airmail field because cows were grazing on it. Hopson flew on to the next field. His choice, the supervisor said, should have been instead to have circled the field, giving the ground crew time to shoo the cattle off the field.
After the airmail service was transferred from the Post Office Department to commercial aviation companies, Hopson went to work flying for the National Air Transportation company on his old Cleveland-New York route. On October 18, 1928, the 38-year-old pilot was killed near Polk, Pennsylvania while flying from New York to Cleveland shortly after midnight. Of the 1,000 pounds of mail Hopson was carrying, only 10 pounds could be salvaged from the burned wreckage. The clock on the instrument panel had stopped at 2:17. Among the mail Hopson was carrying was a large shipment of diamonds, which along with Hopson's fame as a pilot, brought the crash a considerable amount of public attention.
The New York Times reported, that "Mrs. Jeanette Hopson, estranged wife of the flier, said that Billy had expressed the wish that his body be returned to Omaha for cremation, and that he had insisted that she herself take his ashes and scatter them from a airplane."