| | |
| --- | --- |
| Air Mail Service Began: | June 8, 1919 |
| Air Mail Service Ended: | July 19, 1919 |
| Total Hours Flown: | unknown |
| Total Miles Flown: | unknown |
| Assignment: | Belmont Park, Maryland |
|   | July 1, 1919 – Bellefonte, Pennsylvania |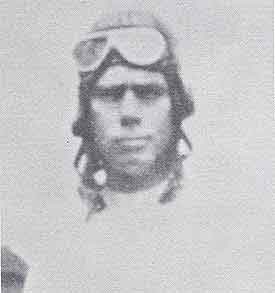 Airmail pilot Charles Lamborn
- Courtesy of the Air Mail Pioneers
Charles W. Lamborn signed up with the Air Mail Service on June 8, 1919. He was killed a mere five weeks later when he was flying from Bellefonte to Cleveland. While flying through fog, heavy rain and low clouds Lamborn was climbing into clouds to pass over Snowshoe Mountain and became disoriented. His airplane came out of the clouds at only 400 feet, nose down, smashing into the ground. Although his shattered body survived the crash, Lamborn died before he could reach the hospital. On July 19, 1919, Charles W. Lamborn was the first airmail pilot killed in the treacherous Pennsylvania mountainous area known by pilots as "Hell's Stretch."

The wreckage of Lamborn's airplane after his fatal crash in 1919.
- Courtesy of the Air Mail Pioneers
---
Learn more:
Charles Lamborn's first assignment was to Belmont Park, Long Island, New York. The next month, he was transferred to the Bellefonte, Pennsylvania airfield. The 33-year old Los Angeles-born Lamborn was carrying 404 pounds of mail in his de Havilland airplane #82 when he left the Bellefonte field at 10:20 a.m. on July 19, 1919. He passed through fog, low clouds and even heavy rain without incident. He passed low through a gap in the mountains between Bellefonte and Milesburg. He then had to climb high into the clouds to make it over Snowshoe Mountain.
Lamborn lost his visual references and became disoriented. When his airplane came out of the clouds too low, Lamborn was unable to recover. He crashed at 10:40 am in Dicks Run valley, eight miles from Bellefonte. People heard the airplane's motor going on and off as Lamborn circled over the valley. The pilot broke both ankles, ribs, and his collar bone and died from shock on the way to the hospital without regaining consciousness.
Air Mail Supervisor Charles Stanton, accompanied by pilots Max Miller and David Logg, conducted an investigation of the crash, interviewing four witnesses and examining the wreckage. They determined that the ship was "clearly out of control at the time it struck, for there was open ground within two hundred yards of the wreck at angle of about thirty degrees to the left from the direction of the ship, and there was a large open place seventy degrees to the right wherein a landing could have been effected without more serious accident than tripping over bushes or fences." The switches were on, which indicated "that the pilot was not expecting to land, or to crash, since it is always customary to throw off both switches in making a forced landing in bad ground . . . in order to lessen the danger of fire in case of a crash." Lamborn was 33 years old when he died.
A stone memorial commemorating Lamborn, reading "Lt. Charles W. Lamborn, U.S. Airmail Service Crashed Here July 19, 1919," was placed near the area where he crashed.