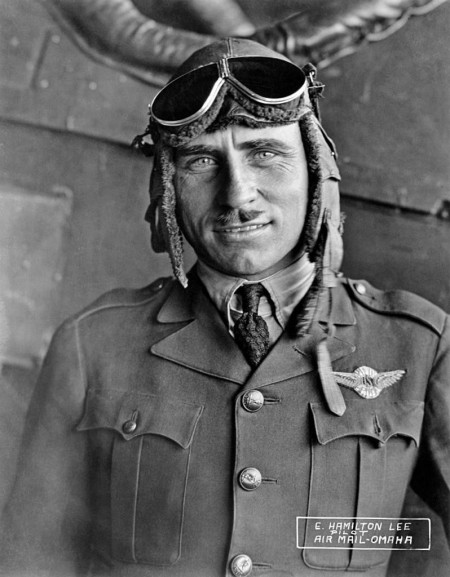 "Ham" Lee started flying the airmail for the postal service on December 29, 1918. He was hired by James C. Edgerton, Head of Flying for the postal service, out of the Army Air Service's civilian instructors program. Lee was one of the pilots whose refusal to fly in low visibility conditions triggered the pilots' strike of 1919.
Lee survived a couple of close calls as an airmail pilot, including one landing on a fence and tree stump that flipped his de Havilland airplane on its back. Lee walked away from that crash with only some bumps and bruises. Another time, his engine suddenly caught fire while in flight. He decided to let the wind put out the fire. To lose altitude fast, he side slipped, noting that the motion "kept the flames away from my face and allowed the air stream to blow out the fire."
While flying mail on the St. Louis – Minneapolis route, Lee saw a barge stuck in the Mississippi River ice on a frigid winter day. He was just bold and bored enough to have some fun with the crew. He flew low to give a greeting to the men on the deck of the barge. As he came down low, he noticed the men rushing into their cabin. What they knew but Lee didn't was that he was headed straight into some telegraph wires.

The airplane's propeller whipped and wrapped up the wire. The front struts caved in and as the only partially-supported wings began to flap away, Lee tried to make his way into a landing. Astoundingly, Lee survived the incident, and was able to walk away from the crash, mail sacks in hand.
Lee flew mail for almost nine years for the postal service. By the time he left, he had logged 4,220 miles of flight hours. When private companies took over the mail routes, Lee flew for Boeing Air Transport, which later became United Air Lines. Lee continued working for the company until his retirement in June 1949, when he was celebrated as one of the company's best and most treasured pilots.